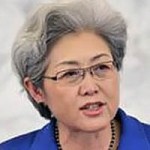 Fu Ying
Chair, Center for International Security and Strategy, Tsinghua University
Fu Ying is a former Vice Minister of Foreign Affairs of China. She is now a vice-chairperson of the Foreign Affairs Committee of the National People's Congress, and the chairperson of the Center for International Security and Strategy at Tsinghua University.
Sep 11 , 2018

Rather than resorting to open confrontation or backing down, China will keep up dialogue with the US in the hope of finding common ground, while focusing on its own goals for development.

Jul 31 , 2018

Academics are currently debating about the future course of the world order. Will the world head toward a new Cold War? What path will China take? As we reach t

Dec 19 , 2017

The Korean nuclear issue has now entered a dangerous stage like a fast train in a dark tunnel. The window for peaceful settlement isn't completely closed and the current crisis should be turned to an opportunity.

Dec 11 , 2017

In China, it's widely believed that the most important driving force for economic growth in the first quarter of century after the Cold War has been economic globalization. The world economy has expanded more than three times, lifting many people out of poverty.

May 02 , 2017

The debate about "world order" and "China's new leadership role" is attracting more attention especially when China has more loudly expressed support to the economic globalization and free-trade at a time when these ideas are under criticism in the Western world. Many in China who are also interested in the debate find the concepts behind these terms are not as clear as they may look.

May 02 , 2017

The Korean nuclear issue is the most complicated and uncertain factor for Northeast Asian security. It has now become the focus of attention in the Asia Pacific and even the world at large. Now, as the issue continues to heat up, one frequently raised question is: Why can't China take greater responsibility and make North Korea stop its nuclear weapons program?