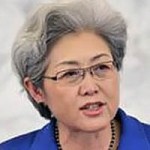 Fu Ying
Chair, Center for International Security and Strategy, Tsinghua University
Fu Ying is a former Vice Minister of Foreign Affairs of China. She is now a vice-chairperson of the Foreign Affairs Committee of the National People's Congress, and the chairperson of the Center for International Security and Strategy at Tsinghua University.
Jul 31 , 2015

More than 60 countries and institutions have embraced President Xi Jinping's call for connectivity programs both within Asia and between Asia and Europe, both by land and by the sea, to strengthen traditional infrastructure and build highways of trade, finance, and cultural exchange.

Jul 30 , 2015

It's my great pleasure to be invited to speak at the Singapore-China Business Forum. Let me commend the organizers for taking this timely and important theme.

Jun 10 , 2015

While Washington has mixed feelings toward China's rising international status, many American scholars see no convincing reasons for the United States not to support or participate in China's initiatives like the modern Silk Road and the Asian Infrastructure Investment Bank. That's a good omen for the concept of "a new type of major country relations," as proposed by Chinese President Xi Jinping, to avoid confrontation between big powers and to blaze a new trail of mutually beneficial cooperation.

May 21 , 2015

Full speech by Fu Ying, China's NPC Chairwoman of Foreign Affairs Committee, at the University of Chicago on May 19. She talked about China's growth and its experience with the evolving world order.

Apr 23 , 2015

China has grown rapidly in influence and ability to act in the international arena. That means it faces bigger, tougher and ever more urgent challenges. Therefore, there is a growing need for more high quality think tanks which can offer solutions to these challenges by mining the wisdom in the broader society.

Oct 20 , 2014

"Is China going to compete for world power?" Most people in China, if asked such a question, would show little interest in seeing the country fighting for world power with the U.S., and still less in becoming another U.S.

Feb 01 , 2014

Fu Ying, Member of the Standing Committee of the 12th National People's Congress of China, talks to China-US Focus on some of the issues raised during the Munich Security Conference.