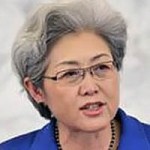 Fu Ying
Chair, Center for International Security and Strategy, Tsinghua University
Fu Ying is a former Vice Minister of Foreign Affairs of China. She is now a vice-chairperson of the Foreign Affairs Committee of the National People's Congress, and the chairperson of the Center for International Security and Strategy at Tsinghua University.
May 02 , 2017

The debate about "world order" and "China's new leadership role" is attracting more attention especially when China has more loudly expressed support to the economic globalization and free-trade at a time when these ideas are under criticism in the Western world. Many in China who are also interested in the debate find the concepts behind these terms are not as clear as they may look.

May 02 , 2017

The Korean nuclear issue is the most complicated and uncertain factor for Northeast Asian security. It has now become the focus of attention in the Asia Pacific and even the world at large. Now, as the issue continues to heat up, one frequently raised question is: Why can't China take greater responsibility and make North Korea stop its nuclear weapons program?

Dec 02 , 2016

The following are remarks by Madam Fu Ying, chairperson of the Foreign Affairs Committee of the National People's Congress, at the inaugural China-U.S. Forum at

Oct 27 , 2016

(Fu Ying addressed at the Valdai International Discussion Club.)It's an honor to be invited to the Valdai International Discussion Club.Founded in 2004, the Val

Sep 02 , 2016

As both China and the U.S. play critical roles in reshaping global governance, there is a need for a new concept of "order" that is all inclusive and can accommodate the interests and concerns of all countries, providing a common roof for all.

May 12 , 2016

The future direction of trend would very much depend on the perceptions and choices of the parties involved. If they choose to cooperate, they may all win. If they choose to confront each other, they may only head for impasse or even conflict and no one can benefit totally.

Feb 15 , 2016

— "Doubling Down? China and International Order(s)" (By Fu Ying, Munich Security Conference 2016, 13 February 2016) As the Chinese year of Monkey has just a

Dec 24 , 2015

China's goal of achieving "Xiao Kang" — or "moderately prosperous society" by 2020 aims to make sure that the remaining families still in poverty also step into the well-off society together with the rest of the nation. The author argues that outside world tends to look at China as if it is another traditional power and thus loses sight of what is really going on inside China. With poverty alleviation a continuing top priority, the uppermost imperative is for China to have a stable external environment so that it can attend to its own monumental challenges.

Sep 10 , 2015

China-U.S. relations are at an important stage of mutual adjustment. We should ease this process by building up mutual understanding and people-to-people exchanges.

Jul 31 , 2015

Whether the world's nations can adjust to changes and to work with instead of working against the new arrivals on the world stage is going to be a major test. China has chosen to integrate itself into the international order, and has greatly benefited from being part of it, so China should be seen as a partner, not a competitor.