The following are remarks by Madam Fu Ying, chairperson of the Foreign Affairs Committee of the National People's Congress, at the inaugural China-U.S. Forum at the New York University on December 1, 2016. The forum was jointed organized by China-United States Exchange Foundation and NYU.
Good afternoon.
Thank you, Mr. Jeff Lehman, for your kind introduction.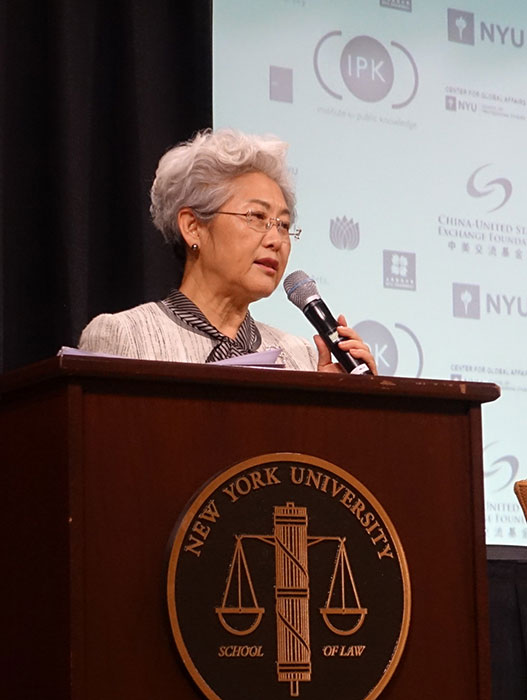 (photo credit: CUSEF)
Let me first thank you for inviting me to the New York University. It's indeed a pleasure and honor for me to be here. I am also pleased to see the Chinese students here.
I briefly went through the impressive history of NYU on the Chinese internet. There were more than 11 million search results, showing how popular this university is in China.
After the US general election, the Chinese President Xi Jinping talked on the phone with president-elect Mr. Donald Trump on 14th November, he said that cooperation is the only correct choice between our two countries and that "the two countries need to strengthen coordination, advance their respective economic development and global economic growth and expand exchanges and cooperation invarious fields so as to bring more benefits to the two peoples and promot smooth development of China-U.S. relations." Mr. Trump completely agreed with the Chinese President and expressed his belief that "U.S.-China relations will witness even greater development." That was very encouraging.
China and the US have built a strong relationship over the years, but the atmosphere is not always good. Over the years I have met Americans from different walks of life and sometimes feel surprised at the lack of understanding between us. One reason, I was told, is that some people in the US regard China as having a wrong political system and they have expected that China should change in the direction thfey want and they feel disappointed when it's not happening.
Now with the new generations growing up in both countries, would the basis for understanding improve, as the young people may be more interested in sharing ideas and understanding each other?
When invited by NYU, I asked for advice from some young Chinese on what to talk about. They said why not sharing your experience as a Chinese diplomat and talk about what you think is important? So I decided to do just that today and talk about why I think in international behavior the human element is an important factor.
Regardless of how passionate the purpose is or what the moral principles are, in the end, it's the consequences for the people, for the families and children, that will be placed at the center when judging an international act: will it add to their wellbeing, or damage and even ruin their livelihoods?
In early May 2002, I went to Kabul as a member of the Chinese Foreign Minister's delegation on the first visit after the Afghan War. It was a memorable trip. We walked freely in the street and some local people, including soldiers carrying guns, approached us to chat. There was such a sense of relaxation and hope after the long warring time. We could see that the earthen road was carefully swept with broom to welcome visiting guests.
Most of the buildings along the streets were damaged with only the structures barely standing. But, at the ground floor, life had resumed in what was left of them and we could see soft smoke rising from kitchens. There were even simple food stands.
Some kids ran towards us, each had a yellow flower in hands, smiling, putting the flowers under their little noses. Our guide said, that gesture meant greeting and peace. The people so much cherished that moment of calmness and they were ready to rebuild their lives out of the ashes. That was an impression I could never forget.
In 2011, I revisited Kabul and was quite disappointed. We could no longer walk freely on the streets like we did. Though there are more new buildings, the city looked like a battlefield with bunkers in the streets. I even had fully armed security soldiers in my car. The kids who greeted us 10 years ago must have grown up but the country seemed still steps away from the door of peace. The Afghans I talked with called for stronger consensus about comprehensive reconciliation and more support for reconstruction.
Talking about peace, I have witnessed another country's transition from war to peace. That is Cambodia. In early 1990s, the five Permanent Members of the UN Security Council held a-year-long negotiation on finding a peaceful solution to the Cambodian conflict. It was the first time China had been involved in an international settlement of a country's domestic conflict. Unlike Afghanistan, all the fighting parties in Cambodia agreed on a national reconciliation and endorsed the UN lead negotiations.
As a member of the Chinese team, I experienced how tough the negotiations were. The Perm-5 representatives had different interest and bargained hard over almost every paragraph, and sometimes even punctuation. Eventually, the agreement on a political settlement was signed by all parties concerned and authorized UN peacekeeping mission UNTAC (United Nations Transitional Authority in Cambodia) to oversee the ceasefire and election.
(The China-United States Exchange Foundation (CUSEF) invited Madame Fu Ying, Chairperson of the Foreign Affairs Committee of the National People's Congress of China to speak at New York University's inaugural China-U.S. Forum on Thursday, December 1, 2016. Jointly-organized by CUSEF and the New York University (NYU), the China-U.S. Forum aims to provide an open platform for academics, community leaders, faculty and students to explore first-hand the latest development of China-U.S. relations. Madame Fu also engaged in a wide-ranging conversation with Jeffrey Lehman, Vice Chancellor of NYU Shanghai, and former U.S. Ambassador to China Stapleton Roy. Photo: CUSEF)
I joined the UN force and became the first female Chinese peace keeper. But throughout the mission, frustration was often caused by the vague wording in the agreement which was resulted from complicated compromises during the negotiation. M
ore often than not, we would just "muddle through" when confronting confusion in its implementation.
Nonetheless, the ceasefire was held on and the election was successful. The candidate who won was not from any fighting party. He was the sonof Prince Sihanouk. So the Cambodian people voted for peace.
Twenty years later, in 2012, I went back to Phnom Penh, and was amazed to see a completely new and vibrant city. My cab driver, speaking in good English, told me that he was from remote countryside and that his English was taught by peacekeepers. He was perfectly happy with his life now. When I asked if he remembered the turmoil, he said calmly: "that was the past".
I was so happy for Cambodia's success. People really can achieve wonders when there is peace. And this's why diplomacy is so important in bringing peace. Now, when I hear scholars advocate military means in solving international issues, I would think of those Cambodian children who lost an arm or a leg, and the Afghan people's hopeful eyes. I believe there is nothing that should be placed above the value of life itself, especially now, in the 21st century.
In my country China, the successful reform and opening-up in the past three decades lifted over one billion people above the subsistence level. This is possible first and foremost because we have had general social stability, and people are safe and able to pursue their dreams.
Now China has more interactions with the world and more Chinese are traveling and working overseas. One new challenge is how to ensure their safety.
In early 2011, turmoil hit Libya. China did not approve the Western intervention. Though many such behavior produced little positive result, it's still promoted from a "moral high ground". For China, the immediate challenge was that there were about 35,800 Chinese working in Libya at that moment. Their safety became a nation-wide concern. China launched a large-scale withdrawal mission with unreserved support from home. Cruise ships were hired to transfer the workers to the Greek island of Crete, and then 20 chartered planes plus four military transporters were sent to bring them home. All the Chinese were evacuated in a matter of ten days.
A Chinese worker recalled later: "arson, robbery and shooting were taking place constantly around the work site, we could hear gunshots even in dreams. One worker was killed. We decided to leave, carrying the injured, hiding in a mountain for days in cold and hunger. Many of us burst into tears when seeing the national flag and knowing rescue was coming."
So, as the Chinese government promised, at time of crisis, people will be taken care of.
China, for a long time to come, needs to concentrate on modernizing the country, which is still way behind the developed nations. We are faced with complicated domestic challenges such as how to ensure economic growth, how to improve social management and how to further alleviate poverty.
So, China's foreign policy should serve the same purpose and the objective is to ensure a favorable external environment for domestic development and external cooperation.
There is also growing awareness in China of the need to play a more active role in international affairs and to provide pubic goods. Chinese President Xi Jinping proposed to build a world community of common future. That best represent the thinking in China. What China can contribute to the world will be in line with the Chinese values and in the fields where we know best.
As a late comer in international affairs, China needs to learn and gather experience. Now there are over 300,000 Chinese students in the US, and over one million the world over. Many who have graduated returned to China and they will play essential role in connecting China with the world. At the same time, China must also recruit talents from the world and learn from other countries, especially from the US.
To conclude, foreign policy is made and executed by human beings, not by lifeless machine. And successful foreign policy must bring benefits to people. What diplomacy deals with is not "states" behind masks, but matters that concern many individuals like you and me. The foundation of national interest is the well-being of the people. I hope you understand what I'm trying to say, and would agree with me that people in all countries, especially the younger generation, should join hands to ensure that in the 21st century, the protection of people's right to live in peace and safety should constitute a common value in international behavior.
Thank you.