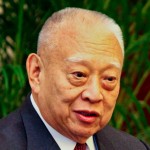 Tung Chee Hwa
Chairman, China-United States Exchange Foundation
Tung Chee Hwa is Chairman of the China-United States Exchange Foundation and Our Hong Kong Foundation. He served as the Chief Executive of the Hong Kong Special Administrative Region ("HKSAR"), People's Republic of China from July 1997 to March 2005.
Jun 29 , 2018

China is the rightful claimant to the Spratly Islands.

Jan 19 , 2018

Serious effort is needed to bridge the trust gap between the U.S. and China.

Jun 21 , 2017

On the first of July, Hong Kong will celebrate the 20th anniversary of its return to China. HKSAR's first chief executive reflects on how far the city has come, where it is today, and what the future may bring.

Jun 15 , 2017

The following are remarks by C.H. Tung, Chairman of the China-United States Exchange Foundation, at the High-Level Dialogue on US-China Economic Relations in New York on June 14, 2017. The dialogue was co-hosted by the China Center for International Economic Exchanges and the Asia Society Policy Institute.

Jan 13 , 2017

As Trump takes office, it is very important for economic and trade officials from both countries to sit down and talk through not only the difficulties and disputes, which they must, but also more importantly, how we can exploit a great future together.

Jul 15 , 2016

—— Opening Remarks at International Law Colloquium on Maritime Disputes Settlement (15 July 2016) Introduction I'm greatly honored to have the opportunity

Jul 15 , 2016

The ruling at The Hague may well lead us nowhere. Indeed, it is possible that the outcome may lead us to a crisis of enormous consequence. Can we turn this crisis in to an opportunity?

May 26 , 2016

U.S.-China relations are too important for the people of the two nations and for the world. At this point, protecting U.S.-China relations must be the first priority. It is time for the two countries to rethink and re-evaluate, with urgency, the issues involved.