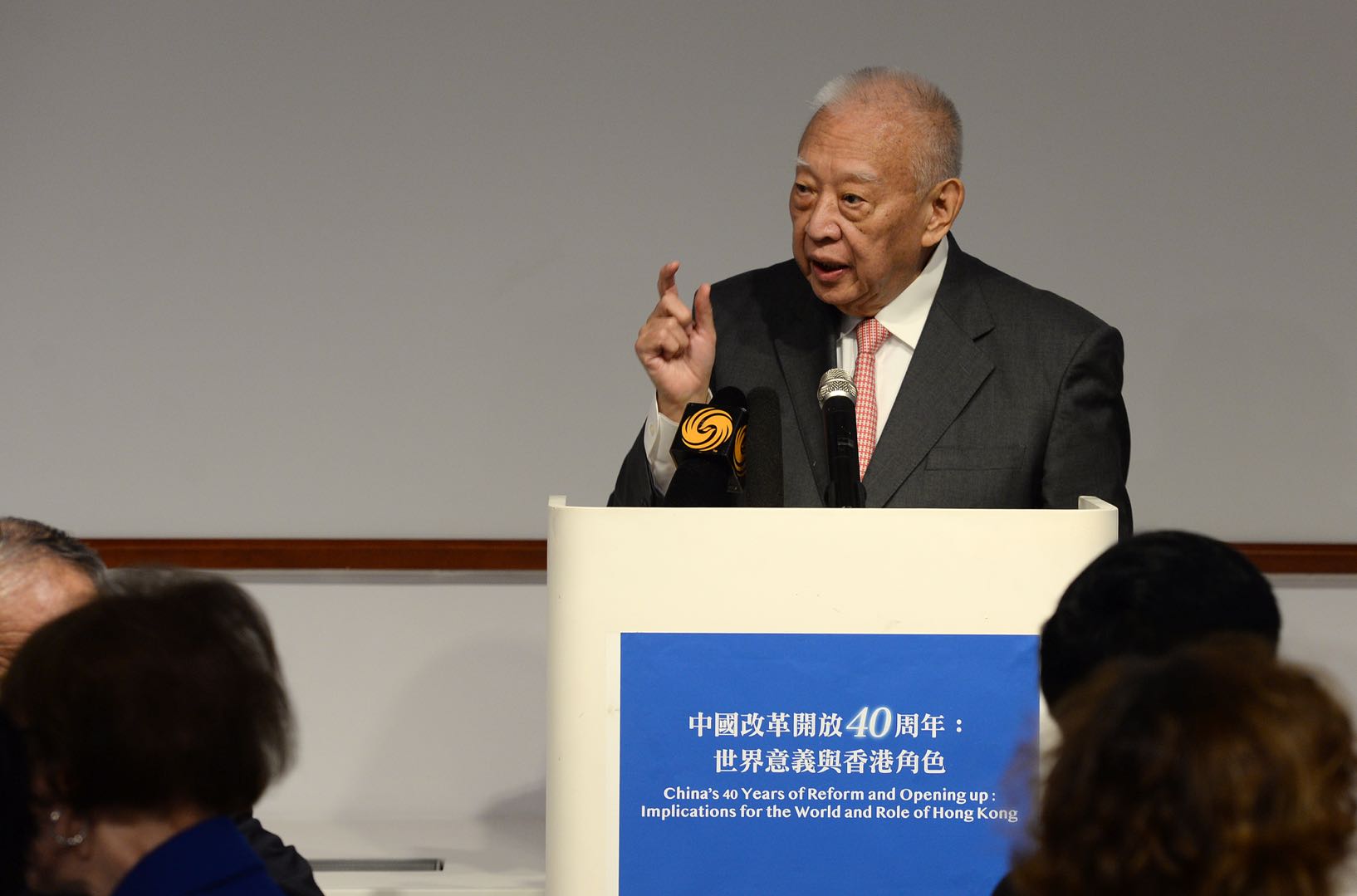 The following is based on the remarks of the author at an October 29 luncheon in Hong Kong. The luncheon opened an international symposium that was sponsored by the Office of the Commissioner of the Ministry of Foreign Affairs in the Hong Kong Special Administrative Region and The Better Hong Kong Foundation in commemoration of China's 40 years of reform and opening up.
As one of the most significant events in human history of the 20th century, China's reform and opening up has not only profoundly changed the country herself, but also greatly influenced the world. This year marks the 40th anniversary of the reform and opening up policy. At this very moment, it is of far-reaching significance for us to revisit and reflect on this great event and look ahead to the way forward.
40 Years of Reform and Opening Up
In 1978, Mr. Deng Xiaoping made a series of inspection tours in China in the wake of the Cultural Revolution. After completing his tours, Mr. Deng said emotionally the following, "We are too poor and backward. To be honest, we let our people down. We must now develop productivity and improve people's living conditions." Thus a vigorous reform and opening up campaign was started.
With per capita GDP standing only at $156, China at that time was one of the poorest countries in the world.
Forty years later, China's GDP has grown by 34 times, making China the second largest economy and the largest trading nation of the world. China's per capita GDP has grown by more than 50 times, reaching $8,800 in 2017. In this process, China lifted more than 700 million people out of poverty defined by international standards. China has also made huge progress in political, social, democratic, legal, and human rights developments. Throughout human history, never have so many people made such tremendous progress within such a short period of time.
Secrets of Success
My foreign friends often asked me, how did your countrymen achieve so much in the face of so many challenges? You must have done something right. My response is that it is because we have found a development path that suits China's national conditions. As for the specifics of the path, in my opinion it at least contains the following:
First of all, in terms of economy, China adopts gradual reforms while at the same time daring to try, which is what we vividly refer to as "crossing the river by feeling for the stones". China has combined government intervention with market opening and gradually established a dual-track socialist market economy. This approach has greatly stimulated private entrepreneurship while preventing economic turmoil. In 1978, there were almost no private enterprises in China. At present, private enterprises contribute 60% of China's GDP and over 80% of the urban and rural employment.
Secondly, in terms of political development, China upholds the leadership of the Communist Party and a people-centered approach. For a country of 1.4 billion people, 56 ethnic groups and multiple religions, stability is always of utmost importance. At the same time, the Chinese Government has freed its mind to keep abreast of the times. It has constantly made progress in its decision-making process more sound and democratic, and corrects errors if there was any. The Government has also improved its legal system, protected human rights and property rights, and responded to the demands of the people. Having worked in the CPPCC (Chinese People's Political Consultative Conference) for some time, I personally experienced the unique decision-making process in China. We have a consultative, rather than a competitive, democracy. In addition, the Communist Party of China has a unique system to select its officials. Almost every Chinese leader I have met has excellent practical experience. The political stability in China has guaranteed the continuity of its policy. All the "Five-Year Plans", from the first to the twelfth, have been fulfilled one by one, and the country's thirteenth "Five-Year Plan" (2016-2020) is being implemented in earnest. Polls show that more than 80% of Chinese people support their government, because their government really DELIVERS.
Thirdly, China attaches great importance to science, technology and innovation. China has been striving to promote industrial upgrading and a shift from export substitution to innovation-driven development strategy. Today, science and technology contributes 57% of China's GDP. Business leaders like Jack Ma and Pony Ma have become idols of Chinese youth.
Some people have always accused China of technological theft. Here let me respond with a few numbers: both China's R&D expenditure and its number of Science Citation Index, or SCI papers rank second in the world. China's domestic patent application number ranks first in the world. Every year the Chinese universities produce over three million graduates in science, technology, engineering and mathematics, five times that of the United States; and China has more than 4 million talents engaged in R&D. China has also made great efforts to protect intellectual property rights. These are the real reasons behind China's scientific and technological progress.
Fourthly, China opens to the outside world and draws upon any advanced experience from the rest of the world. China's opening up is all-dimensional, from the special economic zones and coastal areas all the way to its western region, from commodity trade expanding to investment and service trade, and from "bringing in" (of foreign capital and knowhow) to "going global". There are now 600,000 Chinese students studying overseas and over 100 million Chinese tourists traveling abroad annually. Some of my American friends often complained to me that the Chinese market is not open enough. I always ask them: Do you know how many American companies are operating in China today? The answer is 68,000. And according to the numbers of US Bureau of Economic Analysis, their annual sales in China exceeded $400 billion, more than tripling the volume of US exports to China.
China's Contribution to the World
The success of China's reform and opening up has made the world more peaceful and prosperous. According to the World Bank, the Chinese economy contributed 34% of the global economic growth annually between 2012-2016. As the largest "world factory", China provides quality and affordable products to other countries. China is already the fastest growing import market in the world. Furthermore, because of the rapidly rising middle class, China will soon become the largest consumer import market. China offers abundant opportunities to foreign capital. More than half of China's export goods are produced by foreign-invested enterprises. China's reform and opening up is not a business only profiting itself, but a cause of mutual benefit. Indeed, China's success is also as a result of global collaboration.
While developing itself, China strives to provide public good to the world. In recent years, China has proposed the "Belt and Road Initiative" and advocated the establishment of the AIIB (Asian Infrastructure Investment Bank), the BRICS New Development Bank, and the Shanghai Cooperation Organization Bank. This is an effort to help developing countries to build up their infrastructure, recognizing building up infrastructure is essential for economic development. Over the past few years, China has actively supported the effort to bring about an international agreement on climate change. In order to preserve peace, China sends the largest number of peacekeepers among the five permanent members of the UN Security Council.
Looking to the Future
China will not threaten anyone. It will not seek to dominate the world and will not export its development model. China believes that despite the differences among countries, we are all living under the same sky and sharing the common home, and we should be one family. This is the concept of a community of a shared future for mankind.
China's development achievements are the results of the solid efforts made by 1.4 billion Chinese people.
Finally, we should remember the words of President Xi Jinping, who said: "Reform and opening up is China's fundamental state policy as well as the driving force for China's future development. China will never close its door to the world; it will open even wider!"
I am convinced that all of you present today will see a more open, prosperous and friendly China which makes even greater contribution to world peace and development.