On Nov. 22, the 10 members of ASEAN jointly announced that the ASEAN Community would be realized on Dec 31. It will be a milestone in the ASEAN integration process. What type of organization will the ASEAN Community be? What are the similarities and differences between the ASEAN Community and EU? Is it another EU? In my view, the ASEAN Community remains a rather loose cooperation mechanism, with a fairly low level of integration. It has distinctive 'Asian characteristics' and will not develop into another EU in the foreseeable future.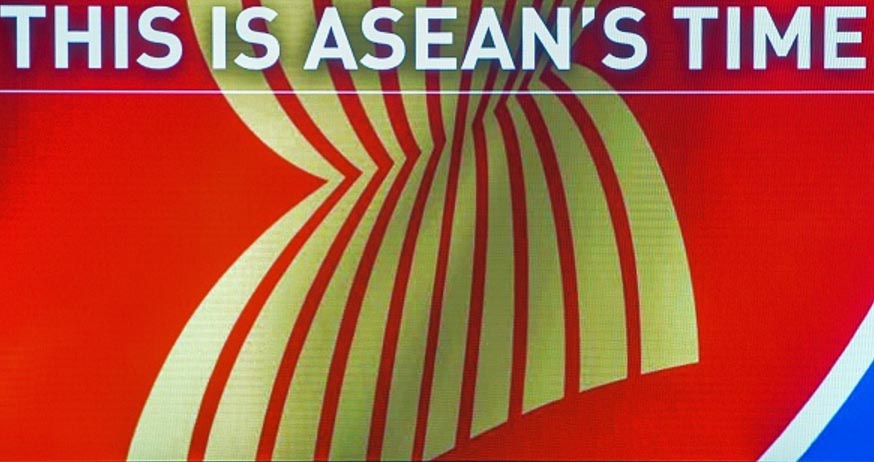 Regional integration has been one of ASEAN's dreams since its establishment in 1967. During the Cold War, ASEAN countries found it difficult to cooperate with each other due to political differences. Since the end of the Cold War, they have gradually come together. In 2003, the Declaration of ASEAN Concord II was published, initiating the objective of creating an ASEAN Community by 2020. The 2007 ASEAN Summit decided to reduce the timeline to 2015. In ASEAN's vision, the Community will be based on three pillars, namely a security community, an economic community and a socio-cultural community. The Dec 31 announcement reflects a combination of the three.
Nonetheless, the levels of economic integration, political and security policy coordination as well as socio-cultural fusion in the ASEAN Community can not be compared with those of the EU.
First, ASEAN countries have many differences in political system, ideology and religion, with long-standing ethnic estrangements. There are still disputes over territory and sea. It will be rather difficult to form a military or collective security alliance.
Second, the level of economic development differs greatly across ASEAN countries. As most of them are agricultural producers and exporters of energy and raw materials, and remain at the low end of the global industrial value chain, they still need external financial and technological support as well as human-resources training to develop infrastructural connectivity, manufacturing, technical added value and productivity. As such the ASEAN Community's economic development level is low and it is hardly possible for it to have a single currency or a common fiscal policy, let alone free movement of people.
Third, ASEAN has long followed the 'ASEAN Way' of 'consensus' and 'non-interference in internal affairs', which makes it impossible to have political integration to the EU extent.
Fourth, in face of the European debt crisis and Greek debt crisis, the EU path to integration has put ASEAN countries on alert and caused them to reflect. ASEAN countries are not yet prepared to adopt a single currency or become a customs union, nor is it possible for them to accept an institutional arrangement similar to the Schengen Agreement that will allow their citizens visa-free entries into other member countries.
Actually, the ASEAN Community will be more similar to the European Community created 50 years ago. In 1951, six European states signed the Treaty establishing the European Coal and Steel Community (ECSC). In 1965, the Brussels Treaty was signed, combining the ECSC, European Atomic Energy Community (Euratom) and European Economic Community (EEC) into one European Community. It stressed the market's role in resource allocation and initially achieved a unified European market. The European Community is therefore also called the European Common Market. Similarly, the ASEAN Community also stresses the importance of a single market and production base. At present, the six relatively more developed ASEAN members, Singapore, Malaysia, Brunei, Indonesia, Thailand and the Philippines, have basically achieved zero tariff in trade in goods among them. The four relatively less developed members, Vietnam, Laos, Cambodia and Myanmar, will also basically arrive at zero tariff by 2018.
However, this is almost the only economic 'highlight' of the ASEAN Community. But they have not yet achieved and as a matter of fact are far away from a common production base, internal connectivity and external competitiveness. Moreover, ASEAN's integration effort in the political, security, social and cultural fields has not made much substantive progress. Even though multiple dialogue platforms have been created, including the East Asia Summit (EAS), ASEAN Regional Forum (ARF) and ASEAN Defence Ministerial Meeting Plus (ADMM+), the majority lack actual implementation capacity and are referred to by some as 'talk shops'. In recent years, the South China Sea issue has led to increased internal political and security differences.
Though less than being satisfactory, the ASEAN Community will be born soon. The key now is how it will be developed and where it will go. On Nov 22, when the ASEAN Summit announced the realization of an ASEAN Community at the end of the year, a vision document entitled ASEAN 2025:Forging Ahead Together was also published, providing a clear plan for the next 10 years. The document actually does not envisage an EU-style integration in the foreseeable future. ASEAN countries know too well that they have huge differences in political system, religion, culture and level of economic development, and that there are still outstanding territorial and maritime disputes. Should they decide to copy the European model, they would not be successful. According to the 2025 blueprint, they will continue following the ASEAN way, i.e., the integration process will be moderate, gradual, elastic and loose.
The international community does not need to worry too much about the ASEAN Community. Its further integration may even bring about new cooperation opportunities for countries in the Asia Pacific, including China, the US and India. Economically, the ASEAN Community will need financial, technological and human resources support to enhance connectivity, upgrade manufacturing and increase productivity. In regional security affairs, ASEAN will, in the ASEAN way, continue its cooperation with the international community in the fight against terrorism, cross-boundary crimes and drug trafficking and in disaster relief and dealing with climate change. It will maintain dialogue and partnership with all major forces in the world through such mechanisms as EAS, ARF, 10+1, 10+3 and ADMM+, and promote the maintenance of constructive dialogue and cooperation between China and US in Southeast Asia, particularly in the South China Sea.