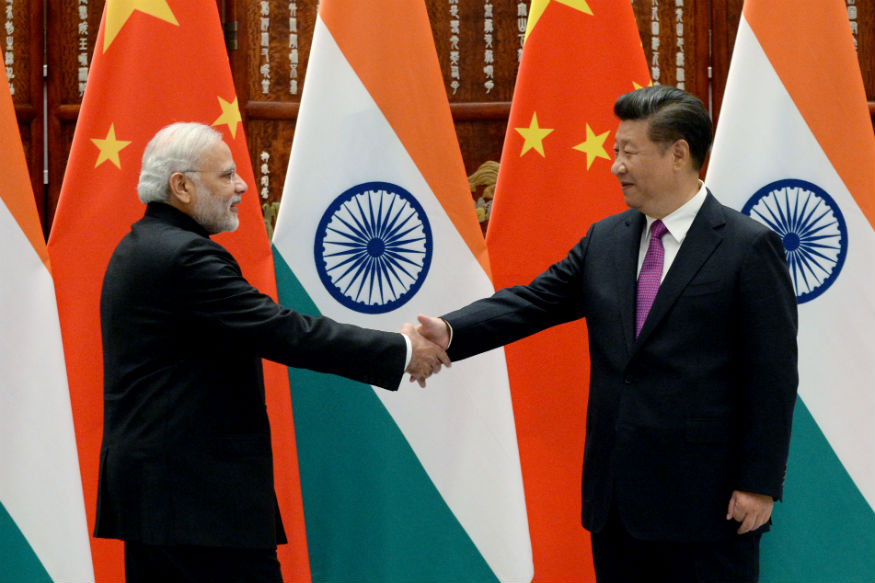 Prime Minister Narendra Modi shakes hands with Chinese President Xi Jinping in this file photo.(Reuters)
The fate of the Shanghai Cooperation Organization (SCO) rests in Beijing's hands. At last month's heads-of-state summit in Astana, Kazakhstan, China assumed the rotating SCO presidency, which it will occupy through the June 2018 summit in Beijing. China leads the SCO at a crucial time in the organization's history. With the recent elevation of India and Pakistan to full membership status, the institution's potential has never been greater, but its challenges are also enormous.
The Eurasian organization's main security activities include countering terrorism, narcotics trafficking, illegal migration, and organized crime through intelligence sharing, joint exercises, and cyber security measures. SCO members have institutionalized their counterterrorist cooperation by creating a Regional Antiterrorism Structure (RATS) in Tashkent, Uzbekistan. Since its official opening in June 2004, the RATS has promoted studies of regional terrorist movements, facilitated information sharing about terrorist threats, provided advice on counterterrorism policies, coordinated exercises among SCO security forces, and organized efforts to disrupt terrorist financing.
In his speech at the 17th meeting of the SCO Council of Heads of States, Chinese President Xi Jinping reaffirmed the importance of countering the three evils of terrorism, separatism, and extremism. He expressed particular concern with the "deteriorating security situation in Afghanistan." Xi offered to host another SCO cyber security exercise, organizing a new defense security forum, and launch a three-year counterterrorism program. He also supported the Russian proposal to revive the SCO-Afghanistan Contact Group's role in that country's peace and reconstruction process.
Xi addressed economic issues as well. China's commercial activities in Central and South Asia have soared. As of April 2017, non-financial Chinese direct investment in the other SCO states exceeded $72 billion (however, FDI from these countries into China amounted to only $1.09 billion). Furthermore, China had established 21 trade and economic cooperation zones with other SCO members. During Xi's visit to Astana, China and Kazakhstan signed almost two dozen deals worth over $8 billion in the energy, mining, chemical, manufacturing, agriculture, and infrastructure sectors.
Since 2013, China's primary tool for realizing its Central and South Asian agenda has been Beijing's One Belt One Road" (OBOR) Initiative. Its core purpose has been to deepen China's foreign economic connections by developing regional transportation and infrastructure as well as removing barriers to Chinese trade and investment. Unlike Russia or the United States, China has supported its regional integration with massive sums delivered through a number of instruments, including the new Asian Infrastructure Investment Bank (AIIB).
China is striving to associate the OBOR with the SCO and other Eurasian institutions. In line with China's "win-win" philosophy, Chinese experts argued that, by increasing mutual trade and investment, OBOR would benefit the entire SCO community. In May, all SCO members attended the Belt and Road Forum in Beijing. During the Astana summit, leaders of the other SCO members praised the OBOR. For example, Pakistan's Prime Minister Sharif stated that the China-Pakistan Economic Corridor (CPEC) and other OBOR "mega projects will benefit the entire SCO community." At Astana, Xi proposed further trade liberalization. According to the PRC Ministry of Commerce, the SCO's aggregate GDP would increase by $98.8 billion if all member countries exempted each other from import taxes. In addition, Xi suggested using the SCO as a mechanism to align OBOR with other regional cooperation initiatives such as the Moscow-led Eurasian Economic Union and the "Nurly Zhol" national development strategy of Kazakhstan.
Beyond these economic and security initiatives, Xi proposed additional measures to enhance "solidarity and coordination" within the SCO, including a five-year implementation concept for the Treaty on Long-term Good Neighborliness, Friendship, and Cooperation, which aims to broaden cooperative activities among SCO member states' political parties, sub-national federal bodies, and legislative and judicial sectors. He also reiterated aspirations to increase popular engagement within the SCO through academic and youth exchanges, "human resources development," cultural activities, and joint programs in health, disaster relief, environmental protection, sports, and tourism. Towards this end of his speech, Xi offered to send Chinese experts to SCO states to give policy advice, conduct training programs, provide scholarships, and host the first SCO media summit to bring journalists more directly within the SCO framework.
Xi also supported keeping the SCO open and inclusive to new members and partners, including both additional countries and other multinational organizations. He encouraged measures to speak "with one voice" on international questions. Xi also reiterated the value of the upholding "the Shanghai Spirit" of, "making solid progress on the road of building a community of shared future, thus establishing a fine example of the new type of international relations featuring win-win cooperation… equality, mutual support, solidarity, and sharing of weal and woe."
Through employing benign language, and by embedding the OBOR within the SCO framework, China aims to overcome other countries' concerns about its impact on their own initiatives, even as the integration gives Beijing greater influence over their collective impact. Aware of Russia and other countries' unease at China's use of the OBOR and SCO to dominate Eurasia, Xi emphasized that Beijing plans for its economic initiatives to "gradually (emphasis added) put in place institutional arrangements for regional economic cooperation," for example, through SCO trade facilitation and developing more cross-border road networks. If successful, Beijing's proposed social programs will help embed Chinese influence in future Eurasian generations. In making an additional contribution of 10 million RMB (almost 1.5 million USD) to the Secretariat, China will help address the problem that the SCO's few permanent organs are chronically underfunded.
Still, the OBOR would benefit the SCO more if it was exclusively embedded into the organization, but China is trying to link any relevant multilateral and bilateral structure to the initiative. Thanks to China's growing economic primacy in Eurasia, Beijing can bypass the SCO whenever needed and pursue essentially bilateral deals camouflaged as multilateral initiatives—whether it be through the SCO, the OBOR, or other bodies. China however still prefers that Russia, the United States, and other countries share the burdens of maintaining regional security.