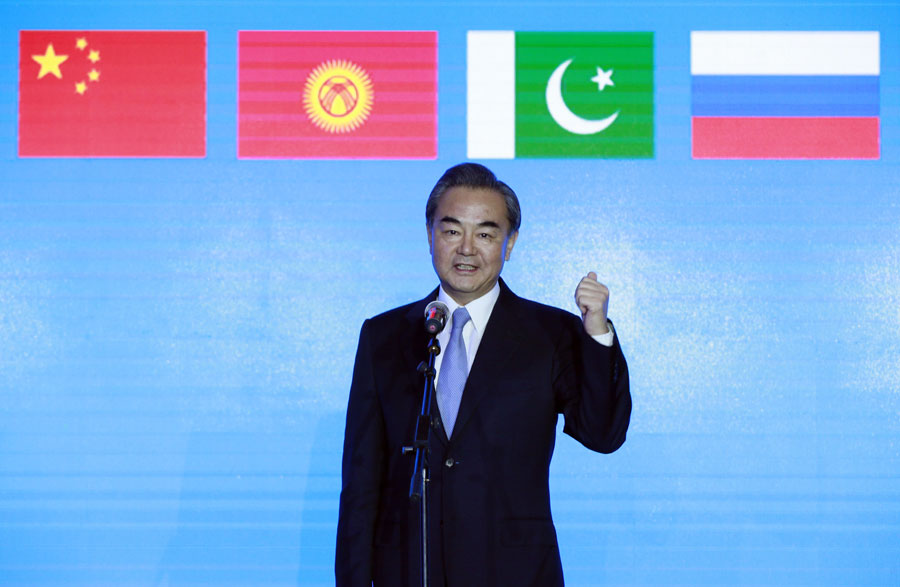 On the evening of June 14, 2017, Foreign Minister Wang Yi attended upon invitation the reception of the Shanghai Cooperation Organization (SCO) Day held by SCO Secretary-General Rashid Olimov.
The 17th meeting of the Council of Heads of States of the Shanghai Cooperation Organization was held in early June in Astana, capital of Kazakhstan. It demonstrated five unique features.
First, the organization obviously has a strong instinct to crack down on terrorism and maintain regional security.
The SCO, in fact, was the first international organization in the world to hold high the anti-terrorism banner. The 'Shanghai 5', SCO's predecessor formed in 1996, identified the fight against terrorism as a primary purpose. On June 15, 2001, six heads of states signed the Shanghai Convention on Combatting Terrorism, Separatism and Extremism. The member states set up an SCO anti-terror agency, engage in regular meetings and close consultations between defense ministers and security ministers on this topic, take turns to host various forms of joint anti-terror exercises and successfully breaking up various terrorist activities. As such Central Asia has for a long time been secure and stable.
The SCO's Convention on Countering Extremism was signed at the recent summit, further improving the legal basis for combating terrorism, separatism and extremism. It will prompt more targeted anti-terror cooperation and help address both terrorist activities and their root causes.
Second, there is more economic cooperation and closer linkage between SCO and the Belt and Road Initiative.
The other primary purpose of SCO is to promote economic cooperation. The Belt and Road Initiative of China actually started in Central Asia.
The Astana Declaration published by the SCO fully recognizes the positive significance of the Belt and Road Initiative for bilateral and multilateral cooperation as well as regional and world economic development. Leaders of all member states expressed willingness to participate in the initiative with a view to turning the SCO into a central platform for Belt and Road cooperation.
In the past four years, jointly developing the Belt and Road has turned from philosophy to action. For example, with preferential loans in billions of dollars provided by China in the SCO framework, Central Asian countries have constructed several projects of great significance to their national economies. Completion of the China-Kazakhstan oil pipeline and China-Turkmenistan natural gas pipeline, meanwhile, has given China access to important energy supplies.
SCO member states have truly followed the principle of sharing. They are working to advance policy coordination, infrastructure connectivity, unimpeded trade, financial integration and people-to-people bonds and extensive common understanding has been forged. The Chinese side will continue advancing the integration of the Belt and Road initiative with other countries' development strategies and other regional integration initiatives.
Third, SCO is expected to have greater influence now that India and Pakistan have gained formal membership after years of elaborate preparations. The organization now has 44% of the world population and 24% of global GDP. It extends to the whole Eurasian continent except for Europe. SCO's international influence is expected to grow further with this important enlargement.
It is a mainstream opinion in the media that despite their huge differences, both India and Pakistan had tried hard to join the SCO, an 'umbrella' for member states against common threats and an entity that can help to mitigate their differences.
Fourth, the SCO has become a staunch supporter of the new international order.
The renowned 'Shanghai Spirit' of mutual trust, mutual benefit, equality, consultation, respect for cultural diversity and pursuit of common development was set by the founders of the SCO. Representing a new driving force for equitable, just and reasonable international political, economic and security order, the 'Shanghai Spirit' has given the SCO an increasing respect and welcome from the outside world.
UN Secretary-General António Guterres also attended the summit. He pointed out that the SCO has gradually become a world center of gravity and a foundation of existing world order.
Dissonance was also sounded. For example, some media argued that the SCO had become an axis countering the US, with China and Russia at the center and laying groundwork for the latter two countries to develop a new order dominated by themselves. Frankly speaking, such a comment is simply a reflection of Cold War mentality. The SCO is not an Asian version of NATO, and it is not adopting an EU model, either.
Fifth, China continued its important role at the summit.
President Xi Jinping has attended the annual enclave for five consecutive years. He contributed Chinese wisdom and demonstrated China's sense of responsibility. The SCO Convention on Countering Extremism signed at the summit was actually a proposition made by Xi at the 2014 Dushanbe Summit.
At this meeting, Xi explained Chinese thoughts on work after taking over the rotating presidency next year and put forward a series of specific proposals in the political, security, economic, cultural, external exchange and institutional set-up fields. He formulated an outline for implementation in the coming five years of the Long-Term Good-Neighborliness, Friendship and Cooperation Treaty of the SCO Member States, convening defense and security forums to develop program of cooperation for combating terrorism, separatism and extremism in the coming three years, negotiating and signing an SCO trade-facilitation agreement and launching in due course FTA-feasibility studies. These propositions will steer the SCO towards more comprehensive coordination, more practical cooperation and more efficient actions.
These features of the Astana Summit show that SCO has successfully gone through a development period and become more mature. To realize its purposes, member states have made concerted and effective efforts, and the organization is therefore full of vitality.
Tweets by ChinaUSFocus