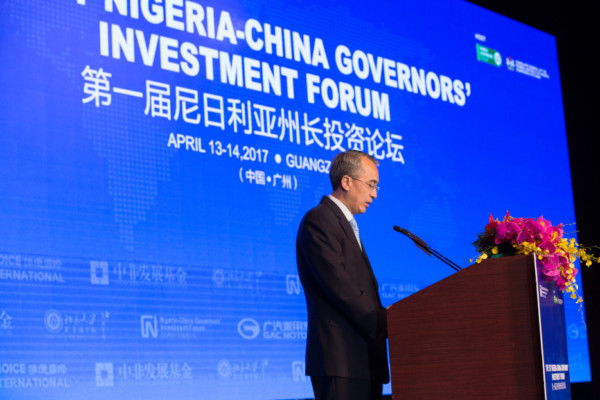 Deputy Mayor of Guangzhou, Cai Chaolin (photo: BellaNaija)
Nigerian and international reporting on Chinese investment in Nigeria gives the impression that Chinese companies are the largest investors in the country. However, this is not the case. Journalistic accounts frequently intermingle news about China's foreign direct investment (FDI), which requires an equity component, and it's much larger winning of contracts, usually infrastructure, that rarely have any equity investment. These are projects won by Chinese companies and financed variously by Chinese banks, the Nigerian government, and international financial institutions. It is important to distinguish contracts from FDI, even when they include loans from Chinese financial institutions.
The problem is compounded, especially in the Nigerian press, when financing of the contract or one of its components is reported again and again after the date of signing the initial agreement. In 2006, for example, the China Civil Engineering Construction Corporation Ltd. (CCECC) signed an $8.3 billion contract to build a standard gauge railway from Lagos on the coast to Kano in northern Nigeria and to upgrade the entire rail system. Delays caused by the Nigerian government held back the start of construction until 2011, and then only on the Abuja to Kaduna portion, at a cost of $876 million. CCECC completed this leg of the railway at the end of 2014.
Since 2006, the press has run numerous stories about "new" Chinese loans to finance parts of Nigeria's railway rehabilitation, giving the impression of much greater financial commitment than was actually the case. In 2017, for example, the press announced the signing of a $7.5 billion loan from Chinese banks for railway construction that seems to have been covered in the 2006 agreement. The loan included funding for the unfinished sections of the Lagos to Kano standard gauge railway.
The China Global Investment Tracker published by the Washington-based American Enterprise Institute and the Heritage Foundation includes both FDI and contracts won by Chinese companies. For the period 2005 until 2017, it documented almost $44 billion of Chinese FDI and contracts in Nigeria. Most of this figure consists of contracts and much of the financing comes from Chinese financial institutions. While contract financing, which is often not available in the West, is an important contribution to Nigeria's development, it is not FDI.
Reports that focus exclusively on FDI must also be evaluated with great care. It is not unusual that a company announces an investment but subsequent efforts to confirm its existence fail to produce any information about it or determine that the project ever materialized. Announcements concerning the construction of oil refineries in Nigeria by Chinese companies fall in this category.
China is a significant and growing source of FDI in Nigeria, but not the colossus it is widely believed to be. The estimates for Chinese FDI stock in Nigeria vary widely, due partly to the intermingling of statistics on contracts won by Chinese companies and legitimate FDI. In 2016, the U.S. State Department's Office of Investment Affairs estimated China's FDI stock in Nigeria at $4.2 billion, or 6 percent of Nigeria's total FDI stock. A June 2017 report by McKinsey & Company put the FDI figure at $4.7 billion. These similar estimates are probably close to the actual number.
Using the U.S. State Department's 2016 FDI estimates for Nigeria, Chinese FDI is just ahead of American FDI, also 6 percent of total stock. But it is well behind the United Kingdom (21 percent), Netherlands (19 percent), and France (8 percent). So much for the perception that China dominates FDI stock in Nigeria. On the other hand, McKinsey & Company's report on Chinese flows of FDI to Nigeria are more impressive. McKinsey & Company reported in 2015 alone that Nigeria received $2.4 billion in Chinese FDI, mostly in the industrial sector.
If care must be exercised in accepting information about Chinese FDI in Nigeria, so too must data on the number of Chinese companies be scrutinized. China's Ministry of Commerce reports that 317 companies are operating in Nigeria, while the Nigerian Investment Promotion Commission puts the number at 301. Based on local fieldwork, however, McKinsey & Company estimates the real number is almost three times these estimates—920—most of them private companies.
Chinese companies, especially those engaged in manufacturing, have concentrated their FDI in three Nigerian free trade zones, two of which—Ogun-Guangdong and Lekki—Chinese companies established and hold an equity investment in. The Federal Government of Nigeria established and owns the third one—Calabar Free Trade Zone in Cross Rivers State.
A Chinese consortium known as "China-Africa" built the Ogun-Guangdong Free Trade Zone and continues to have a 60 percent equity investment. The remaining equity is held by Ogun State. As of 2017, 23 of the more than 30 companies registered for business in the zone were operational and employing more than 5,000 persons. Chinese companies are engaged primarily in light industry such as furniture, paper, and lighting.
A consortium of Chinese companies known as the China-Africa Lekki Investment Ltd. has a 60 stake in the Lekki Free Trade Zone; Lagos State holds the remaining 40 percent. Reportedly Africa's fastest growing economic zone, it attracted about $15 billion from 116 Nigerian and foreign investors by 2017, although only 16 have started operations, including a half dozen Chinese companies.
As of 2014, according to a study prepared by the China-Africa Research Initiative at Johns Hopkins School of Advanced International Studies, there were 74 businesses operating in the Calabar Free Trade Zone, of which nine were Chinese. They produce iron rods, textiles, electronics, appliances, and vehicles such as heavy-duty trucks.
All companies face challenges in Nigeria, such as power outages, which particularly impact manufacturing operations, and serious corruption. Language and cultural differences, especially a different work ethic, result in criticism from Chinese managers. Concerns about personal security also impact decisions by Chinese companies to invest in Nigeria.
Nigerians have their own concerns about Chinese investment. Chinese manufacturing operations compete with similar domestic companies, which are often not competitive and go out of business. Some of the Chinese products are seen as of poor quality while others, such as textiles, are imitations of local products. There have been complaints about unethical Chinese business activities. Chinese employment practices do not always conform with Nigerian labor law. Chinese FDI has not resulted in significant technology transfer and Chinese companies continue to import most of their raw materials from China.
China's FDI has, however, made a positive contribution to Nigerian economic growth and the employment of Nigerians. This is the bottom line for the government of Nigeria, which will continue to welcome FDI by Chinese companies.