The Center for Strategic and International Studies (CSIS), a bipartisan foreign policy think tank based in Washington, DC, released a September 2020 report on Serbia. In it, the CSIS outlined the Balkan country's evolution into a Chinese 'client state.'
The central thesis of the report is that Beijing targeted Serbia as a hub for economic activity in the Western Balkans with the intent of leapfrogging into western European markets. It asserts that Serbian President Aleksandar Vučić and his Serbian Progressive Party (SNS) cater to Beijing's economic objectives and geopolitical influence in exchange for domestic victories that strengthen Vučić's autocratic tendencies. Since China is typically associated with rapid economic growth, any partnerships with Beijing are presented to the public as engines for job creation and increased wages. Although the report's tone is suspicious of Chinese investment, construction spending in Serbia grew significantly from Q1 of 2018 to Q4 of 2019 - from 26.8 percent to 48.3 percent. The report claims that Serbia's public administrations are heavily staffed with SNS loyalists who receive lucrative deals through subcontracted jobs under Chinese economic development projects.
During the pandemic, the Serbian government partnered with NetDragon, a Chinese company to help establish an AI training center in Belgrade for the purpose of encouraging remote learning. Dahua, a Chinese tech company that's sanctioned by the US, began marketing heat-sensing cameras, contactless entry, and facial recognition cameras as solutions to the coronavirus pandemic. The primary concern is that Serbia is an attractive location for rapid ICT infrastructure development. Serbia borders 4 EU member states, including Croatia, which houses two of the three submarine cables connecting the region to the global internet system infrastructure. As such, Serbia is a central hub for regional internet traffic, where more queries were transmitted via Belgrade than any other Southeast European city after Frankfurt. The CSIS reports claims that 'safe city' projects ultimately reinforce democratic backsliding, as China's technology potentially assists the SNS government in tracking and intimidating critics of the regime. The report also alleges that the Chinese train Serbian law enforcement on the use of these technologies, suggesting that Beijing is complicit.
This intimate relationship gains China a friend on the international stage where Serbia backs Beijing at the United Nations. The report suggests that "rising Chinese financial flows are correlated with closer political alignment in voting patterns at the UN General Assembly among recipient countries globally." Further, Chinese investment is more present in domestic media than investment from western partners, improving China's public opinion in Serbia. The regime's emphasis on Chinese aid has significantly improved China's image, and Beijing's relationship with Belgrade can serve as a 'template' for public relations campaigns in other European countries.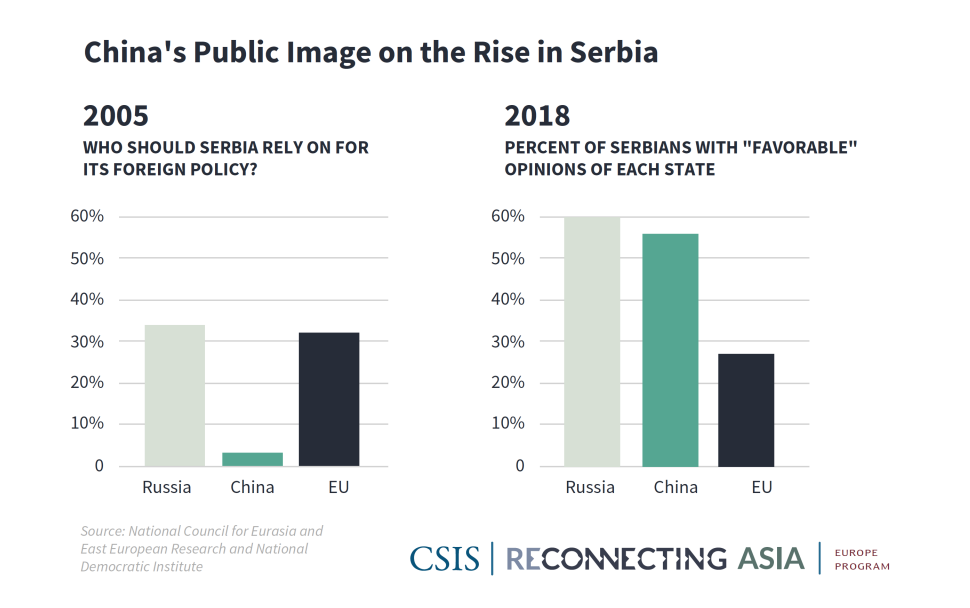 According to the China Global Investment Tracker published by the American Enterprise Institute and the Heritage Foundation, Chinese investments and contracts in Serbia between 2010 and 2020 totaled about USD 11 billion. While claims that Serbia is a launchpad for the rest of Europe, France, Germany, and Italy received 24.5 billion, 47.3 billion, and 26.5 billion respectively in Chinese investment. Most of the investment in Serbia during this period was in transport, metals, and energy infrastructure. When we look at the period from 2018 to 2020, we see again that much more Chinese investment targeted the larger economies of France and Germany. This makes sense because Serbia has a much smaller economy, but nonetheless, Chinese investment is relatively strong in most of Europe, not just in Serbia. This fact undercuts the paper's suggestions that Serbia is simultaneously an EU candidate country and Chinese Trojan Horse that will deconstruct European norms and regulations once Beijing completely penetrates western markets. Most of these markets are already heavily engaged with Chinese firms.
The report also makes several connections that are questionable.
First, China and Serbia might simply have balanced interests. The report disregards other valid reasons why Serbia might work with Beijing on geopolitical and economic questions. It presents investments as insidious, rather than pragmatic. Some investments might be the only decent diplomatic option for Serbia at the time. A key part of the Sino-Serbian relationship is mutual agreement on territorial integrity in the context of Kosovo in Serbia, and the One China Policy. This has been the case since the bombing of Belgrade and accidental bombing of the Chinese embassy by US forces conducting NATO operations during the Kosovo War. Although China sides with Serbia because of its own interests, this 'natural fit' on the issues of sovereignty and territorial integrity balances interests and creates a lasting diplomatic bond. Since Serbia is a disobedient buffer zone between the US-EU Western World and the Russian-Chinese sphere of influence, the west will continue to pressure and discourage cooperation with Beijing.
Second, Serbia needs investment and China offers credit with the most favorable terms. The report emphasizes China's strategic sector targeting Serbia as something selfish or malign on Beijing's part, while the simple point is that most of Serbia's vital infrastructure was devastated by either NATO bombing, or neglected as a result of economic sanctions, and then lack of sufficient revenue. Like the wider region, Serbia is in desperate need of economic growth opportunities, and once again, if China is willing to foot the bill with less conditions and political requests than the west, then maybe it isn't so strange. Further, this issue is not unique to Serbia. The central 5G debate in Europe is still set along the German-French divide, and many countries in Europe, from Hungary to Italy are considering the use of Chinese 5G equipment and accepting infrastructure investment or credit for strategic sectors, as evidenced by the data at the American Enterprise Institute and the Heritage Foundation.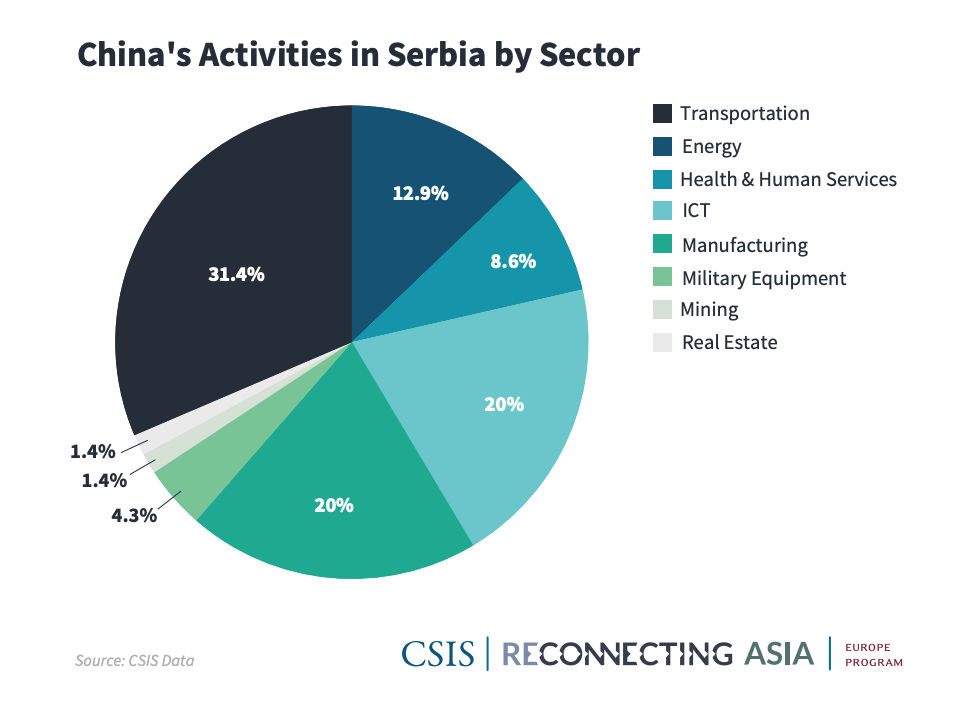 Third, strategic sector targeting is not unique to Serbia, it reveals a greater trend in Europe, also revealing that most of Europe is in desperate need of investment. Chinese firms target strategic sectors like energy, transport, and information and communications technology (ICT) in Europe, and Serbia is a country that is more likely to accept more investment since it is not in the European Union and subject to its regulations and standards.
Fourth, Vučić might be using Chinese technology to surveil and control his population, complicating security risks and undermining civil liberties, but this is more related to Vučić as an individual. Undermining of civil liberties is a phenomenon occurring throughout the world, not something directly related to Chinese influence.
Lastly, the unsustainable debt cited by the report as a potential issue is a tiny fraction of the debt burdens of most European countries. Serbia's debt is expected to exceed 60 percent of GDP in 2020, which violates an IMF agreement on public debt reduction. However, this is well below the debt levels of EU member states like Cyprus, Greece, Italy, Portugal, and Spain. Sixty percent of GDP is miraculously low for post-COVID Europe, given the ambitious fiscal programs used to combat the crisis.
The report suggests a joint US-EU public education campaign to expose the negative impacts of Chinese investment in Serbia by using media that is not controlled by the regime. It argues that a second campaign should compare western investment to Chinese investment and highlight the environmental, economic, and health risks associated with Chinese investment, while elevating US and EU investment as safe and sustainable. It also advocates for the creation of an investment working group for the Western Balkans to prioritize alternative financing mechanisms for sustainable projects that meet Western standards. Lastly, the report recommends a US-EU monitoring group that tracks Chinese digital infrastructure activities in third markets.
While these are worthwhile steps in creating a more competitive business environment in Serbia, all global players should acknowledge that Europe will require significant middle-class oriented investment over the next decade. A sustainable and global plan, in coordination with Chinese business leaders, would most benefit countries like Serbia that need to upgrade infrastructure and critical strategic sectors should it improve living standards for its citizens. This should be a conversation that does not exclude China, but rather help Beijing improve the business opportunities it offers to European counterparts.