Montenegro is rich with gorgeous coastlines and sweeping mountain ranges. The small Balkan country with a population of 600,000 has become a geopolitical flashpoint, as Europe, China, Russia, and the United States all actively attempt to influence its political and economic future. While Russia maintains its deep historical ties to the region as a whole, China looks to maximize investment opportunities, while the U.S. hopes to retain its military ally on the Adriatic coast.
As Russia and the United States pursue political and security relationships in Montenegro, China and the European Union are both investing in the country's infrastructure, raising concerns about Montenegro's ballooning debt burden. Recently, a regional highway financed by the Export-Import Bank of China and constructed by Chinese firms has drawn concern from locals. Competing domestic and geopolitical interests give the highway project the perception of being a 'debt trap,' meanwhile, Montenegro's longest-ruling leader is gradually losing political power as opposition parties defeat him at the ballot box.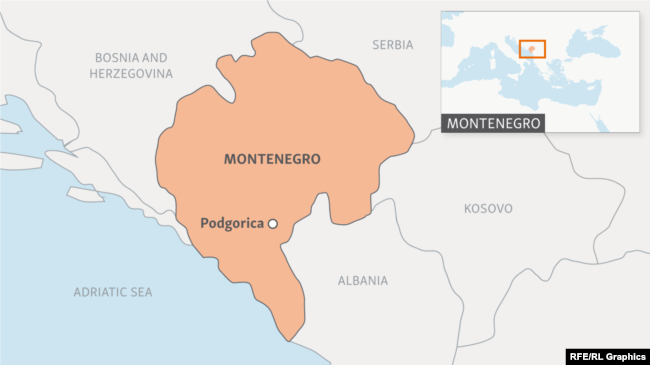 Montenegro's Complex Political Scene
President Milo Đukanović and his Democratic Party of Socialists (DPS) formally ran Montenegro since 1991. Đukanović began his career as a Serb nationalist but slowly evolved into a Montenegrin national identity builder. Despite this turbulent past and his reputation as a corrupt politician, Đukanović was welcomed into the White House in 2014. Đukanović's willingness to sever his relationship with Serbia, along with his pursuit of NATO membership as well as various EU bids that ultimately earned him Washington's praise and prolonged his time in office.
Milo Đukanović and his DPS lost the 2020 parliamentary elections to a shaky coalition of Serb patriots, multi-ethnic democratic moderates, greens, and progressive liberals. Despite joining forces to topple the DPS and rid the country of corruption, the most significant divisions within the ruling government relate to global geopolitics. Specifically, Montenegro remains in NATO, continues its EU bid, and manages its sizable Chinese loan commitments. Montenegro thus maintains security relationships with the West while attracting economic benefits from the East. Balancing varying interests could allow for the country to improve its economic picture significantly, although its NATO members remains problematic for both Moscow and Beijing.
Montenegro's complicated history makes it hard for politics, both domestic and international, to run smoothly. For example, Montenegro formally joined NATO in 2017 under the DPS. At the time, around half of its citizens, mostly Serbs, vehemently opposed the alliance.
Đukanović and the DPS lost public support after introducing the controversial 'Freedom of Religion Law,' which sought to confiscate property belonging to the 800-year old Serbian Orthodox Church should the institution fail to prove ownership of such property. The law was condemned by Pope Francis, Ecumenical Patriarch Bartholomew, and Russian Orthodox Patriarch Kiril. In response, tens of thousands of protesters walked in peaceful prayer processions alongside bishops and priests with Orthodox icons. After months of demonstrations, DPS began to lose support. The new government, led by Prime Minister Zdravko Krivokapić, signed a new agreement with the Serbian Orthodox Church, preventing the confiscation.
The defeat of Đukanović's law highlights the geopolitical rifts that exist within the country. Those that support the Church typically challenge western narratives within geopolitics, international law, history, and sovereignty and are more likely to oppose NATO. Although a religious organization, their worldviews fit nicely with those of Beijing and Moscow. With DPS out of power, Russophiles and Sinophiles will likely develop a greater political voice in the country, while the increasing debt burden threatens Montenegro's ability to repay Chinese loans intended for infrastructure projects.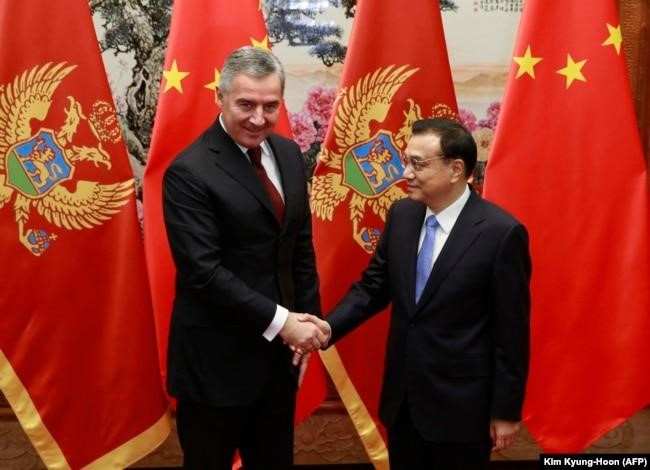 Then Prime Minister Milo Đukanović (left) with Chinese Premier Li Keqiang in Beijing in November 2015.
Fears of a Chinese 'Debt Trap'
While the DPS antagonized the Serbian Orthodox Church and the Montenegrin Serbs, Đukanović was simultaneously signing deals with Chinese firms to finance and construct highways. Đukanović 's policies appear inconsistent since Serbia remains one of China's most loyal allies in Europe. Nonetheless, he maintained a solid relationship with Washington and European leaders while linking Montenegro to Beijing to finance crucial infrastructure.
The Chinese ExIm bank provided a $1 billion loan to finance a critical nationwide highway project constructed by the Chinese Road and Bridge Corporation (CRBC). Montenegrin leadership has eyed this project for some time and believes that connecting the coastal harbor city of Bar with the Serbian capital Belgrade will formalize connectivity and boost cooperation between the two countries, especially concerning tourism. One section of the highway will link capital city Podgorica with Matsevo in Montenegro, a region with natural resources and in need of better roads.
However, payments are due in July, and officials in Podgorica are worried about defaulting because of unexpected economic consequences related to the coronavirus pandemic. The virus, coupled with Montenegro's infrastructural deficiencies, has hit the economy hard, declining over 15% in 2020.  
Although the European Union expressed an interest in providing additional financing to the Balkans to reduce dependence on Chinese lenders, the EU will not help pay off debt from third parties. The primary European concern is that if Podgorica fails to make payments, China will gain outsized influence of Montenegro's infrastructure for decades to come, similar to in Sri Lanka after the government could not maintain payments for a Chinese financed seaport.
Supporters of the national highway project claim that 'debt traps' are not a concern, despite Chinese loans matching one-third of Montenegrin annual GDP and one-third of total Montenegrin debt. Still, Podgorica remains confident that it can pay the loan back. Although Montenegro experiences reduced economic activity, income, and tourism visits, there is an expectation from previous government officials that the ExIm bank will improve conditions. Former Montenegrin president, Filip Vujanović, believes that due to a legacy of mutual respect in Sino-Montenegrin relations, Podgorica's efforts to work with the Confucius Institute, and the unprecedented Covid-19 situation, ExIm will provide Montenegro with favorable repayment conditions. Therefore, Vujanović does not believe in a 'debt trap' scenario like in Sri Lanka.
However, it is essential to note that China holds about one-third of Montenegro's total debt, which reached 103% last year. If Podgorica does default on the loan, China can access land and assets in Montenegro as collateral. Current Prime Minister Zdravko Krivokapić distanced himself from the project and criticized his predecessors for signing the agreement. Deputy Prime Minister Dritan Abazović told lawmakers that the EU should help Montenegro refinance the loan to avoid a future debt trap.
The Montenegrin government raised taxes and froze public-sector wages to balance the budget before the repayment concerns began. Currency swings led the project cost to soar to nearly $23.8 million per kilometer, which is more expensive compared to similar projects. The Center for Global Development, a Washington-based think tank, expressed concerns in 2018 about Montenegro potentially having issues paying off Chinese loans.
While U.S. and European media typically portray Montenegro's credit relationships with Chinese banks as inherently unsustainable, Montenegro and the region has much to benefit from Chinese investment activity. The region should pursue independent and diverse investment and credit relationships with China and beyond, while also pursuing a bright future with the European Union. Chinese investment can contribute to sustainable infrastructure projects that provide local laborers with sustainable jobs. Additional Chinese-financed projects should also include other regional financiers and contractors who have experience with BRI-related projects, so that future deals benefit Chinese investors but also generate long term returns for local stakeholders. If Beijing engages with the Balkans responsibly, China will prove to the European Union that it seeks out 'win-win' negotiations and keeps reciprocity in mind when investing in Europe. A positive investment approach in the Balkans can help improve China's lasting image with core European Union nations and leaders who will decide the fate of the turbulent EU-China investment relationship.