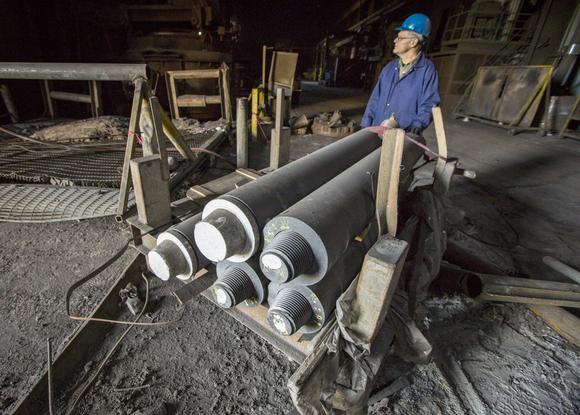 (AP)
One definition of protectionism is believing trade deficits are always harmful. If so, President Trump has been a protectionist for decades. His long-held views and campaign words signify heavy political pressure to shrink the U.S. trade deficit. Additional and unprecedented steps will be taken in 2018, primarily directed at China. But the trade deficit, especially the bilateral Sino-American deficit, may not budge.
President Trump almost always refers to merchandise trade only, whereupon his critics immediately point out the U.S. runs a services trade surplus and the President's deficit numbers are inflated. The criticism is correct but progressively less relevant. The combined goods and services trade deficit rose almost $60 billion in 2017 to the highest level since the financial crisis.
Moreover, the key to the combined deficit is goods trade with just one country, China. The bilateral goods trade deficit of about $375 billion last year broke the 2015 record and accounted for roughly two-thirds of the total U.S. goods and services deficit. With the problem worsening the first year of his watch, though, President Trump is unlikely to brag that he knew all this.
Section 301
Instead, 2018 is going to feature (more) trade actions. Lots of them. They will all be touted as important but only a few have a chance to reverse the trend of Sino-American trade toward larger imbalance. The most important steps should stem from an investigation under Section 301 of the 1974 Trade Act.
Section 301 gives the United States Trade Representative authority to respond, in any area of "pertinent" relations, to foreign practices that burden or restrict commerce. Eventually Congress will have its say, but it is likely to lean protectionist during an election year. The Trump administration will have leeway at least through November.
This 301 investigation is aimed at coercive technology transfer by China. The evidence cited and scope of response will determine whether 301 is compliant with World Trade Organization (WTO) principles. More important, while the President and others are wrong about trade deficits automatically harming the U.S., there is no justification for a deficit stemming from coercive technology transfer and the ensuing competitive upgrade.
The PRC has engaged in such practices for many years, with some estimating U.S. losses in the hundreds of billions of dollars. If 301 attempts to rectify competitive harm from past Chinese action, it will be sweeping enough to reduce the trade deficit.
But the first steps under 301 are very unlikely to do this, even if they involve amounts in the tens of billions of dollars, simply due to the size of the trade gap. Nor will they be sufficient to halt China's technology acquisition, which is an ingrained policy. If 301 is to matter, the inquiry would have to be reopened repeatedly as more evidence of improper behavior and competitive harm arises. The Trump administration has not yet indicated it is aware of this.
Everything else
Another justification for sweeping American trade action is national security, embodied in Section 232 of the 1962 Trade Expansion Act. Here the U.S. does not need evidence of harmful practices; national security can simply be asserted as a reason to limit imports. Citing national security is acceptable under WTO rules, a fact which appears to recommend using Section 232 but in fact argues against it.
For example, China's steel industry is wildly oversized, pressuring producers around the world. First, it is not obvious the U.S. can design a 232 sanction to cause Beijing to curb output. Second and more worrisome, national security justifications could then be used by the PRC or other countries to block American agriculture and aviation exports. The 232 cure will be applied sparingly because it's worse than the Chinese dumping disease.
A third initiative from the Trump administration could prove important over time - self-initiation by the Department of Commerce of anti-dumping and countervailing duty cases. If American companies are reluctant to initiate cases due to fear of Chinese retaliation, self-initiation could translate to far more frequent U.S. findings that remediation is justified. It's too early to tell but, over an extended period of time, this could be a sufficient change to cut into the trade deficit.
Some other actions have no chance at all to do so. By themselves, the conventional barriers the U.S. recently applied to limit China-made solar equipment and washing machines will have absolutely no impact on Sino-American trade patterns. (It is telling that one of the American companies which asked for protection is owned by a Chinese firm.)
The U.S. could move to alter economic relations with no impact on the trade imbalance. Congress and the administration are likely to restrict the movement of people and money, say by expanding the authority of the Committee on Foreign Investment in the United States. This will be done on the same grounds as Section 301, to stop illicit technology transfer. Even if successful, though, it will have no trade impact for several years at least.
Finally, there's a U.S. policy that may cause the bilateral deficit to soar. If the Republican tax plan succeeds in boosting personal incomes and aggregate growth, it will spur demand for imports. There is no corresponding spur to foreign demand for U.S. exports. Everything President Trump does this year to curb unwanted imports could be overwhelmed by a stronger economy - it's very hard to offset the buying power of ordinary Americans.
Trade Scuffle, Not War
A twist ending: retaliation by Beijing is also likely to be minor. With foreign exchange reserves still only creeping higher after a $1 trillion plunge, a huge, stable trade surplus with the U.S. is valuable to the PRC. If American actions are likely to have little net impact, China can be restrained in response and continue to promote itself as the more responsible actor.
This reasoning naturally has limits. China will of course respond if Washington over time applies multiple sets of 301 sanctions or a spree of self-initiated tariffs. But policy-makers struggle when faced with large economic flows and well-established trends, and the Sino-American trade deficit represents both. There will be a fair amount of sound and fury over U.S. trade policy toward China in 2018. It may not signify anything until 2019 or 2020, if then.