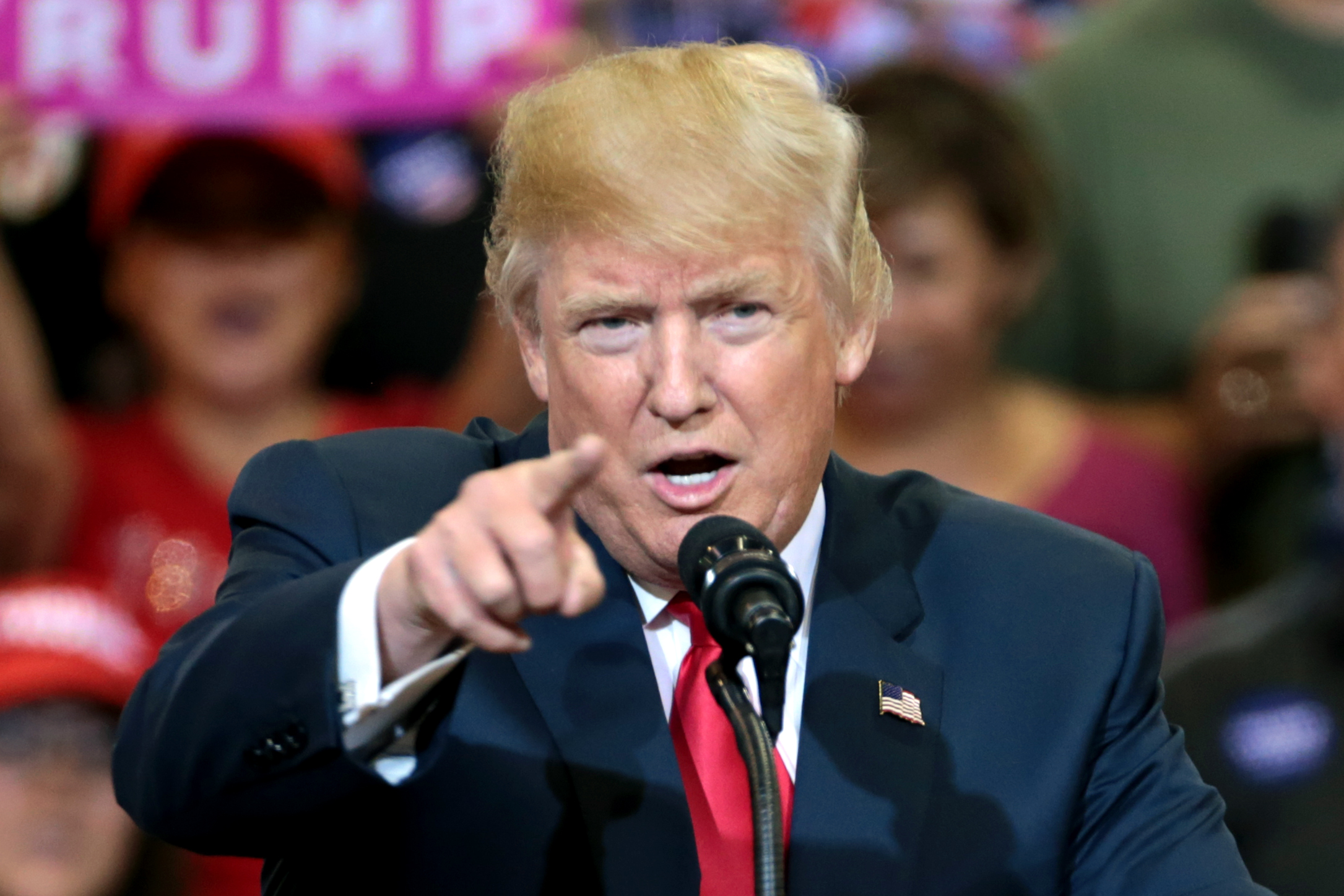 Photo Credit: Gage Skidmore
On March 1, Trump called for a 25 percent tariff on steel and a 10 percent tariff on aluminum. Analysts fear that the move will spark retaliation from other countries, with a particular concern that it could start a trade war with China. Trump's trade advisor, Peter Navarro, unequivocally stated that the tariffs would make no exception for any country, including close allies such as South Korea. Experts suggest that the move will likely not affect Chinese steel—which accounted for only 3 percent of U.S. imports of steel in 2017—but would instead hurt countries with whom the U.S. has friendly relations. In Asia, that includes Japan, South Korea, and Taiwan.
In fact, South Korea's wide-reaching free trade agreement has been an overall bad deal, according to Trump. In January this year, South Korea and the United States entered into renegotiations of the Korea-U.S. Free Trade Agreement (KORUS FTA), signaling the Trump administration is seeking to fulfill his campaign promise of revising what he called "unfair" trade arrangements.
Before the second round, in late January, Trump announced tariffs on imported washing machines and solar energy cells and panels, a move criticized by South Korea and China. As former acting deputy for USTR and former chief negotiator of the KORUS FTA, Wendy Cutler said these tariffs have the potential to "set a cloud over the negotiations."
After years of difficult negotiations, KORUS went into effect in March 2012. During the Obama years, the trade deal was labeled the "gold standard" in FTAs, and analysts and officials from both countries suggested the technical advancements in the agreement could be used in later agreements with other countries. During the presidential campaign, Trump called the KORUS FTA a "horrible" deal and a "job-killer"—even going so far as to suggest he'd completely "slash" the deal in April 2017.
This sort of evaluation, motivated by the protectionist and populist rhetoric of Trump's promise to put America first again, has been explicitly reasoned in economic terms. According to the U.S. Trade Representative Office, trade in goods and services between the two countries amounted to $144 billion in 2016. The overall trade deficit for the United States was $17 billion that year, due to an imbalance in trade in goods. The U.S. had a $27 billion trade in goods deficit that year, but a $10 billion trade in services surplus. Korea is among the top 10 trading partners for the United States—in 2016, it was the seventh-largest goods export market and the sixth-largest goods importer.
Proponents of the agreement point to the services trade surplus as an indicator of important areas for trade growth. The U.S. Trade Representative (USTR) reports that trade in services is up nearly 30 percent since pre-FTA trade (2011). Moreover, Korea invests in the United States, they say. U.S. foreign direct investment (FDI) in Korea in 2015 was $34 billion, but Korea also invested in the United States: $40 billion worth that same year. This is an area that Korea tried to play up in the lead-up to the Trump-Moon June summit, including opening new factories in the United States.
Critics of the agreement are particularly concerned about Korea's tariffs in certain areas, particularly autos (as Cutler argued, automotive issues are expected to be a key part of these negotiations.) The Economist points out that global trade as a whole slowed sharply the year KORUS came into effect, including Korea's total imports. In fact, as a proportion of total imported goods, U.S. goods comprise a larger portion of Korea's total, from 8.5 percent in 2011 to 10 percent today.
Following the June summit, U.S. Trade Representative Robert Lighthizer issued a letter to Korean Minister of Trade, Industry and Energy Joo Hyunghwan to request a special convening session of the joint KORUS committee, expressing the Trump administrations' "real concerns about our significant trade imbalance with Korea." The letter pointed out that U.S. market access in Korea is limited and the agreement hasn't realized the expected gains for both countries.
Some Korean analysts worry Trump's tariffs might be a means to frighten or coerce Korea into more concessions on the FTA renegotiation, suggesting it may chip away at trust in some political aspects of the alliance. Back in June 2017, during Trump's visit to Seoul to meet President Moon Jae-in, trade stood out as a sore spot between the two leaders. He has since been relatively quiet on the issue, but in February Moon said Korea could consider filing a complaint against the United States with the World Trade Organization against its "unreasonable" protectionist measures. The steel tariffs have come about because, according to the U.S. Commerce Department, floundering steel and aluminum industries are a threat to national security, but South Korean officials have argued that, as an ally, South Korean steel exports do not undercut U.S. security concerns.
The KORUS FTA has been previously touted not only as a purely economic deal, but also as the economic leg of a more comprehensive alliance. For the past decade or so, South Korea and the United States have worked to make their partnership more than just a military alliance to counter the North Korean threat, and to engage in other security, political, diplomatic, and economic efforts together. Contention over KORUS might send a signal to Pyongyang that there are gaps in the alliance. However, security concerns will still likely outweigh even messy and contentious trade negotiations. In fact, last year, despite suggestions it may simply withdraw from the KORUS FTA, the Trump administration abandoned that idea after North Korea's sixth nuclear test.
These tariffs, renegotiations, and rhetorical criticisms may leave a sour taste in the mouth for Seoul and other trading partners in the region, casting the United States as not only a difficult but also an unreliable trading partner. Moreover, coordinating common signals not only to North Korea but also to China, which has a stake in ensuring status quo on the peninsula, will be difficult if the Trump administration continues to censure its ally's trade practices and interests. What can be seen for the United States, however, is a potential further segmentation of relations with its partner. These struggles do not condemn the alliance—there were worries that Korea might be looking toward Beijing for diplomatic and economic purposes under Moon's predecessor. However, Trump's tariffs and the KORUS renegotiations do make the multifaceted U.S.-South Korea partnership more complicated.