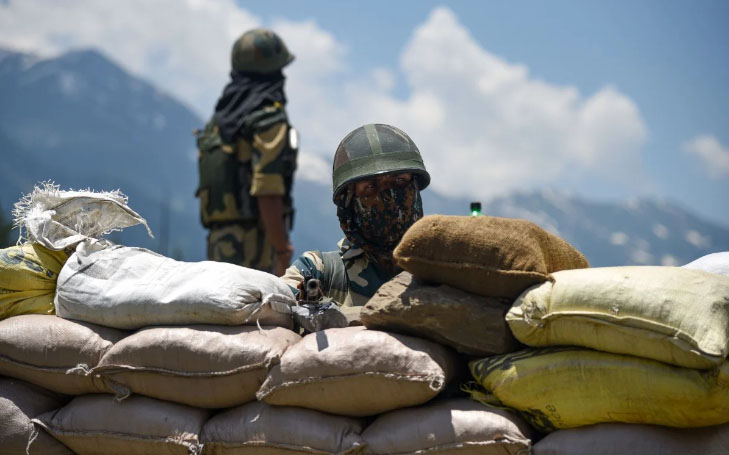 (Photo: DPA)
On June 15, twenty Indian soldiers and an unspecified number of Chinese troops were killed in the remote Galwan Valley of Ladakh. This incident follows several clashes in early May along China and India's 2,167-mile, largely-disputed border.
Border skirmishes do periodically emerge—the most recent evolving into an eight-week standoff in the summer of 2017—and are, therefore, a familiar reality in the China-India relationship. But, these standoffs are often localized and de-escalate with limited violence, making Monday's clash inherently consequential to the bilateral relationship writ large.
This year, India and China are celebrating 70 years of diplomatic relations. Touted by positive political rhetoric and a calendar of high-level events, this crafted narrative is glaringly out of step with developments on the ground. How can we square what China and India say about their relationship with how they actually act? Regardless of whether these repeated border standoffs are indeed part of a centralized, assertive geopolitical strategy, they demonstrate how localized incidents can spiral into inadvertent escalation.
Deterioration in the Security Sphere
The only full-scale war fought between China and India, two nuclear powers whose populations alone account for over 35% of the worldwide population, was fought in 1962. Almost sixty years later, and there is still no permanent solution to the underlying dispute. Several militarized standoffs have emerged throughout the past few decades, and India publishes thousands of PLA "transgressions" across the Line of Control (LoC) every year (the PLA does not publish Indian incursions across the LoC). Even so, much of the border remains un-demarcated, so competing interpretations may disagree on what is and is not considered a transgression. Additionally, these are high-altitude, largely uninhabited areas, where localized dynamics dictate vastly different conditions. Skirmishes usually emerge when troops engage in fist fighting—which is to say skirmishes are not necessarily directed by any central authority—and thus cannot be considered uniformly strategic in broader geopolitical posturing. While the most recent clash resulted in a shockingly high number of fatalities, no firearms were used, and most fatalities resulted from a lack of access to treatment in sub-zero temperatures.
Nonetheless, this clash—simply due to the high number of causalities—is just as, if not more, significant than the 2017 Doklam Standoff, which was considered a watershed in shifting bilateral relations. In 2017, fiery rhetoric from both sides lambasted each others' underlying intentions and projected a grim picture for future cooperation. Later, general tensions subsided after two informal summits between Modi and Xi in 2019. In contrast to the tone of 2017, major party newspapers have thus far been relatively restrained when reporting on the clash. Government statements and high-level diplomacy emphasize a desire to de-escalate tensions. During May's briefer (and non-fatal) clashes, media was also quick to detach local incidents from broader bilateral tensions.
The origins of this incident remain unclear, with both sides claiming the other instigated cross-border attacks on troops. Yet, since 2017, China has significantly increased its infrastructure-building in the region. Satellite imagery shows the development of a high-speed expressway, a new terminal in Lhasa's airport, and upgraded facilities for increased military use. These developments indicate Chinese fortification of existing positions in a contested region; while not necessarily indicative of expanding claims, it lends evidence to a newfound investment in a region of increasing strategic importance.
The Diplomatic Narrative
Developments on the ground, then, are increasingly diverging from a diplomatic narrative that emphasizes positivity in Sino-Indian relations. Both governments have underscored their desire to increase political trust, commit to "peace and tranquility" along the border, and bolster civil society relations. This narrative tends to lean on China and India's multi-thousand-year history of civil connections, pointing to, for example, ancient trade or shared colonial experiences as evidence of inevitable peaceful coexistence. (It seems to go unspoken in this narrative that the China and India of the Silk Road were completely different entities than they are today, with both countries only emerging as modern nation-states in the late 1940s).
When superimposed on the reality of growing border tensions—not to mention generally increasing strategic mistrust—these narratives read at best hollow, and at worst as denying the reality of deteriorating geopolitical relations. Yes, economic relations have been steadily increasing throughout the 2000s, but for two nationalist leaders whose domestic successes are largely contingent on strongman foreign policy, how much can economic or civil society relations compensate for an underlying and fundamental mistrust?
Historically, China and India have maintained asymmetric threat perceptions towards one another—which is to say that the degree to which each side evaluates the other as a threat is uneven. Summarized neatly by Yun Sun, "India sees China as a primary threat, while China sees India as a secondary challenge." While Chinese analysts describe a more assertive foreign policy in the Modi era, they tend to dismiss these developments from serving a legitimate or structural threat to Beijing's ambitions. For Beijing, the largest source of concern stems from India's burgeoning relationship with the United States, as demonstrated by analysis of how the Indo-Pacific Strategy is designed to contain or exclude China. Here, India tends to be portrayed as bandwagoning US-led efforts to contain Beijing in a larger, global competition. However, this narrative misses an important reality: that Washington often doubts whether New Delhi can actually offer enough regional support.
So, in addition to the thousands of miles of disputed territory, issues such as mutual suspicion of regional balancing, trade concerns, the status of and India's leverage over Tibet, and India's growing ties with the United States have cemented a Sino-Indian antagonism. These structural disagreements add to a confusing and contradictory diplomatic narrative, which at once predicts the inevitability of reconciliation and unavoidable regional tension.
Crises in Context
Against a backdrop of increasing—and more violent—border clashes, the "Hindi Chini Bhai Bhai" and "Wuhan Spirit" sentiment so often cited by officials comes up empty when describing the reality of the Sino-Indian relationship. Not only do these slogans awkwardly fit the general trajectory of relations, but they also offer no substantial solution to the underlying issues. Any resolution to the long-standing border dispute will be central to how India and China define themselves as regional powers. Unlike the few historical attempts at a resolution, such as with Deng Xiaoping in the 1980s, a border resolution will calculate far more directly into the psyche of nationalist populations who demand that their respective governments stand up to one another.
As such, local adventurism by troops along the border may be more readily co-opted into centralized narratives. Indian analysis positions the incident as evidence for Beijing's increasing aggression, protestors demand boycotts of Chinese-made goods, and demonstrators were detained outside the Chinese embassy in New Delhi. It bears reiterating that neither China nor India wants to go to war with one another—yet with dozens of fatalities, both governments will face immense difficulty writing off this clash as a localized accident in order to de-escalate tensions.
While these standoffs certainly reveal more about the relationship's trajectory than government slogans of peaceful coexistence, they are often retrofitted into a pre-existing narrative rather than evaluated in their localized contexts. At this point, border clashes are far from anomalies, but the initial restraint displayed in high-level remarks to the June 15th clash indicates that these incidents may be less strategically significant than they are symbols of increasing mutual distrust.