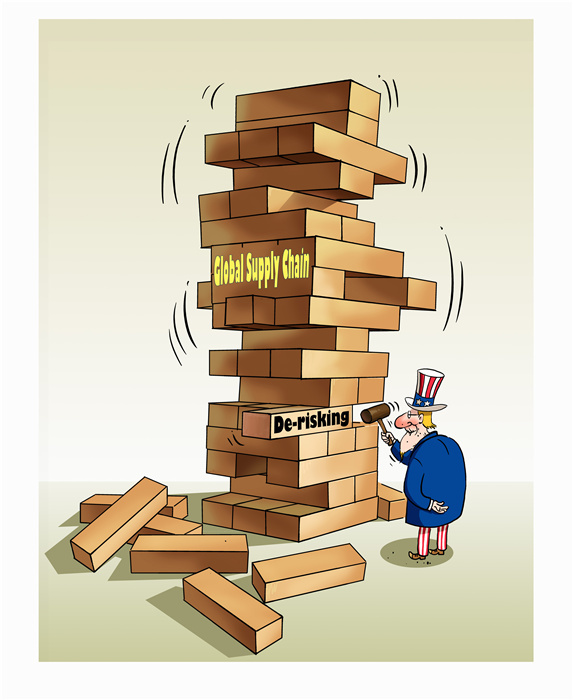 In his opening address to the Summer Davos Forum, Chinese Premier Li Qiang pointed out that de-risking is a false proposition. While the United States government's frequent statements on de-risking seem more moderate, rational, and positive than those about decoupling, the term is, in fact, more prone to politicization and expansion, both semantically and ideologically.
The de-risking advocated by Washington is a vague concept that is likely to cause confusion in the transformation from political rhetoric to policies on the ground. The loosely defined term can be understood as the elimination or reduction of risks. But in adopting this term, the U.S. is in fact sending a vague signal to the world. Different countries, companies and market players may interpret and adopt it in different ways, which could lead to completely different de-risking policies. The end result could be the emergence of policies that are essentially aimed at decoupling in some countries.
To avoid sanctions imposed by the United States, companies in various countries may decouple from China on their own initiative, thus causing wider and more serious disruptions and undermining the global economy. The use of de-risking by the U.S. may not just fail to control the speed and scale of decoupling but also lead to blind decoupling efforts in other countries.
From this perspective, de-risking comes with huge uncertainties and brings new risks to the deeply integrated global economy, even though on the surface it seems to be more moderate than decoupling.
The broad definition of "risk" by Washington makes it difficult to prevent the expansion of the de-risking campaign. The G7 communique highlights risks to "economic resilience and economic security," believing that appropriate economic measures should be adopted to diversify supply chains. For its part, the United States has expanded its list of economic risks.
First, it defines risks based on "national security." U.S. President Joe Biden endorsed de-risking at the G7 summit, stressing the need to "protect a narrow set of advanced technologies critical for our national security." However, national security is a broadly defined concept that includes not only many sectors related to U.S. manufacturing and exports but also research and communications tools primarily for civilian use.
Second, Washington incorporates human rights issues into its de-risking efforts, claiming that "activities contrary to U.S. foreign policy interests in protecting human rights" are significant risks. Speaking of the de-risking policy, Biden clearly upped the game by arguing for efforts against "harmful practices that hurt our workers" and regarded "activities harming the interests of American workers" as risks. In fact, the broader the definition of "risk" is, the closer the distance between de-risking and decoupling becomes.
Because of the sweeping generalization of risks, policymaking is likely to be totally oriented toward decoupling. Therefore, while de-risking seems more rational than decoupling, it actually expands the meaning of risk and exacerbates global economic chaos.
The United States equates risk with China, making de-risking an ideological term. Judging from U.S. statements, the term means reducing dependence on China, preventing technologies with security implications from spreading to China and strictly reviewing and restricting outbound investment in China. Through the use of this vaguely defined term, Washington has expanded the so-called consensus with its allies and trading partners.
At the same time, by equating risk with China, the U.S. government leaves the impression with some countries that there are fewer opportunities to do business with China, and persuades them to endorse its viewpoints on the alleged threat posed by China, thus building up a small clique that is less dependent on China.
Currently, Washington is considering measures to restrict investment in China, with the aim of protecting its leading position in artificial intelligence, quantum computing, clean energy production and biotechnology — which shows that the United States is trying to expand its clique to one that is, unfortunately, more exclusive. In conclusion, de-risking remains focused on reducing dependence on China and promoting the establishment of an anti-China group, even though it seems to be more positive than decoupling.
The U.S. use of the term de-risking over decoupling partly reflects changes in the country itself. Democrats are worried about the prospect of war, especially at a time when a China-U.S. confrontation may fuel anti-Asian sentiment, and the younger generation is averse to confrontation between major countries. For this reason, the Democratic Party may lose the votes of Asians and young people if it continues to promote tough policies on China.
The American business community has been worried that Washington might overreact, given its expansion of what constitutes a threat, as well as its excessive use of restrictive policy tools. This is why businesses have argued that confrontation harms American commercial interests. In view of this, toning down the rhetoric is a necessary choice for Washington.
However, the United States still finds itself lost in grand empty slogans, and many policies will fail to achieve their desired goals.
De-risking makes it impossible to improve supply chain resilience. Restricting trade and investment ties with certain countries may avoid disruptions and shocks in individual sectors, but it is difficult to improve the resilience of a country's overall supply chains. At the core of the U.S. de-risking campaign is protectionism and unilateralism, which threaten to cause serious harm, such as increased tariffs, export barriers and restrictions on investment, thus posing a more immediate challenge to supply chains.
De-risking will not enhance national security. The United States will not be able to restrict its de-risking campaign to a few strategic areas or control economic interactions on a larger scale. When choosing their trading partners, countries around the world may think that everyone is preparing for the worst in the future. In the end, everyone will grow more cautious in choosing their trading partners as they fall into a vicious circle amid heightened tensions.
Neither will de-risking enhance U.S. competitiveness. It will inhibit scientific and technological cooperation between China and developed economies and hinder innovation and productivity improvement in U.S. industries. The United States invests in the development of anti-China supply chains and concentrates them in countries sharing the same geopolitical stance. These moves split the world into competing regional blocs and only reduce trade, investment and the flow of ideas, which are key factors for economic progress. They also cause countries to adopt different technical standards and force some countries to adopt incompatible technologies, thus harming interoperability and affecting economic efficiency and security.
At present, the real risks the world faces are the challenges brought by pandemics and climate change, as well as those brought by a dysfunctional financial sector. Real de-risking should aim to address market failures through international cooperation, rather than simply pointing the finger at China. As the Chinese prime minister said, "The biggest risk stems from non-cooperation, and the biggest hidden security threat is non-development."