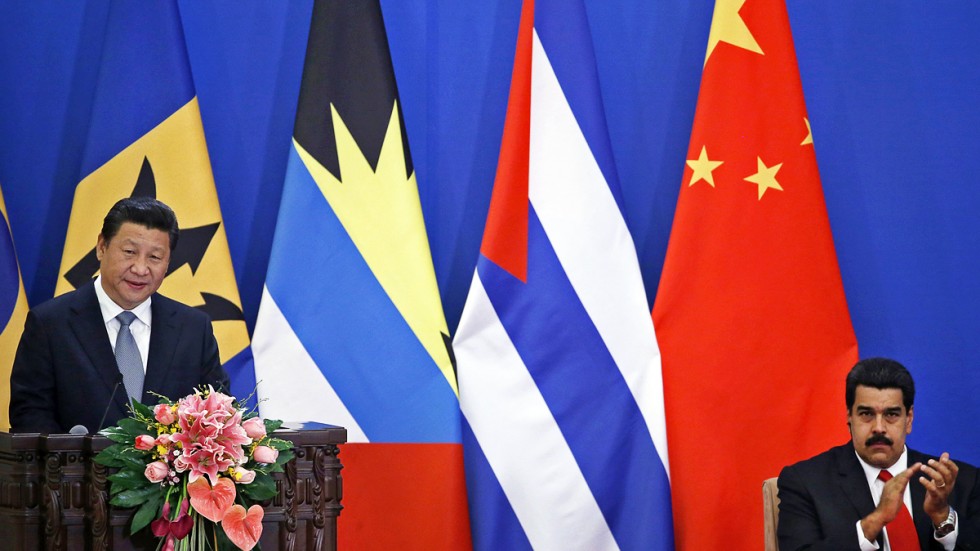 (Reuters)
In addition to remarkable economic gains and some environmental, social, and corruption-related challenges, China's engagement with Latin America over the past two decades has generated considerable anxiety among U.S. officials.
At the beginning of February, Secretary of State Rex Tillerson voiced his—and presumably the broader Trump administration's—concerns about China's rise in the region. Secretary Tillerson warned Latin America about its ties to the Asian nation, stating that "China's offers always come at a price," and describing Beijing's ambitions as imperialistic. Similar remarks were delivered by Treasury Undersecretary for International Affairs David Malpass at the Center for Strategic and International Studies on February 2.

The administration's efforts to portray China as a relative bogeyman in Latin America have since been criticized or countered by a number of scholars and officials, including in Latin America. On February 6, Peru's foreign trade minister, Eduardo Ferreyros, responded to the Secretary's comments by saying that China is a "good trade partner" and that Peru is "careful with all of its trade relations."
Yet, the Trump administration isn't the first to fret over China's rise in the region. The U.S. government has been taking stock of Chinese interests in Latin America and the Caribbean since the 1990s. Concerns surfaced around 1998 about Hong Kong firm Hutchinson Whampoa running the ports on either end of the Panama Canal. Eccentric Chinese billionaire Wang Jing's canal adventures in Nicaragua were also closely monitored in Washington starting in 2013. And China's interests in Venezuela, including Chinese financial support for the governments of Hugo Chavez and Nicolas Maduro, remain a source of worry for U.S. officials.
Behind all of this, and countless hearings and panels on China's rise in the region, is a broader sense that the U.S. risks losing influence, competitiveness, and control in Latin America. Unease about China's presence was relatively unfounded at the onset of the relationship. Despite an influx of Chinese companies in the 2000s, many struggled with the region's bureaucracies, became entangled in difficult investment environments, or experienced communications breakdowns with local communities. Chinese investments were greeted with considerable suspicion. Despite surging trade, the outlook wasn't especially positive.
A decade and a half later, the U.S. is right to be worried about its relative standing. Perceptions in the region of China and the U.S. have practically flipped. According to Pew's Global Attitudes Survey, nearly all of the region's top economies now have a more favorable view of China than the United States. Some, such as Brazil, have favored China for a number of years, whereas Mexico and Peru saw a surge in Chinese popularity in 2017.
What is more, U.S. companies are going head to head with increasingly experienced and capable Chinese firms in Latin America, including in areas such as tech, finance, and agriculture, where U.S. companies have been active for many decades.
China's most recent strides in Latin America are due in large part to a series of carefully crafted policies that advance China's own interests while addressing Latin America's top development priorities. If fully implemented (which remains to be seen), policies such as the "1+3+6 cooperation framework" would support industrial development in the region and diversify trade and investment. China's 2016 Policy Paper on Latin America and the Caribbean goes a step further, proposing cooperation on a wide variety of both region-specific and global challenges, including climate change and global governance reform.
China is also poised to at least partially address the region's glaring infrastructure deficit. Latin America isn't yet a formal part of the Belt and Road Initiative (so far, only Panama has signed a Belt and Road Initiative Cooperation Agreement), but China is nonetheless pursuing a series of large-scale infrastructure projects across the region, many of which are reminiscent of BRI-related projects in Asia. In addition to hydroelectric dams, electricity transmission architecture, and infrastructure projects in the extractive sector, Chinese companies are behind proposals for a series of cross-regional transportation plans. The Peru-Brazil Railway remains of interest to China, despite numerous political obstacles.
China's relative position in the region is also arguably strengthened by U.S. actions at home (e.g., on immigration) and toward the Latin American region. Some experts, such as Americas Quarterly's Brian Winter, believe that the Latin American elite aren't particularly opposed to many of Trump's hardline policies, whether domestic or overseas, but it's safe to say that the U.S. isn't making friends in the region by reviving the Monroe Doctrine, as Secretary Tillerson did earlier this month. With U.S.-Latin America relations at a relative low point, U.S. portrayals of China as a "new imperial power" ring rather hollow, especially considering Washington's historic tendency to overstep its bounds in the region.
In any case, there aren't many examples thus far of Beijing exchanging economic engagement for political compliance in Latin America. Taiwan-related checkbook diplomacy is one. Some point to a Chinese decision in 2010 to embargo Argentine soy oil exports after a dispute over antidumping measures. But evidence of China employing its economic might for political ends is otherwise limited, especially in comparison to efforts by other major powers. As Brookings' Ted Piccone has demonstrated, Latin American and Caribbean votes at the United Nations aligned increasingly with the United States and decreasingly with China from 2006 to 2015, despite growing economic ties between China and the region. That said, China's economic leverage, along with informational asymmetries, do make it hard for some countries to strike good deals in bilateral negotiations, although the same can be said for the region's interactions with other economic partners.
This all goes to say that Latin America doesn't really need a lecture from the U.S. on its China affairs. At this point, the region's governments and NGOs are aware of both the benefits and various challenges associated with China's model of engagement. Some have published extensive reports on environmental considerations, asymmetric trade relations, mounting debt, and other problems. Argentina and Ecuador have worked in recent months to renegotiate the terms of oil-for-loans and infrastructure deals to better serve their interests.
U.S. interests in Latin America—including vis-à-vis China—are best served by strengthening U.S.-Latin America ties, rather than highlighting China's flaws. As China approaches the region with a big wallet and a silver tongue, the U.S. must aim to pursue increasingly demand-driven policy toward the region, focusing on areas in which the U.S. can make a real and "mutually beneficial" difference. Despite the geographic distance, China recognizes the appeal of inclusive rhetoric and development-oriented policy to Latin American governments—maybe better than the U.S. at this juncture.