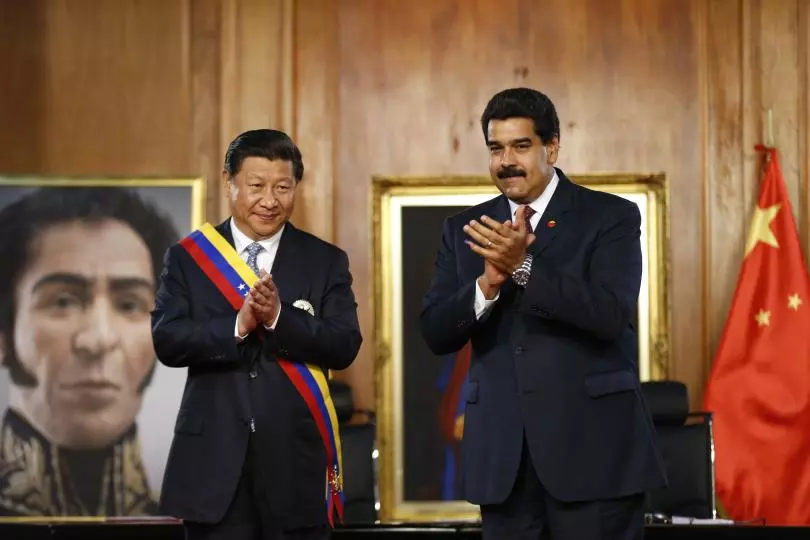 (Reuters)
Before his first trip to Latin America, US Secretary of State, Rex W. Tillerson, gave a speech, titled "U.S. Engagement in the Western Hemisphere", at the University of Texas at Austin on February 1, 2018. He mentioned "China" ten times. He said, "China – as it does in emerging markets throughout the world – offers the appearance of an attractive path to development. But in reality, this often involves trading short-term gains for long-term dependency…China's offer always come at a price – usually in the form of state-led investments, carried out by imported Chinese labor, onerous loans, and unsustainable debt. The China model extracts precious resources to feed its own economy, often with disregard for the laws of the land or human rights."
Tillerson did not forget to acknowledge that China is now the largest trading partner of Chile, Argentina, Brazil, and Peru. But he also said, while this trade has brought benefits to Latin America, "the unfair trading practices used by many Chinese have also harmed these countries' manufacturing sectors, generating unemployment and lowering wages for workers."
Tillerson even tried to sow dissension between China and Latin America by saying "Latin America does not need new imperial powers that seek only to benefit their own people. China's state-led model of development is reminiscent of the past. It doesn't have to be this hemisphere's future."
A win-win-win relationship
Tillerson's remarks are groundless, and betray selfishness and jealousy at China's presence in Latin America, the US' traditional backyard. Indeed, over the past one or two decades, China's ties with Latin America have increased very rapidly. Apart from growing trade and investment, cooperation in other areas is also increasing. Even people-to-people exchanges and military ties are expanding. Undoubtedly, it is not an exaggeration to point out that China-Latin America relations are at their height since 1492, the year the New World was "discovered". But this bilateral relationship does not target any third party.
It is true that China has been importing a large amount of primary products and commodities, including from Latin America, causing a remarkable rise in their prices on the world market. Needless to say, higher prices mean more export income for the region's economies. Even international organizations like the World Bank and the UN Economic Commission for Latin America and the Caribbean have pointed out that Latin American economies have benefited from the commodity boom.
It is also a fact that China exports manufactured products, including labor-intensive goods, to Latin America. As most Chinese products are relatively cheap, they have contributed to the governments' efforts to control inflation. According to an article published in the Financial Times (April 22, 2011), everything in a small shop in São Paulo's Paraisópolis favela, or slum, was made in China. "It's just so much cheaper," the shop owner said, pointing out items that would cost over five times as much if they had been manufactured in Brazil. "It has to be; otherwise lots of people here couldn't afford it."[1]
China has been criticized for the failure of the Latin American countries to upgrade industrial structures. This criticism is absurd. It is impossible for the region to stop exporting commodities. If they are not sold to China, they need to find alternative buyers.
To protect their own market, some Latin American countries have been trying to apply anti-dumping practices against Chinese exports, sometimes with extremely high tariffs. This kind of protection is often counter-productive. In the age of globalization, competitiveness matters.
Due to cultural and economic factors, capital accumulation in Latin America is quite weak, leading to low investment rates. Its infrastructures and productive sectors are in urgent need of foreign investment. Chinese investment can make up for this shortfall. It can be expected that, with the great help of the Belt-Road initiative, more Chinese investment will flow across the Pacific.
In September 2017, the International Labor Organization presented the first study on the impact of economic relations between China and Latin America and the Caribbean on jobs in the region. It found that, between 1990 and 2016, at least 1.8 million net jobs were created as a result of trade, investment, and infrastructure projects. That amounts to almost 4% of the employment created in the region over the period. According to the study, this number might be an underestimate.[2]
As a matter of fact, the US has benefited from China's economic relations with Latin America. This bilateral relationship contributes to the region's economic and social development, and a prosperous and stable Latin America can reduce drug trafficking and illegal migration into the US.
The return of the Monroe Doctrine
At least two former senior US officials, Thomas Shannon and Arturo Valenzuela, both of who served as Assistant Secretary of State for Western Hemisphere Affair, told Chinese media that China's presence in Latin America posed no threat to the US.
In 2013 then US Secretary of State, John Kerry, said in a speech at the Organization of American States in Washington, D.C. that "The era of [the] Monroe Doctrine is over."
Only five years has passed, and in another five years the US will celebrate the second centenary of the Monroe Doctrine. In his speech, Tillerson said, "[S]ometimes I think we have forgotten about the importance of the Monroe Doctrine and what it meant to this hemisphere and maintaining those shared values. So I think it's as relevant today as it was the day it was written."
Hearing Tillerson's remarks, people cannot help but ask: Is the era of Monroe Doctrine back? Is it the foundation of President Donald Trump's "America first" policy?
Towards a triangulation
China's second policy paper on Latin America has one paragraph about the possible triangulation of cooperation among China, Latin America, and any other third party. On the one hand, Latin America will never be able to eliminate the traditional sphere of influence of the US; on the other, compared with China, the US has political and economic advantages in the region. As a result, both China and the US need to figure out creative ways of engaging with Latin America so as to construct a triangulation of cooperation. Apart from maintaining the momentum of policy dialogues, they can set up joint ventures in Latin America and exchange market information.
Needless to say, in the process of constructing the triangulation, the US needs to put down its tinted lenses and say good-bye to the era of the Monroe Doctrine.
---
[1] http://www.ftchinese.com/story/001038207/en
[2] http://ilo.org/global/about-the-ilo/newsroom/news/WCMS_574472/lang--en/index.htm