"To date, I have nothing to say except [my profuse] thanks to China for helping us," declared Philippine President Rodrigo Duterte shortly before his visit to Beijing to attend the Belt and Road Initiative (BRI) mega summit in Beijing on May 14. "One thing is very certain actually: China, in all good faith, wants to help us."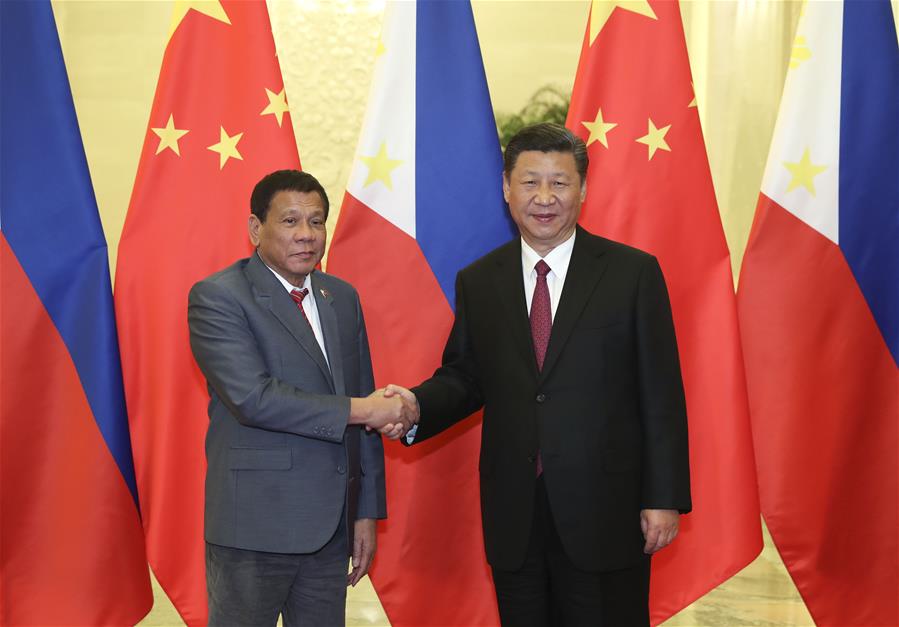 During his second official visit to Beijing in less than a year, Duterte held formal talks with both Chinese President Xi Jinping as well as Premiere Li Keqiang, where the two neighbors reaffirmed their commitment to look beyond their difference in the South China Sea and, instead, focus on areas of common concern. By all measures, this is a far cry from previous years (2012-2016), when then Philippine President Benigno Aquino III failed to hold even hold a single bilateral summit with top Chinese officials amid a full-blown diplomatic crisis.
Days after, the Philippines and China held their first Bilateral Consultative Mechanism (BCM) in Guiyang, China, formally resuscitating frayed institutionalized dialogue amid a rapidly blossoming relationship. During the meeting, the two sides tried to communicated their respective redlines and non-negotiable issues, a particularly tricky task, given the profound disagreement on the Philippines' landmark arbitration case against China in the South China Sea.
Jose Sta Romana, the Philippine Ambassador to China and a long-time Beijing-based journalist, tried to strike a delicate balance by stating that his country will raise the arbitration issue at "a proper time," but for now, however, the focus is to normalize relations with China. For the Duterte administration, economics stands at the center of its pragmatic calculus vis-à-vis China.
This is why Duterte made it clear that he won't raise sensitive bilateral issues, namely territorial disputes, during his meeting with the Chinese president during his latest visit to Beijing, the second in less than a year. To justify his pragmatic approach towards China, Duterte even went so far as claiming that China threatened war if the Philippines insisted on the arbitration award and shunned a diplomatic compromise in the South China Sea. (Both the Chinese and Filipino foreign ministries downplayed the comments.)
Eager to revamp the Philippines' infrastructure landscape, the Filipino leader has forged ahead with fortifying bilateral relations, despite facing some resistance among the security establishment.
Intent on gaining China's good will, Duterte has actively shielded Beijing in multilateral platforms. During the recently concluded ASEAN summit in Manila, where Duterte served as the rotational chairman, the Filipino president vetoed efforts by regional states such as Vietnam to include China's reclamation activities as well as deployment of military hardware to its artificially-created islands in the Spratly's in the joint statement of the regional body.
Hanoi's worries was reportedly shared by other member states, including Malaysia and Brunei, who are deeply worried about the rapid militarization of the South China Sea disputes in recent years. Ahead of the summit, Indonesian President Joko Widodo reiterated how the "South China Sea is one of the issues that we need to solve immediately," urging the ASEAN to adopt "a common stand" on the issue.
Under Dutetre's leadership, the ASEAN, however, not only failed to raise the Philippines' arbitration case, but also went so far as omitting any mention of China's reclamation activities as well as the militarization of the disputes. The word "serious concern," which appeared in last year's joint ASEAN statements under Laos' chairmanship, was also missing.
"Your president has defined the outcome…already," a regional diplomat, likely from Vietnam, told the Filipino media. "Some are frustrated over the turn of events." Duterte's blatant concessions to China extend well beyond its bilateral and multilateral diplomatic posturing. To China's delight, the Philippines has also downgraded military cooperation with the Philippines' sole treaty ally, the United States. The latest edition of the annual Balikatan (shoulder-to-shoulder) joint Philippine-U.S. military exercises, for instance, completely shed war games in the South China Sea in favor of Humanitarian Assistance and Disaster Relief (HADR) operations thousands of kilometers away from the disputed waters.
In exchange for these diplomatic and strategic concessions, Duterte expects China to serve as a key partner for his country's national development. China's new Silk Road initiative, in particular, has caught the Philippines' attention. To actualize its vision of directly connect Chinese industrial heartland to Western Europe through a gargantuan network of ports, railways, and highways, Beijing has set up an initial $40 billion Silk Road Fund, with the China-led Asian Infrastructure Investment Bank (AIIB) covering another $50 billion.
During the BRI summit in Beijing, Xi pledged another US$113 billion, with the China Development Bank (CDB) and Export Import Bank of China (EIBC) expected to shoulder the bulk of projected $1.3 trillion in investments over the next decades. The Philippines, which has relatively limited economic interdependence with China, is interested to join other ASEAN countries such as Malaysia, Thailand and Indonesia in attracting big-ticket Chinese investments.
Under the recently-launched "Dutertenomics" initiative, Manila aims to overhaul the Philippines' public infrastructure by investing up to $167 billion over the next five years. Japan and China are expected to play as key partners. Beijing alone has been awarded 12 major infrastructure projects worth a total of $4.4 billion.
On the sidelines of the BRI summit, China tried to charm the Philippines' American-leaning defense establishment by offering a $500-million loan for arms purchases, reflecting the broader geopolitical calculus behind Beijing's massive investment schemes abroad, especially in strategic countries like the Philippines. By and large, Duterte's liaison with China is in full blossom.