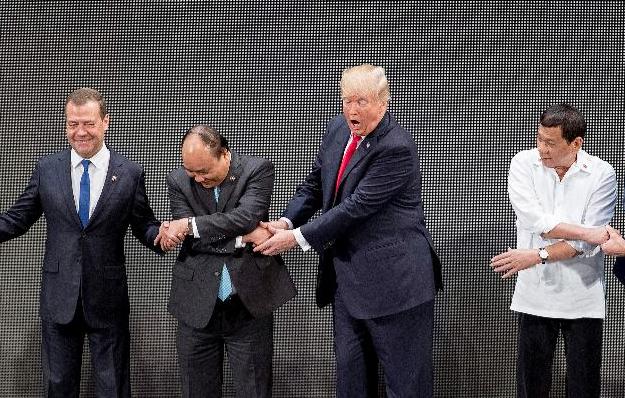 (AP)
US president Donald Trump concluded his 12-day trip to Asia, which he called a "tremendous success". Yet his self-praise is a sharp contrast to the general domestic criticism of his visit, especially from the elite circle.
According to Trump, his visit was successful because of several reasons. First, he was received with "incredible warmth" and respect, showing that America has regained confidence and standing in the world. Second, his trip showed that "sovereign and independent nations should cooperate together to advance security, prosperity, and the noble cause of peace". Third, his trip helped to "rebuild America, restore its economic strength and defend its national security". And for this Asia trip specifically, it was defined by three core goals, which are to "unite the world against the nuclear menace posed by North Korea", to "strengthen America's alliances and economic partnerships in a free and open Indo-Pacific", and to insist on "fair and reciprocal trade".
He then listed his accomplishments relating to those three goals. He and relevant leaders agreed on denuclearizing North Korea. Japan, South Korea, and Vietnam agreed to impose additional sanctions, and President Moon Jae-in agreed to remove payload restrictions on missiles to combat the North Korean threat. President Xi Jinping of China pledged to "faithfully implement UN Security Council resolutions and to use more economic influence" to denuclearize North Korea. The U.S. and China would not accept "freeze for freeze" and all options remain on the table. Both Japan and South Korea "committed to shouldering more responsibilities of common defense" and making more investments in their own military, which includes buying advanced American technology. On trade, all the leaders agreed to deepen their relationships with the U.S. based on "fairness and reciprocity". That includes more investments and work opportunities for the U.S.,renegotiating the US-South Korea Free Trade Agreement, and a commitment to reduce the trade deficit with U.S. in regard to which the $250 billion worth of deals signed between Chinese and American companies should help.
As to the much debated "Indo-Pacific" concept, his main focus is on fair and open trade. At the ASEAN summit, he also mentioned freedom of navigation and overflight, and at a meeting with the prime ministers of India, Australia, and Japan, he discussed their "shared commitment to a free and open Indo-Pacific".
Trump's boasts are drowned out by the widespread criticisms of his Asia visit, ranging from his too-conciliatory attitude towards China, to his failure to achieve anything tangible, to his ignorance of human rights issue. The biggest concern amongst the US strategic community is the opportunity cost of having an inward-looking president uninterested in world leadership. The "democratic order" that the US has headed for decades, they think, is at risk.
However, a more calm and balanced analysis of Trump's Asia policy would ease some of these worries. First, it's almost routine for any president, liberal or realist, internationalist or nativist, to be criticized in the current polarized US political climate. Although Obama is widely viewed as a more rational and worthy president than Trump, he was called a coward and an indecisive leader on Syria. Someone like Trump, who has such a bad relationship with the mainstream media, is naturally viewed more harshly.
Although he entered office trumpeting an "America First" policy, his brand as such has been gradually incorporated within the establishment strategic orientation. As seen in his Afghanistan speech, he has overcome his initial instinct to withdraw and has begun to understand the complexity of the situation and decided to stay on there, continuing Barack Obama's strategy. A great deal of continuity can also be found in his Asia policy, including his building of old alliances with Japan, South Korea, and Australia, and upgrading ties with new partners like Vietnam and India. Although he withdrew the US from the Trans Pacific Partnership, the so-called fair and balanced trade he asks for urges more market access and support for targeting China economically, which isn't so different from past policy. The "Indo-Pacific" concept is aimed at those alarmed by China's rise, who think Beijing should be countered.
Trump's America First policy has indeed reshaped US priorities in the region, with its focus on bilateral trade agreements, yet the method he uses for these purposes is the same, i.e. to resort to the US overriding strategic advantages. In the short run, it seems the US has indeed gained some benefits, but it's hard to predict whether Trump's strategy will strengthen US stand or weaken it, and whether the US can balance its self-interest and its international role in the long run.