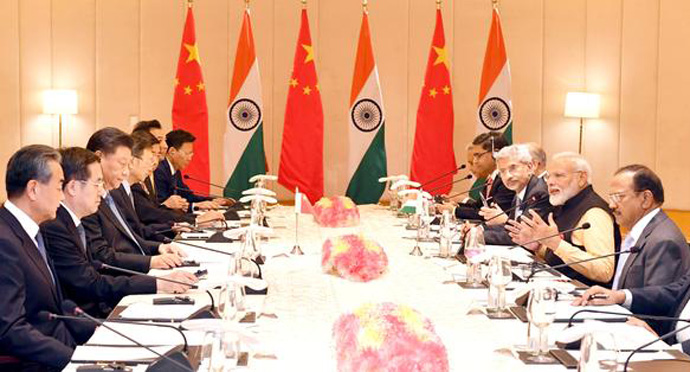 President Xi Jinping visited India and Nepal from Oct. 11 to 13 for his second informal meeting with Indian Prime Minister Narendra Modi. The focus was in-depth, candid communication on long-standing, comprehensive and strategic topics of common concern, increasing trust and making bilateral relations steady and future-oriented.
Short as it was, the meeting had four layers of far-reaching significance for the future of China-India relations.
First, it moved toward institutionalizing the informal meeting to set a course for the development of China-India relations. Modi happily accepted Xi's invitation for the next informal meeting to be held at an appropriate time. This is important for China-India relations.
Bilateral ties have long been characterized by high-level interaction. Virtually every major breakthrough in the relationship has had its roots in direct interaction by the leaders, including the resolution of every major instance of turbulence. It is not so important that this particular meeting resolve specific differences between the two countries. What matters most is that they have managed to institutionalize informal dialogue. That's especially important for the steady progress of bilateral ties at present and in the future.
Fluctuations in bilateral ties have become more common. As China-U.S. wrangling gets increasingly fierce, the U.S. has obviously increased its strategic engagement with India, and India's strategic value to the U.S. has reached a high point. Modi and his party maneuvered a sweeping re-election. Hindu nationalist feelings in India are running high, and conservative, even right-wing, tendencies have also reached a peak. Catalyzed by Indian geopolitical and domestic self-confidence, the Modi government's peripheral diplomacy is tending to be tougher, even more adventurous, than ever before. When it comes to differences between China and India — such as border disputes, Tibet, China-Pakistan relations and the Belt and Road Initiative — the Modi government has been more likely to adopt tough, even adventurous, policies that have thrown bilateral ties into a period more conspicuously turbulent than they have been in the past 30 years. This suggests that the two countries need to set a steady course for the huge ship of bilateral ties and to ensure that it remains oriented toward being "good friends, good neighbors, and good partners," which is the standard that Xi and Modi set at their first informal meeting. The meetings can, at least, greatly mitigate the distractions of existing divergences and help sustain the bottom line of "no conflict, no confrontation, no derailment."
Second, the meetings are conducive to keeping China-India ties on a track of development cooperation. In the six suggestions Xi made during the recent meeting, he gave particular weight to development cooperation by putting it first. Xi expressed hope that both sides whould "correctly evaluate the other side's development" and specified that they should "enhance dovetailing of the two countries' delopment strategies" to build a "manufacturing partnership". He also welcomed Indian pharmaceutical companies and IT enterprises to invest in China. During the meeting, the two leaders also agreed to establish a new mechanism charged specifically with promoting bilateral trade investment and service cooperation, aiming to diversify bilateral economic ties and effectively dissolve new disturbances in the bilateral trade balance.
Xi's focus aimed at "injecting strong endogenous power into China-India relations," and resolving "suspicions and misgivings" by focusing on development cooperation. Development is the greatest common denominator of the two countries. As the cake of development cooperation is made larger, the proportion of structural difficulties in bilateral ties will become relatively smaller, which is the only way to make sure cooperation always remains at the heart of the relationship.
Third, the meetings are conducive to China and India exploring a model of cooperation and coexistence in border areas to prevent a spiraling security dilemma. South Asia and the northern Indian Ocean are where China and India share borders. Stability and development touch on China's western border regions, maritime routes in the Indian Ocean (especially the energy route) and the Belt and Road Initiative (especially the Maritime Silk Road). Therefore, the strategic importance of South Asia and the northern Indian Ocean to China is no less than it is for India. If they cooperate, both will benefit; if they fight, both will suffer. Considering their increasingly highly overlapping strategic interests in the region, in the absence of fine strategic communication the two countries will inevitably engage in increasingly fierce struggles and find themselves in a security dilemma or spiral. Other countries in the region, especially those sharing borders with both, would hardly be able to avoid getting dragged in and sinking into the dilemma of taking sides.
In addition, the strategic significance of South Asia and the northern Indian Ocean also involves the U.S. Indo-Pacific strategy and China's BRI. The steady, long-term progress of both requires India's support, or at least undertanding. A healthy and stable China-India relationship is conducive to the BRI's hedging potentially powerful disruptions from the U.S.
Fourth, the meetings help give full play to oriental wisdom, guiding global governance to get rid of the current pattern of low efficiency and disorder. The present-day world is witnessing unprecedented changes, with the post-World War II international multilateral mechanisms and multilateral rules encountering unprecedented crises. In the past two years, multilateral global governance mechanisms such as the G20, APEC, East Asia Summit and even the United Nations either showed low efficiency or fell into dysfunction — or even became platforms for a small number of countries to seek private interests — while regional and global topics have become nominal. For this, Xi placed special emphasis on the two countries enhancing coordination under such multilateral mechanisms as the G20, BRICS, SCO and China-Russia-India collaboration. Such coordination is obviously conducive to both nations exploring new models for regional and global governance.
It is worth special mention that the informal meetings between the leaders of China and India may help the two emerging economies prepare for possible shocks from advanced economies reinventing the international order.