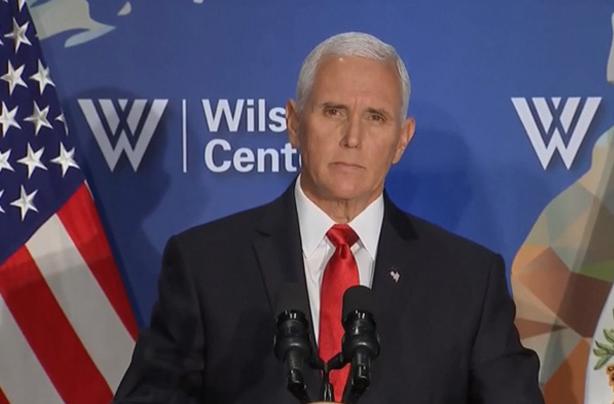 On Oct. 24, Mike Pence, vice president of the United States, delivered a speech at the Woodrow Wilson International Center for Scholars in Washington, D.C., in which he weighed China's performance in U.S. relations and on the world stage, and he explained the Trump administration's political stance and approach in addressing China-related issues.
The speech had been long expected by Chinese strategists and observers. A year ago, on Oct. 4, 2018, Pence delivered his first China policy speech at the Hudson Institute, a politically conservative American think tank. The speech, personally edited and approved by President Donald Trump, excoriated China for conducting unfair trade, forcing technology transfers, stealing intellectual property, restricting internet freedom, establishing nationwide surveillance systems, eroding U.S. military advantages, pushing the U.S. from the Western Pacific and exerting influence and interfering in the domestic politics of the United States. Pence accused Beijing of employing a "whole-of-government approach" to advance its influence and interests in the U.S., and said that "a new consensus is rising across America." If China fails to "return to the spirit of reform and opening that characterize the beginning of this relationship decades ago," then a constructive China-U.S. relationship is impossible and "America will stay the course" in the competition, he said.
The Hudson Institute speech shocked strategists in China. They first regarded the remarks as a new "Iron Curtain" speech but later found it much less bombastic. It was more of an incremental announcement regarding the administration's China policy. While Pence declared that the U.S. would continue to take "decisive actions" in response to China's policies, he offered no details. It sounded more like a stern warning. What this speech made clear was that the debates over China policy were continuing in the U.S. and the Trump administration had not yet decided what its future approaches would be. Despite its decision to focus on strategic competition with China, the U.S. appears unwilling to irreparably damage the bilateral relationship.
After the speech, word came that Pence would speak again in June this year, but that was not confirmed. It is said that the escalating China-U.S. trade frictions and fear of further antagonizing Beijing forced the White House to postpone the originally scheduled address. More detailed background indicates that after rounds of tit-for-tat attacks and negotiations over the past year, the administration has repeatedly dialed down its pressure on China. In the U.S., criticism and resistance to Trump's radical and hawkish China policies began to rise, especially in the economic and trade sectors. American farmers and semiconductor manufacturers have become increasingly anxious, lobbying against the prolonged trade war. Even someone near to Trump wondered "whether we have been too harsh on China."
In October this year, China-U.S. trade talks made progress. The Trump administration proudly announced that a "phase one agreement" focusing on purchases of agricultural products, together with RMB exchange rate mechanism adjustments, would be signed. Some hidden scenarios are worth noticing. First, as the 2020 U.S. election draws closer, escalating friction between the U.S. administration and China would only cause more harm to America, turning its drumbeat of achievements into political burdens. Second, to disrupt Trump's re-election efforts, Democrats on Capitol Hill are going ever further to throw mud at the president. On one hand, they have attacked Trump's for his various scandals and called for his impeachment, while at the same time fanning the flames of the dispute — for example, proposing laws directed at China. It is against that background that the White House decided to have Pence deliver a second speech in which more negative laws targeting China were suggested. Pence softened his tone at the Wilson Center from the bombastic rhetoric of last year.
Pence stressed at the beginning that the destiny of the 21st century will largely hinge on the United States' relationship with China, and the Trump administration is determined to build a relationship on a foundation of "candor, fairness, and mutual respect." He even hinted at the possibility that China policy could return to the track of engagement. But Pence reverted to the same old tone to criticize previous U.S. administrations, blaming them for neglecting China's "economic aggression and human rights abuses," and claiming that the nature of the economic relationship between China and the U.S. has been responsible for the "the greatest transfer of wealth in history." No longer will America hope that economic engagement alone will transform China into a free and open society. It now recognizes China as "a strategic and economic rival."
Having boasted about the "achievements" Trump has made in developing the U.S. economy, creating a fair competitive environment for American enterprises and preventing China's "excessive behavior" globally in the last three years, Pence listed the "abuses" that China has continued to carry out in disregard of U.S.'s warning since last October:
• Sending economic and trade negotiations back to square one by backing away from hundreds of pages of agreed deals;
• Continuing to steal U.S. intellectual property rights and hacking into America's internet;
• Continuing the flow of synthetic opioids made in China into the United States;
• Transforming into an unprecedented "monitoring country" that exports authoritarian technological tools;
• Forcing domestic and foreign enterprises to transfer technology to the Chinese military;
• Deploying advanced anti-ship and anti-aircraft missiles on artificial islands of the South China Sea;
• Leveraging the Belt and Road Initiative to establish footholds in ports around the world;
• Inducing two more nations to switch diplomatic recognition from Taipei to Beijing with checkbook diplomacy, and increasing pressure on Taiwan's democracy;
• Distrusting Hong Kong's autonomy and resenting its freedom;
• Continuing to repress people in the Chinese mainland for their religious faith;
• Intimidating U.S. entreprises so as to influence public opinion in America.
Pence's complaints understandably aroused the anger of the Chinese government. Hua Chunying, spokeswoman for the Ministry of Foreign Affairs, responded that the speech "reflected extreme arrogance and hypocrisy, and was full of political prejudice and lies."
"A small group of American politicians led by Pence" was bent on interfering with China's internal affairs and obstructing China's stability and development," Hua said, advising U.S. leaders to "carefully examine themselves in the mirror" and "mind their own business."
State Councilor and Foreign Minister Wang Yi denounced Pence's criticism as "complete nonsense."
Pence also took the opportunity to irritate those Americans who do not support Donald Trump's China policy, giving his speech a hue of domestic politics. He mentioned the "NBA event" and blamed American international corporations such as Nike for not only kowtowing to the lure of China's money and markets but muzzling affirmative expressions of American values —and even participating in the boycott of the Houston Rockets in the Chinese market. Pence also explicitly stated that "China wants a different American president," implying that some Americans have sided with China in order to force a leadership change. He then said was the ultimate proof that President Trump's leadership was working and promised that this administration "will not stand down."
After nearly half an hour of grumbling, Pence's speech entered a "moderate section" as he expressed America's continuing desire to establish a constructive relationship with China. Pence confirmed the possibility of a deal with China to end the trade war. He said the Trump administration did not seek confrontation with China, did not seek to contain China's development and did not seek to "decouple" from China, but rather sought a level playing field, open market, fair trade, respect for American values and a fundamental restructuring of the country's relationship with China.
Sensing the softer tone in Pence's remarks, Chinese officials also left some room in their response. In her remarks on Pence's speech, Hua Chunying said that "our bilateral relationship is not zero-sum," and "for China and the U.S., the right thing to do is have mutual respect and seek common ground." She urged the U.S. to "follow the consensus established by the two leaders, act on the basic ideas of coordination, cooperation and stability" and work for steady progress in relations.
For Chinese strategists, Pence's new speech was more of an updated rehash of the Hudson Institute speech than a sequel. Instead of offering any China policies in a systematic way, as some people had expected, it generally implied that the U.S. needs to explore a new structure in its relationship with China. The Trump administration, despite its prejudices and disapproving views of China, ultimately has to face reality: Its ambition for governmental containment in all aspects will gain neither international nor domestic support. China has become too strong to be intimidated. Therefore, the U.S. has to refrain from flaunting its superiority but must be realistic instead.
There is still room for both sides to adjust their practices through communication. However, the Trump administration's impressions and judgments about China have further deteriorated, and it has only reconfirmed the U.S. competitive positioning against China. As Pence's new speech reflected, the structural disputes between the two countries have yet to be resolved, and critical pressure is about to be reached. What the Trump administration really seeks, instead of easing the bilateral relationship, is tactical adjustments to avoid an escalation of the conflict as the U.S. presidential election draws closer. This means the administration will likely stop pursuing a quick fix and prepare to engage in a long-running battle, as China has done. If Donald Trump wins the 2020 presidential election, a new round of containment moves against China is sure to follow.
In regard to the economy and trade, it is hoped the "phase one agreement" will be concluded on the eve of this year's APEC summit in November, but it is not enough for resolving all divergences. There is no solid foundation for seeking a middle way between reforms in China, as the U.S. demands, and the U.S. withdrawing the tariffs that China hates bitterly. Since there can be relapses at any time, no one can confirm that a final agreement is around the corner. One party is facing greater downward economic pressure, while the other is backing toward the edge of economic recession step by step. Thus, economic and trade negotiations seem to be a competition of resilience.
As for decoupling, though both sides have stated that they don't seek it, the trade war that has lasted for over a year has left a deep scar on the two countries' general relationship and judgments of each other. Distrust prevails in both markets. Chinese companies are strengthening independent innovation to break free from their reliance on U.S. technologies and components, while American companies are searching for alternatives to their Chinese supply chains. Even though the White House has not taken the initiative to decouple from China, many government departments and the "deep-state" bureaucracy in the U.S. will continue to impose new limits on bilateral trade, technology and people-to-people exchanges. If the two sides cannot resist decoupling at the market level, the risk of a divided global economic system will continue to grow.
Strategic security will become more significant in China-U.S. relations. The U.S. military will push forward its deployment toward China under the Indo-Pacific Strategy despite any external impacts, and overt and covert confrontations in the South China Sea remain a hotbed for conflict in future. The U.S. withdrew from the Intermediate-Range Nuclear Forces Treaty, to a large extent, because of China, but it will attempt to deploy intermediate-range ballistic missiles and update its anti-missile systems around China while attempting to persuade China to engage in multilateral military control negotiations. This could trigger fierce strategic conflicts.
Once the ideological competition starts, it is impossible to quickly draw back. Moreover, the spiral of hostility will not stay on the spiritual and thinking level, or in official speeches, but will escalate internal stresses in both countries and is more likely to transform into precautionary and restrictive measures against each other.
The strategic game between China and the U.S. has already started. Both countries are designing new ways to target each other, with the U.S. walking ahead of China in this respect. Both sides need time to assess their strengths and find out each other's bottom lines for establishing pillars and reasonable boundaries in their strategies. Therefore, the deterioration of the bilateral relationship can hardly be reversed in the near future.
But even a very tense relationship that features local confrontations demands management — and it is manageable. Though annoying, Pence's Woodrow Wilson-style speech reminds us that China and the U.S. should restructure their relationship based on international and domestic political realities. The period from today to the end of the 2020 U.S. presidential election cycle is a critical window for both governments to reopen channels of dialogue to prevent further misjudgments during any China-U.S. trade truce. It's also an important opportunity for strategists in both countries to brainstorm and deliver, independently or jointly, detailed plans for a new framework.