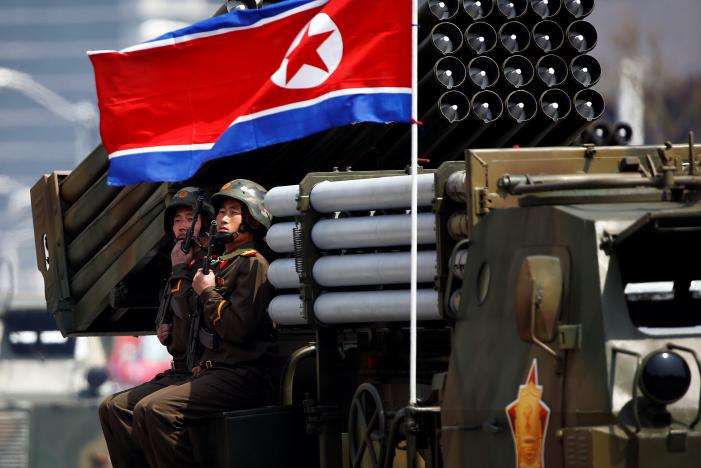 Imagine this: The President of the United States addressing the nation to announce that the U.S. and North Korea have finally, after much negotiation, reached an agreement to denuclearize the Korean Peninsula. That North Korea has agreed to replace its nuclear plants with more proliferation resistant light-water reactor plants as well as to work towards normalizing relations between the two countries. With the current state of affairs between Washington and Pyongyang, this may sound hard to believe, but there was a brief moment in history when this was the reality — a reality the world gravely needs today.
Recently, famed actor and outspoken right-wing leaning Twitter user James Wood tweeted a video of just this — Former President Bill Clinton announcing a deal reached to further prevent North Korea from producing nuclear weapons. The deal, known as the Agreed Framework, essentially laid a path forward by which North Korea would dismantle several of its nuclear power plants, thus halting its limited, but growing capabilities to produce nuclear weapon-grade material, all while working towards building a better relationship between the U.S. and DPRK. However, Wood's post suggests that the former president is to blame for the failure of the agreement and, more broadly, the deterioration of current state of U.S.- North Korea relations.
In reality, the failure of the Agreed Framework was due to George W. Bush. After being elected in 2001, Bush canceled the deal over suspicions he had with North Korea. Furthermore, in his 2002 State of the Union address, Bush branded North Korea as a member of the "Axis of Evil" for its decision to, "aggressively pursue these weapons and export terror." It can be argued that this move on the part of former President Bush was the precursor to the deterioration of relations between the U.S and DPRK.
However, blame for the current state of relations between the United States and North Korea cannot simply be thrust upon one individual president. Every president that has been elected since the 1990s has, in some way, shape, or form, has been forced to leave their finger prints on what has easily become one of foreign policies most complicated and delicate conundrums. A conundrum which, as if it were a magic 8 ball, has been shaken countless times, all in an effort to find the answers to establishing a lasting solution in the name of peace.

For example, while Barack Obama's presidency was a success in the eyes of many, he was often criticized for his lack of progress on handling North Korea. The Obama Administration's adoption of a "strategic patience" — that is, waiting for Kim Jong-Un to willing and entirely commit to a nonproliferation plan — did not succeed. Rather, it more or less gave North Korea a pass to continue research and development of its nuclear program uninterrupted. As described in the Economist, Obama was successful in making progress in the realm of nuclear nonproliferation with Russia and Iran, however, his lack of progress with North Korea was described as "glaring". That said, tensions between the United States and North Korea did not rise to new, unseen levels during his time in office.
However, since Donald Trump has entered the presidential fray, the relations have only worsened. His regular rants on Twitter over North Korea, which often include jabs at China for not doing enough to reign in its unruly neighbor, only serve to provoke Pyongyang. His inflammatory rhetoric and posturing towards North Korea, especially in recent days, is directly responsible for much of the dramatic rise in tensions. Since Trump's election, North Korea has continuously taken bold actions which have not only led to the successful testing of an intercontinental ballistic missile (ICBM) but also a recent announcement for a military strike off the coast of Guam, home to a U.S. military base. While Pyongyang has since pulled back on taking any actions for the time being, it continues to make threats, consistently testing the limits of the Trump administration.
While Trump and his unorthodox leadership style have played a clear role in escalating tensions, it may also serve as his salvation. During the earlier days of his campaign for the presidency, Donald Trump had said he would "absolutely" speak with North Korean dictator Kim Jong-Un. While his comment quickly gained criticism from both then presidential candidate Hilary Clinton and the media, Trump's willingness highlights a key ingredient of successful diplomacy; dialogue.
No treaty, deal, or agreement has ever been struck without some sort of dialogue and this is something Trump, or at the very least, those who advise him, understand. Recent reports indicate that the Trump Administration has been engaging in increased back-channel talks with North Korean officials for months. Despite the fiery bombastic language Trump uses, Secretary of Defense James Mattis asserted that the effort on the part of the U.S. to manage North Korea was "diplomatically led".
If that is the case, and diplomacy is in fact quietly steering Trump's policy on North Korea, then Trump should resume the Six Party Talks. In doing so, he would reopen diplomatically frozen dialogues with North Korea while also including key regional players such as China. Since taking office, Trump has consistently criticized China over claims that the country has done little to stop North Korea's nuclear threat. Inviting China, who is North Korea's last (and swiftly waning) ally, back to the negotiating table would solidify that the Trump Administration is serious about finding a solution. From there, Trump should look back to the days when Bill Clinton was able to successfully complete an agreement with North Korea that satisfied all parties involved. Like almost all deals history has witnessed, it was not perfect, but if nothing else, it served as a starting point for a peaceful path forward.
It is in our most trying moments when diplomacy is most necessary. The strength of a nation comes not from the number of missiles and soldiers it possesses, but from its ability to call upon its leaders to work toward a common ground for the greater peace. If Trump wants to recover from his low poll ratings, then resuming the Six Party Talks as a conduit for negotiating an appropriately revised, revamped agreement, perhaps similar to Clinton's Agreed Framework, would more than just add points and legitimacy to his administration; it would immortalize him as the president whom was able to finally solve the North Korea conundrum. For a man who lives for the lime light, this may the motivation he needs to truly give diplomacy a chance.