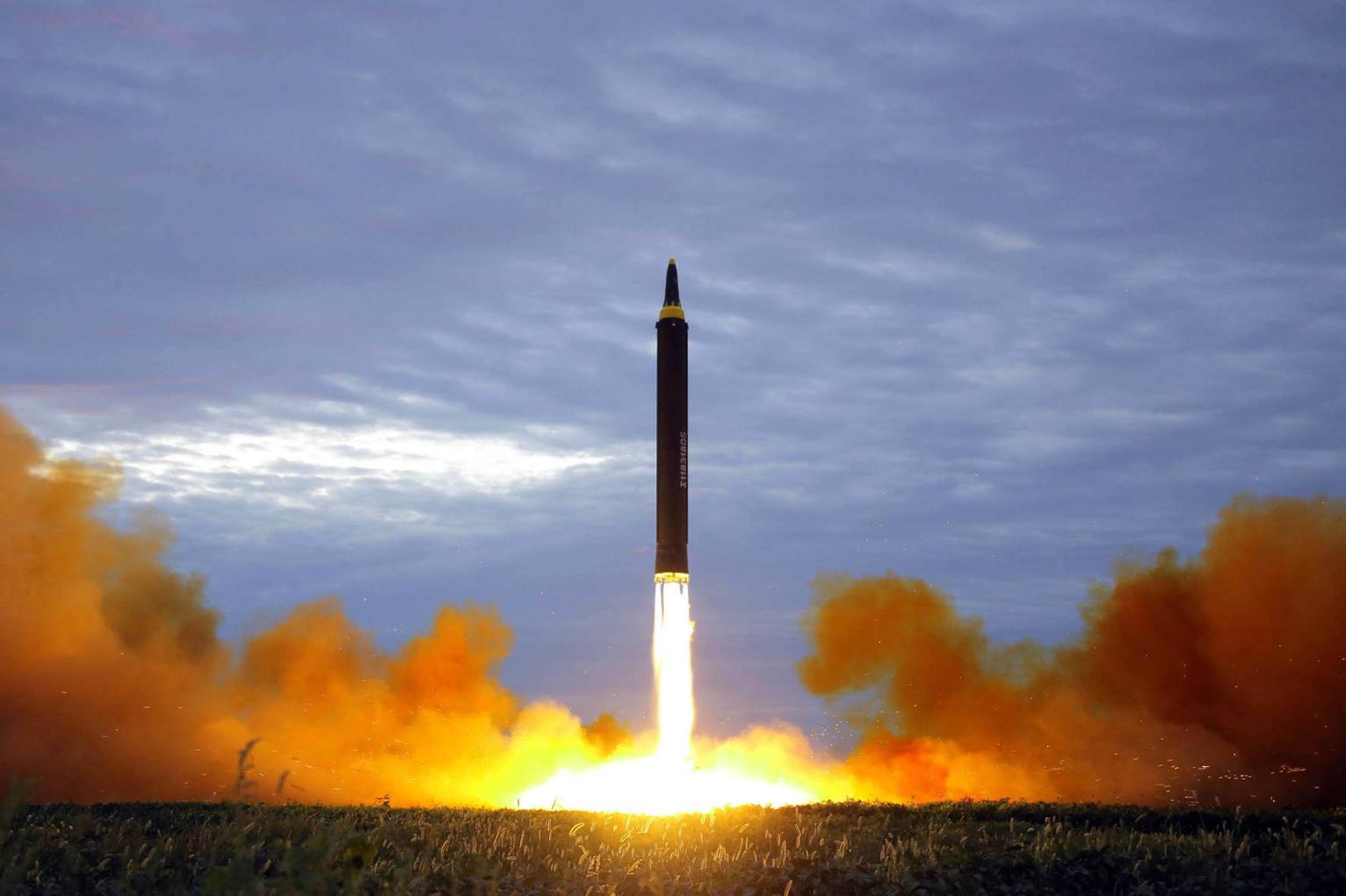 (Korean Central New Agency/Associated Press)
Since the North Korean nuclear issue first flared up in the early 1990s, many people have called for and expected a change in China's North Korea policy. Despite the fact that it is wishful thinking that China would adopt a North Korea policy counter to its national interests, people continue to vigorously push China to abandon North Korea. China's refusal to do so fuels North Korea's audacity to escalate provocation, as well as U.S. pressure on China, including sanctions on China for its failure to change North Korea's bad behavior. China is stuck between a rock and a hard place.
Therefore, given the nature of the dilemma, it is no surprise that after the sixth nuclear test by North Korea earlier this month, new proposals emerged from Chinese academic elites that China should begin a contingency dialogue with the United States over North Korea. Neither was it surprising that such a proposal was met with fierce criticism from the more conservative camp of scholars in China. Such a debate has persisted for a while. The world has been watching the Chinese political elite resent and despise the North Korean regime, while still continuing economic and political support of it.
The situation related to the North Korean nuclear issue has changed quite significantly since the inauguration of the Trump administration. Most importantly, the U.S. has moved away from the previous administration's policy of strategic patience, and instead seeks a combination of coercion and engagement to change the status quo. North Korea is undoubtedly President Trump's top national security priority. And for China, that means both an opportunity to push for a resolution, and a challenge when escalation rather than resolution occurs. Essentially, the changing position of the U.S. has not changed China's policy on North Korea. China continues to argue that the origins of the North Korean nuclear crisis lie in the failure of the U.S. to provide a security guarantee to North Korea. China also continues to maintain that dialogue is the only acceptable solution. China continues to support UN Security Council sanctions as a punitive measure, but vehemently opposes the concept of unilateral sanctions by the U.S., should such UN measures be considered insufficient.
China's position on the North Korean nuclear issue swings between two ends of the same spectrum, reflected as two types of anxieties about U.S.- North Korea relations. They also potentially indicate the conditions necessary for China to genuinely reconsider its policy toward North Korea. On the one hand, China is deterministically anxious about war. If North Korean provocation leads to armed conflict and chaos on the Korean peninsula, China's fundamental interest in the stability of North Korea will be threatened. While China has been working on its own contingency plan for a conflict scenario, the imminence of war will change China's calculation about the strategic benefits of supporting the North Korean regime. The very thing China fears about the instability of North Korea is the uncertainty of the future and whether a unified Korean Peninsula will undermine China's sphere of influence. If such a scenario is inevitable, China's cost-benefit analysis will change.
On the other side of the spectrum lies China's exclusion anxiety. While China wishes to promote a direct dialogue between U.S. and North Korea, in the Chinese view, such dialogues should be only about the de-escalation of tension and the beginning of a multilateral conversation about the future of the Korean Peninsula. The hidden message, when the Chinese Foreign Ministry calls for direct engagement by Washington with Pyongyang, is that any conversation about the future of the Korean peninsula shall not happen without Chinese participation. For example, the Chinese government argues that the official ending of the Korean War armistice and its replacement by a peace treaty would have to have China's participation and approval, because China was an original signatory of the armistice.
China's parallel anxiety about a U.S.-North Korean confrontation and about a U.S.-North Korean rapprochement explains most of the Chinese government's behavior on the North Korea crisis. That behavior is unlikely to change in the future because China's fundamental national interests on North Korea have not changed. U.S. threats to punish China for not changing its behavior might generate superficial changes of China's policy, such as on UN sanctions, but it won't stop China from continuing its life support of North Korea.
Moving forward, it is highly unlikely that China's call for the resumption of Six Party Talks will come to fruition. This is not just because of the policy's past failures, but also because of the questionable level of China's influence on North Korea and whether its limited influence still affords it a central role in any diplomatic approach forward. China's central position in the previous, ill-fated Six Party talks was due to China's critical influence over the Kim Jong-il regime. Such influence may not have been sufficient to prevent North Korea from developing nuclear weapons, but did give China the ability to command Kim Jong-il's deference and sway his preference. That is certainly not the case with North Korea's current leader Kim Jong-un, who has openly defied and criticized China's position, purged pro-China factions in North Korea and essentially rejected any request by China for North Korea to show respect for China's vital national interests. China's limited influence over North Korea undermines its ability to influence the result of the North Korean nuclear crisis. Increasingly, many believe that not only can China not influence North Korean decision-making, but it is also "spoiling the game" by continuing its support of North Korea. This means that China is losing its capacity to cast decisive influence over the North Korean crisis. That raises the question of whether a China that is not in the least bit impartial should be central to the attempted resolution of this conflict.
A change in China's policy towards North Korea would require a fundamental change in China's cost-benefit analysis of North Korea. More provocations by North Korea won't change China's policy, unless they are bound to lead to a war, but that is unlikely to happen given the extensive consensus on the unacceptability of a military option. Without understanding this quintessential theme, the world will continue to be disappointed by insufficient Chinese action.