Millions of women and men rallied in cities across the country and the globe on Saturday (1/21/2017) against the whole package of sexism, misogyny, racism, homophobia, xenophobia and bigotry that could be worsen under Donald Trump's presidency.
In contrast to my Facebook wall full of pictures, personal anecdotes and news articles of the Women's March, my Chinese social media page remained largely silent about what could be the biggest one-day protest in the U.S. history, whose sister marches extended globally, from London to Sydney, from Antarctica to Nairobi.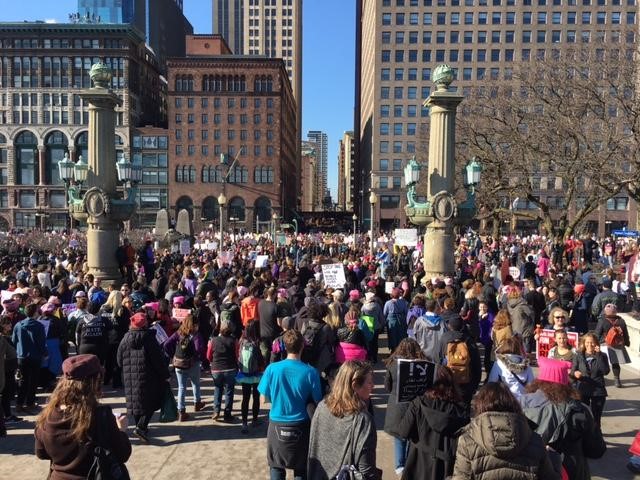 (Photo credit: Shen Lu)
When I was scrolling through pictures of women from all over the world marching in solidarity with women in the United States, for one split second, I wished a picture of Beijing would pop up on the screen. I could only wish..
Two years ago, five young Chinese feminists' were detained ahead of International Women's day for planning to protest against sexual harassment.
Ironically though, state news agency
Xinhua reported
the size of the Saturday protests in the U.S., giving it a special treatment compared to the sporadic domestic protests that tend to be unheard of by most people at home.
Women's rights is an awkward topic in China. Many would argue that it is not a top priority. China made great progress on improving women's health, education and standards of living in the past, but the progress is rolling back. Authorities have been cracking down on activism. Education on women's rights is lacking. More and more advocates are being silenced. Feminism carries a particular negative connotation in a country where deep-seated patriarchy is held firmly place. People in general lack interest in public affairs.
I stay away from crowds and trendy activities of all kinds, but made an exception for the Women's March. I am glad I was there together with some 250,000 comrades in Chicago on Saturday, plus millions more in the world, marching for the value of every human being. The event was particularly inspiring and uplifting for a young Chinese woman who had never marched in her life.
I was amazed how peaceful and joyous the rally was. Protesters chanted wittingly and cheered when TV helicopters flew by. We moved slowly, basking in the gorgeous sunshine. In January in Chicago, the temperature hit 60 degrees (global warming is real, by the way). It was a perfect day to demonstrate. The rally almost resembled a party—a celebration of unity and humanity.
A woman handed me a heart-shaped lollipop. "Spread the love, sweetie," she said.
A little boy held up a sign from his home facing Jackson Boulevard, the main marching route in Chicago, that read, "Support our marching MOM, aunties and grannies." How lovely.
The slogans were witty:
"We are the wall of resistance that Trump built."
"I march for the future worthy of my daughter."
"This pussy grabs back."
"My kitchen cabinet is more qualified than your presidential cabinet."
"Women's place is in the boardroom."
And of course -- "women's rights are human rights" -- the keynote speech Hillary Clinton delivered at the Fourth World Conference on Women in 1995 in Beijing, where she inspired a generation of Chinese feminists, who have dedicated their life-long carriers improving the rights of women in China.
At the Chicago rally, I saw a good mix of women of various ethnicities. Oddly enough I spotted few Chinese faces, given that Illinois hosts the biggest Chinese student community across the country. A Chinese classmate asked if I was there to cover the event, as she also tempted to. I said, "No. I am simply showing solidarity." She praised me for carving out time just for the march, not getting anything—an assignment, a byline or some air time—out of it.
I was by no means special. Guo Jianmei, a veteran public-interest lawyer who has devoted the last two decades to advocating for disadvantaged women in China, flew to Washington D.C. from Beijing for the march. With astonishment she shared photos on her WeChat moments wall, expressing admiration for the crowd.
Guo was in the audience of Clinton's '95 speech. After her women's legal clinic was
shut down for no reason
last year, Clinton expressed solidarity with her. She, too, saw few Chinese in Washington.
Somehow I felt unspeakably lonely. I hoped that one day Chinese feminists will have the same open platform to chant and march. I hoped that one day all women in my country will realize the rights they are entitled to and stand together in solidarity.
Remember how skits from the most widely watched Lunar New Year TV gala mocked women for looks, age and marital status?
Remember Baidu, the largest Chinese search engine, on International Women's Day featured a doodle of a pretty little ballerina dancing in a music box? She danced and rotated, turning into a bride and then a mom with a stroller.
Remember state media's official line targeting unmarried women above age 27—"leftover women?"
Remember the times your friends and relatives belittling you, "You will be too educated to marry up?"
Remember your junior high and high school teachers telling you outright, "Girls are not good at math and sciences as boys?"
Remember strangers whispering, "Women's main responsibilities are giving birth and raising children?"
Remember the nasty comments against the rape victims and women in leaked sex tapes?
Nobody survives sexism unscathed.
For historical and social reasons, the conventional wisdom in China avoids politics of any kind. After going through the turbulent decades of poverty, anti-rightist movements and the Cultural Revolution, Chinese parents would simply teach their children not to express opinions publicly--that the only important things to do are study hard, get into prestigious universities, find stable jobs, get married and become rich. Activism certainly is not encouraged because you could get into trouble, in varying degrees, for expressions contrary to the social norm or current political environment.
We grew up learning to carefully mind our own business while dodging potential risks, not getting involved in others' affairs. Not coincidentally, most young Chinese pay little attention to public affairs, keep silent to political issues, letting alone supporting social causes.When things go wrong, the common reaction is to suck it up. If you ask why, you'd face a classic bitter shrug, "What else can we do?"
But we should at least know better that no one survives turmoil unscathed.
March on.