Reflected by its mixed foreign policy, Belgrade sits at a geopolitical crossroads. The West should understand Serbia's history as a regional power to integrate it into Europe. Failing to compromise on crucial Serbian grievances will only further push Belgrade toward Beijing and Moscow. Western foreign policy think tanks continue to warn of increased Russian and Chinese diplomatic and financial activity in Serbia and the Western Balkans. An increased focus by Washington's foreign policy elites on Belgrade's decisions indicates a general concern for the geopolitical future of both the Balkans and Europe. However, western policies are often counterproductive and hostile to Serbia's cooperation with Beijing and Moscow. The Vučić government's most recent consideration to house Russia's S-400 missile system resulted in the immediate threat of economic sanctions from Washington. In October, Serbia signed on to the Russian-led Eurasian Economic Union (EAEU) despite its active negotiations to join the European Union (EU). In many ways, Serbia views its economic ties with China as a way to boost economic growth during a period of geopolitical uncertainty and diplomatic stalemate with Brussels. Chinese firms invested heavily in Serbian bridges, motorways, mines, and industrial plants over the past few years, and Serbia is the largest benefactor of BRI investment in Europe with $8.5 billion worth in projects. Chinese police also patrol the streets of Belgrade alongside domestic officers in a joint Chinese-European program piloted in several cities. While Belgrade and Brussels find little common ground on the Kosovo issue, China and Serbia share values on sovereignty and territorial integrity, which draws parallels between Kosovo and the One China Policy.
Serbia and China recently signed a joint investment plan worth $272 million for the construction of an industrial park in Belgrade that intends to employ 15,000 people. The China Road and Bridge Corporation (CRBC) will build the site. Serbia was the first European country to scrap visas for Chinese tourists in 2017 and welcomed an impressive 92,000 tourists during the first eight months of 2019. In 2018, tourism made up about 3 percent of Serbian GDP at $1.65 billion. Several other Balkan countries followed the Serbian initiative to relax visa requirements for Chinese tourists, specifically, Albania, Bosnia and Herzegovina, and Montenegro. Multi-nation tours are also popular among Chinese travelers who can visit Belgrade, coastal towns in Montenegro, and the Bosnian cities of Mostar and Sarajevo for approximately $1,400, excluding flights.
Although Serbia does not offer picturesque coastlines of Albania, Croatia, or Montenegro, it provides unique opportunities for cultural and rural tourism. Chinese visitors enjoy Belgrade's Kalemegdan Fortress, the Zlatibor mountain range, and traditional wedding ceremonies. The Serbian wedding experience is currently a Chinese 'craze.' Chinese 'brides' and 'grooms' dress in traditional Serbian attire and participate in weddings decorated with Serbian flags, folk music, traditional dancing, and horse-drawn carriages.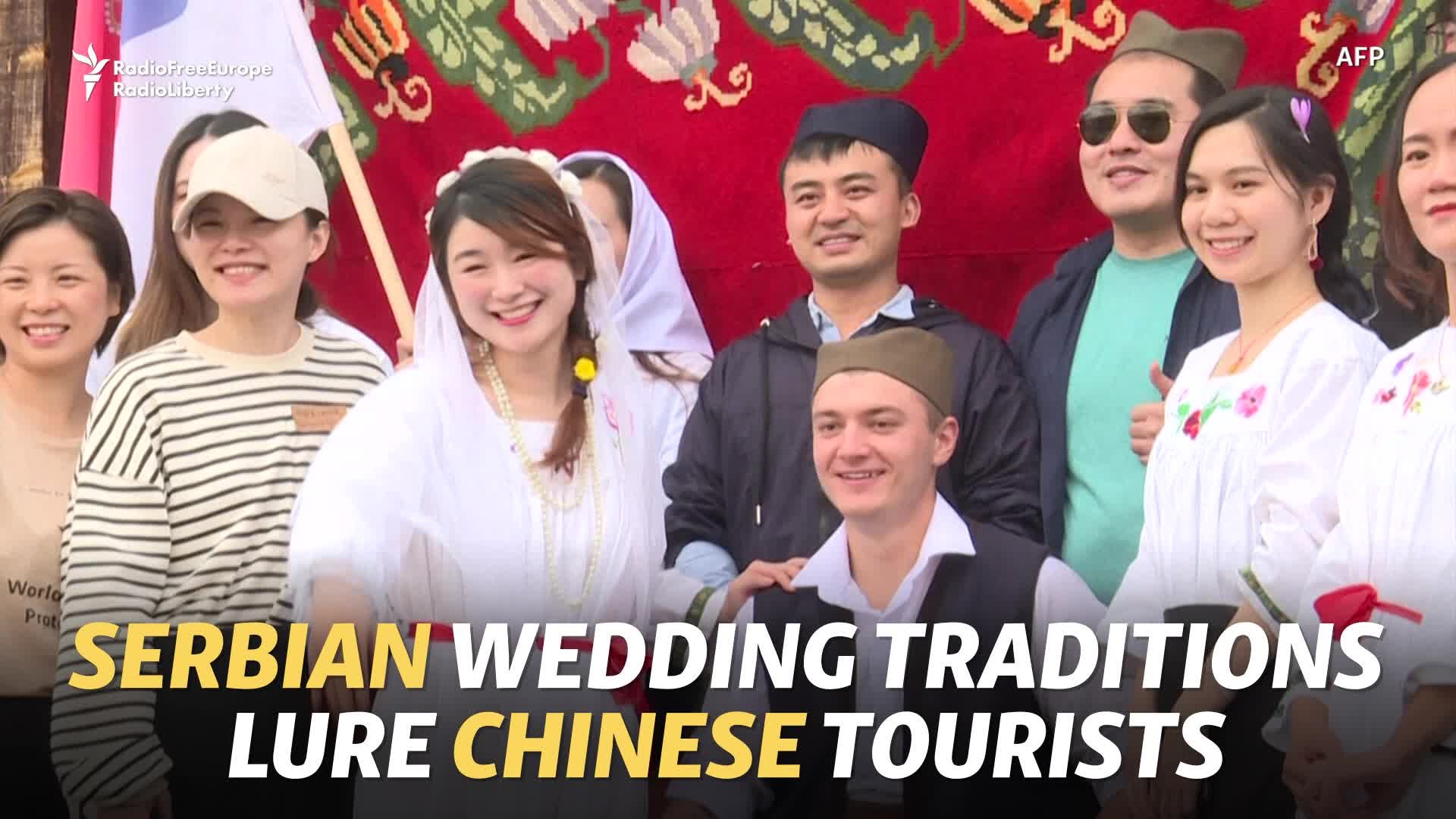 The Russian presence in Serbia is also obvious. Gazprom sponsors Belgrade's Red Star football club, and Sputnik, along with many other news networks, promote pro-Russian sentiments. Domestic networks then recycle the narratives that originate on Sputnik and other pro-Russian institutions. Serbia, along with Hungary, also both welcome Huawei's national 5G networks. In Belgrade, Huawei set up facial-recognition cameras. In Kragujevac, Huawei, with funding from the Chinese International Cooperation Development Agency, will develop cloud infrastructure to the Kragujevac State Data Center.
Further, organizations like the 17+1 Initiative serve as an excellent venue for states in the region to focus on economic and investment-focused cooperation. While the European Union, NATO, and Washington often seem to encourage hostility between the former Yugoslav republics over geopolitical divisions, 17+1 allows for a pragmatic and regional-oriented toward economic growth and Eurasian integration.
Over the last few years, some European Union member states refocused their diplomatic efforts toward the East. Hungary, Italy, and even France, all revaluated their relationships with both China and Russia to develop a more 'mixed' foreign policy. Today, Serbia's flexible but precarious relationship with the West is complicated, since the Balkans are a geopolitical 'swing region' that China, Europe, Russia, Turkey, and the United States wish to influence. As the Balkans reemerge as a battleground for geopolitical influence, Serbia should look away from the West to explore alternative options. A majority of Serbs will not support the recognition of Kosovo in exchange for EU membership, and China and Russia, at the very least, support maintenance of the current diplomatic deadlock surrounding Kosovo. Vučić should make Berlin, Brussels, and Washington chase Serbia eastward, instead of giving in to aggressive demands and ultimatums. The current geopolitical situation is more favorable to Serbia than it was in 1999, and Belgrade should be patient before deciding on EU membership and Kosovo.
Support for the Belt and Road Initiative, entrance into the EAEU, 17+1 cooperation are examples of increased coordination between Serbia and the East. However, perhaps greater coordination with China and Russia would create additional political leverage in negotiations with the West. Serbia's present situation resulted from a continuous chase for approval and acceptance from Brussels and Washington after the post-war years. Serbia wished to repent and become a regional power despite its actions during the Yugoslav wars. However, Brussels and Washington never seemed pleased with Serbia's sacrifices. Perhaps Belgrade believed that political and economic concessions, along with apologies for recent history, would allow Serbia to move passed the Milošević legacy. Just this past year, Vučić did not receive an invitation for the 80th anniversary of the start of World War II. Keep in mind, Serbia was an allied country that lost about 10 percent of its population to the war. During World War I, Serbia lost up to 27 percent of its prewar population. One cannot help but feel that Europe does not want Serbia, and for that reason, maybe Belgrade should stop looking up at the European Union's stars and, instead, anticipate the sun's rise in the Eurasian East.