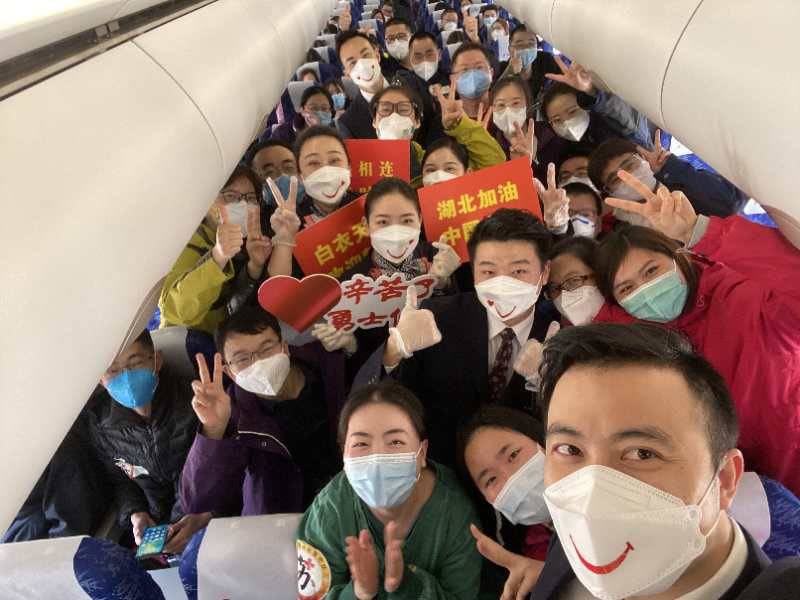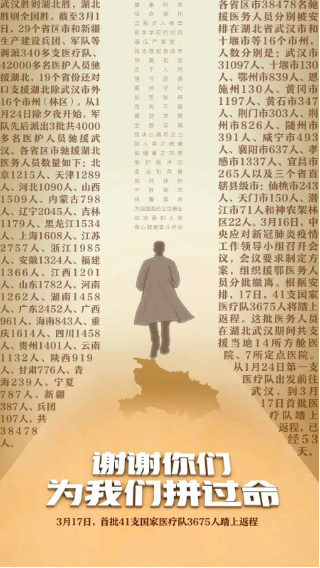 On March 17, 41 medical teams, consisting of 3,675 members, will be returning home to other Chinese provinces.They were dispatched to combat the COVID-19 outbreak in Wuhan and had been treating patients at seven designated hospitals and 14 makeshift hospitals throughout the city.
China has taken strong and effective measures to contain the spread of COVID-19 in the last two months. Its efforts have been hailed by the World Health Organization and the broad international community, and its efficiency has inspired the world.
Some of China's practices — for instance, vehicle restrictions in the most seriously affected provinces and cities — have been noted and applied in some other countries, but not all have attended sufficiently to the matter.
Some of the measures are worth trying in other countries, even in modified form. At minimum, they provoke thinking about how to deal with some of the key problems.
The first goal should be maintaining market and social order. Human history has shown that serious epidemics are always accompanied by social and market disorder. When people are in a panic, they rush to buy commodities, which results in price hikes and shortages, which in turn further increase the panic and add to the difficulty of containing the disease.
But this scenario didn't happen in China this time. At the very beginning, while the government was investing efforts and resources against the disease, it simultaneously issued orders and regulations to prevent businesses from increasing the prices of daily necessities and provided serious punishments for violators. Meanwhile, the government has taken steps to safeguard the supply of commodities to the market. Some provinces less affected by the disease, such as Shandong, donated various foodstuffs, including vegetables, to the province most seriously hit.
Because of these measures, the markets have remained stable, the prices reasonable and supplies uninterrupted. Nobody was rushing to the store for necessities. This has provided a relatively stable environment in which concentrated efforts to fight the epidemic could proceed, as ordinary people willingly stayed at home in self-isolation.
Unfortunately, despite the numerous lessons of history, disorder has shaken some countries seriously affected by COVID-19. People poured into supermarkets and emptied the shelves. In the United States, some people even purchased more weapons and bullets, believing that only personal weapons will protect them from being robbed of necessities.
Now that the WHO has declared COVID-19 a global pandemic, more countries will be involved in the public health crisis. While enhancing medical treatment, they will also have to take preventive measures to maintain market and social order.
The second practice to mention is China's one-on-one help mechanism. The Chinese mainland has 31 provinces and municipalities. Each province has about 20-30 cities. When one province or municipality is stricken by crisis, the central government designates one of the other provinces to help one of the cities in the affected province. This mechanism has made it possible an affected city to be substantially aided by resources of provincial scale.
This mechanism has worked well in many ways. China has employed it in poverty reduction for many years. A wealthier province or municipality, usually in the more developed southeastern region, was assigned to help one of the cities or counties in relative poverty, usually in northern or southwestern China.
The scheme has worked well, and China is on track to achieve its objectives of poverty eradication by the end of this year. It has also been employed in the post-2008 earthquake reconstruction in Sichuan province, and it made it possible for all those seriously affected to be relocated within three years.
The one-on-one mechanism has proved to be very successful recently in Hubei province, the epicenter of the coronavirus epidemic. Shortly after the outbreak, the central government designated 16 less-affected provinces to help cities in Hubei on one-on-one basis. For instance, Shandong province was assigned to help Huanggang; Jiangsu province was assigned to help Xiaogang.
Through this arrangement, the cities benefited from extensive medical resources, including personnel, which have greatly mitigated problems.
The results are clearly visible. Within about a month, China has been able to bring the epidemic largely under control, and the one-on-one help mechanism played a significant role. Though not all affected countries can follow this practice, larger ones can try it. Less-affected areas run to help those more seriously affected.
The third practice worth noting is China's maintenance of a stable economy even as containing the epidemic was the priority. To deal with that priority, the country imposed strict measures over the last two months to discourage population flows — for example, suspending passenger traffic by road and waterway into the city of Wuhan.
At the same time, China used strong measures to protect the economy. Authorities had kept channels open for transporting materials needed to fight the disease and maintain people's livelihoods, even at the height of the crisis, and ordered checkpoints to be removed as the epidemic picture began to improve.
Financial measures have also been taken, including encouraging rent exemptions in office buildings and shops and providing financial assistance for companies in grave difficulty. The government also proposed that migrant workers come back to factories via chartered planes, trains and buses, and on a point-to-point basis, to keep production from catastrophic disruptions while protecting the workers from exposure to potential infections.
All these measures have provided conditions for China's industrial machine to keep running. According to reports, almost all big companies had resumed business by mid-March in almost all provinces and municipalities, except for Hubei, and deliveries from the manufacturing sector have gradually returned to normal.
Controlling the spread of disease is a priority, but maintaining regular economic activities is also important. If the latter is not protected, the efforts to fight the epidemic would be undermined because the efforts depend largely on manufacturing capacity. That is, without a functioning economy it would be difficult to maintain social and political stability during and after the epidemic.
Keeping the economy running while fighting the virus is equally important at the global level. Concerns over the economy could cause infected countries to hesitate over strict measures. Blocking international traffic channels at large scale, as is taking place at present, will damage the global economy.
To overcome this, we need united global efforts to protect transportation while conducting quarantines. It is certainly a big challenge to keep a balance.
All in all, China's success in controlling the epidemic suggests the end is in sight, and the expected triumph can be attributed to various aggressive measures the country took. Some of its practices can provide other countries with a road map of approaches they can consider and adapt to their own conditions when dealing with the epidemic.