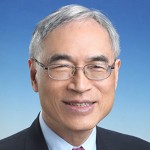 Lawrence Lau
Ralph and Claire Landau Professor of Economics, CUHK
Lawrence J. Lau is Ralph and Claire Landau Professor of Economics, The Chinese University of Hong Kong, and Kwoh-Ting Li Professor in Economic Development, Emeritus, Stanford University.
May 24 , 2019

While the trade war clearly hurts China more than the US, in both absolute and relative terms, data and historical experience show that these losses are manageable for the Chinese economy.

Jul 31 , 2018

Though China can endure a trade war with the US, the damage it will do to both countries, and their relationship, will be significant.

Apr 16 , 2018

If there is an autonomous (unanticipated) increase in the demand for exports from the U.S. which increases the real GDP of the U.S. in the process, it is possible for the U.S. trade deficit to be reduced.

Mar 13 , 2018

Centralised authority and power are absolutely essential for overcoming the opposition of the local governments and the private moneyed interests and pushing forward the economic reform agenda in China.

Jan 30 , 2018

Recently the National Bureau of Statistics of China (NBSC) reported a rate of growth of real GDP of 6.9% for 2017, a slight increase from the 6.7% in 2016. This announcement was welcome by much of the world but it was also met with the usual skepticism in some quarters, especially because of the recent voluntary revelations by certain regions that they had been over-stating their economic data in the past.

Nov 08 , 2017

Mr. XI Jinping was elected the General Secretary of the Communist Party of China (CPC) at the Eighteenth Party Congress in November 2012. In the five years between the Eighteenth and the Nineteenth Party Congress, Mr. XI has accomplished a great deal.

Sep 13 , 2017

Professor Lau shares his insights on public debt and corporate debt in relation to the argument that China should reduce its debt in order to avoid a major drag on economic growth.

Sep 13 , 2017

There have been a myriad of talks about the possibility of war, specifically a trade war and the gains and losses of such a prospect. Would the Trump administration trigger a trade war and what could that entail for the two nations?