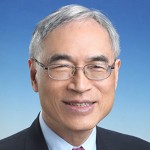 Lawrence Lau
Ralph and Claire Landau Professor of Economics, CUHK
Lawrence J. Lau is Ralph and Claire Landau Professor of Economics, The Chinese University of Hong Kong, and Kwoh-Ting Li Professor in Economic Development, Emeritus, Stanford University.
Feb 16 , 2020

Just when the daily number of newly confirmed COVID-2019 coronavirus cases seemed to have levelled off in China, it has an unexpected steep jump, from 2,015 to 15,152 on 12 February, or more than 750%. The overwhelming bulk of the increase came from the Province of Hubei, where the number of newly confirmed cases increased from 1,638 to 14,840 on 12 February.

Feb 08 , 2020

In 2003, during the SARS crisis, I was still living in the U.S. In March of that year, based on data on the occurrence of newly confirmed cases since the first SARS case was identified in Guangdong in December 2002, and taking into account the isolation and quarantine measures then in place, I predicted that the epidemic would end in June, which it actually did. How did I manage to do so?

Jan 29 , 2020

The Phase One Agreement between China and the U.S. on their trade dispute was signed in Washington, D.C. on 15th January, sealing a temporary truce in their trade war, which had already lasted almost two years. This is a most welcome development, not only for China and the U.S., but also for the rest of the world. It is expected to usher in a period of relative calm and stability as well as reduced uncertainty and unpredictability, which should in turn increase both investment and consumption globally, and result in higher rates of economic growth.

May 24 , 2019

While the trade war clearly hurts China more than the US, in both absolute and relative terms, data and historical experience show that these losses are manageable for the Chinese economy.

Jul 31 , 2018

Though China can endure a trade war with the US, the damage it will do to both countries, and their relationship, will be significant.

Apr 16 , 2018

If there is an autonomous (unanticipated) increase in the demand for exports from the U.S. which increases the real GDP of the U.S. in the process, it is possible for the U.S. trade deficit to be reduced.

Mar 13 , 2018

Centralised authority and power are absolutely essential for overcoming the opposition of the local governments and the private moneyed interests and pushing forward the economic reform agenda in China.

Jan 30 , 2018

Recently the National Bureau of Statistics of China (NBSC) reported a rate of growth of real GDP of 6.9% for 2017, a slight increase from the 6.7% in 2016. This announcement was welcome by much of the world but it was also met with the usual skepticism in some quarters, especially because of the recent voluntary revelations by certain regions that they had been over-stating their economic data in the past.