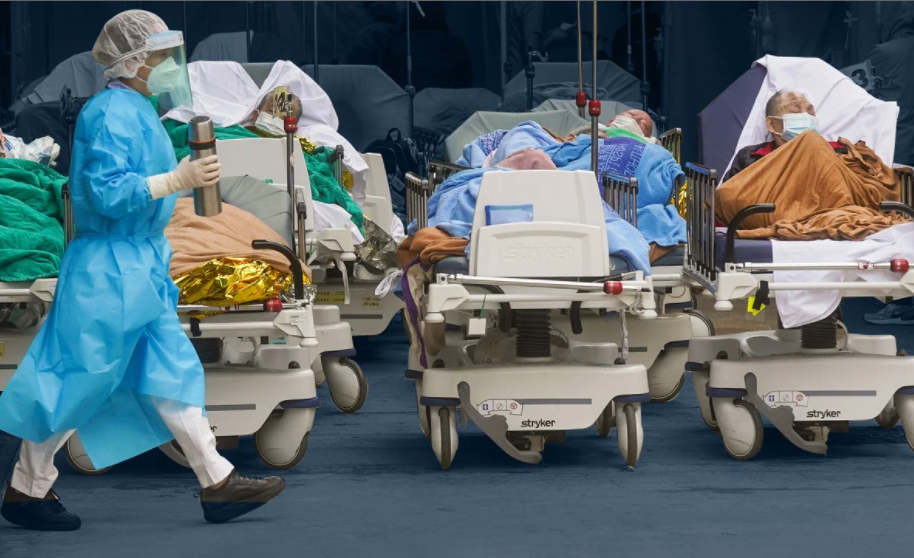 Patients with Covid-19 wait for admission to Caritas Medical Centre in Cheung Sha Wan on Feb 21, 2022. (Photo: South China Morning Post / Dickson Lee)
For Hong Kong, a precondition of economic recovery and livelihood improvement is a victory over the COVID-19 virus. At present, there are two pandemic management strategies around the world: "zero-COVID" and "living with COVID," both of which carry heavy costs, in terms of both economics and human lives. Here I'd like to explain the positives of the zero-COVID approach, based on a comparison of coronavirus statistics in some countries and regions.
The result of living with COVID
Under the "living with Covid" strategy, the government doesn't have to take many measures, except for a push for vaccination, mask mandates and social distancing. It may even stay idle and wait for the moment when herd immunity is reached. Denmark and the United States are the leading adopters of this strategy. In Denmark, about 40 percent of residents have been infected, and COVID-19 deaths per capita is 700 per 1 million people. In the United States, the virus has infected more than a quarter of the residents and caused COVID-19 deaths per capita at almost 3,000 per 1 million people. At the same time, while the infection rate in America is lower than in Denmark, its death rate is higher as a result of the unequal distribution of health care resources in a country plagued by a huge income and wealth gap.
Imagine Hong Kong adopting this approach. The total number of residents infected with the coronavirus could surge to 1.8 million to 3 million, and the death toll could rise to between 5,000 and 20,000. Given Hong Kong's lower level of vaccination and higher population density compared with Denmark and the United States, it would suffer from an accelerated spread of the virus. Even worse, its infections and deaths per capita might surpass those of the United Sates due to its relatively wider income and wealth gap. That is something that Hong Kong cannot, will not and should not accept.
Table 1: Comparison of COVID-19 Statistics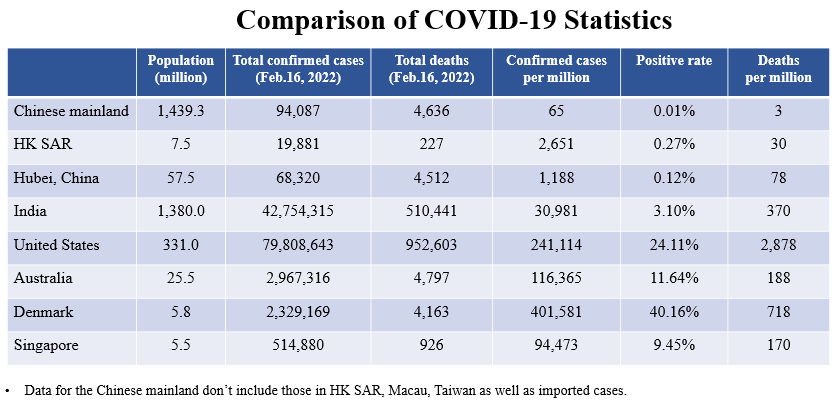 Source:
Mainland China and Hong Kong (http://www.nhc.gov.cn/xcs/yqfkdt/202202/cbf5f8f9b10248e78128298a000118a9.shtml)
Hubei Province (http://wjw.hubei.gov.cn/bmdt/dtyw/202202/t20220217_4002348.shtml)
Other Countries (https://www.worldometers.info/coronavirus/#countries)
Is zero-COVID feasible?
The zero-COVID strategy mainly relies on rapid testing, contact tracing and isolation/quarantine to stop transmission of the virus as soon as possible and ultimately avoid an increase of infections and deaths. After all, no infection means no death. This strategy has found great success on the Chinese mainland. In about two years, total cases of infection have increased from 81,073, in April 2020, to just 94,087 today — an increase much smaller than the single-day increase in new cases in many countries. During the same period, the mainland's total coronavirus deaths have edged from 4,598 to 4,636. Today, its number of confirmed cases per 1 million people stands at 65, compared with 2,651 in Hong Kong; its cumulative mortality rate per 1 million people is 3 (Table 1), while the figure in Hong Kong is 30 and rising.
If the mainland had not adopted the zero-COVID policy and instead took measures similar to India — another highly populated country — the number of infections and deaths might exceed 44.5 million and 530,000, respectively, both of which are unacceptably high.
In Singapore, a city-state with a slightly smaller population than Hong Kong, the cumulative death rate per 1 million people is 170. We hope that with the staunch support of the central government, the figure for Hong Kong could be kept below 100 per 1 million people and total deaths could be kept below 750. This is what we can achieve.
Is zero-COVID worth it?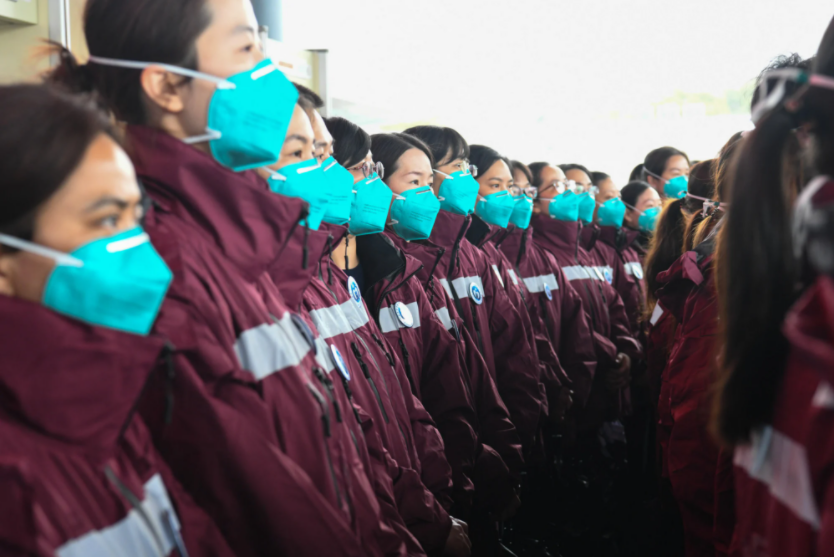 Some mainland personnel have already arrived in Hong Kong to help boost testing capacity and establish makeshift medical facilities.
The zero-COVID strategy, of course, comes with a cost, both economically and socially. But we Chinese embrace a set of values different from those in the West. We believe that life is of paramount importance and that the life of every Hong Kong resident is too precious to lose. Therefore, we can't simply talk the talk — preaching human rights — while failing to walk the walk in saving lives, as we see in the U.K. and the U.S. The zero-COVID policy has proved to be the most effective solution for avoiding an increase in coronavirus deaths. The mainland is a case in point.
The pandemic is also a test of the capacity and adaptability of the government of Hong Kong. In rolling out the zero-COVID policy, it can learn much from the mainland. The central government will fully support its pandemic response, too. For example, mobile hospitals can be built to address bed shortages; volunteers from the mainland can fill gaps in the healthcare workforce; and in this moment of emergency, the government of Hong Kong may consider allowing medical workers from the mainland to operate in such mobile hospitals on a temporary basis. It is imperative for all to take into account the wider interests of the special administrative region, stay confident, abandon prejudices and act in solidarity. By working with commitment and dedication in the pandemic response, we can win the fight against the virus for the sake of Hong Kong residents.
The national economy is doing well: It grew by 8.1 percent in 2021 and is expected to grow 5 to 6 percent this year. In 2021, Hong Kong witnessed rapid economic recovery, with a growth rate of 6.4 percent. Building on this sound momentum of growth in 2022, we can achieve a more stable and stronger recovery as long as we can put the virus under control as soon as possible.