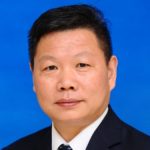 Jin Liangxiang
Senior Research Fellow, Shanghai Institute of Int'l Studies
Dr. Jin Liangxiang is a Senior Research Fellow and Deputy Director, Center for West Asian and African Studies, SIIS
Sep 19, 2021

America's wounds are wholly self-inflicted, and it has only itself to blame. Many betrayals have been committed over the last two decades, including some against its own allies, undermining their trust.

Jul 21, 2021

America has failed, but the effect should be modest for China, which has taken reasonable steps to eradicate the roots of extremism at home and weakened external links. Its constructive role must continue.

Jun 07, 2021

The concept is a foreign one, as China has always stressed the independence of all nation-states as they make their own decisions both domestically and regionally. Moreover, the United States will not be leaving the Middle East anytime soon.

Mar 30, 2021

The new U.S. president will want to invest hard strategic resources in the Asia-Pacific region, which will require the use of diplomatic and economic measures to maintain its strategic presence in the Middle East. The arrangement looks reasonable, but it is doomed to fail.

Feb 08, 2021

Mixing questions about nuclear reactors and missiles with matters involving Iran's political system is a recipe for failure. Separating the issues will allow the U.S. to return to the Iran deal more easily, while addressing other concerns in a different forum.

Dec 17, 2020

Reestablishing order in the region must start with recognizing and defending sovereignty. While it is urgent that the incoming Biden administration address the Iran nuclear issue to forestall proliferation, regional order should be a top priority.

Dec 04, 2020

U.S. return to the Iran nuclear deal could be difficult. Much has changed in the world in the past four years, including the recent assassination of Iran's top nuclear scientist. China's help may be needed more than ever.

Sep 25, 2020

Two Arab states established relations with Israel in the name of peace, but the likely result will be more turmoil. Palestinians will feel ever more isolated, especially if the United States succeeds in getting more countries in the neighborhood to follow suit.

Aug 28, 2020

World conditions are not conducive to another cold war, and there's little reason to expect one. Maybe all the talk is just U.S. rhetoric to frighten others into joining an anti-China bloc.

Jun 12, 2020

Immense economic and political support give the United States some clout when it comes to stopping deals with China. Such interference is irritating but ultimately ineffective.