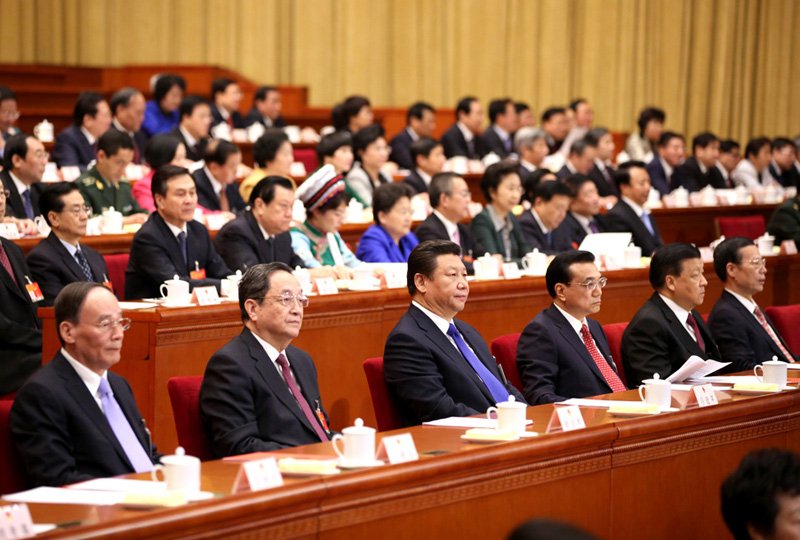 One of the anomalies of the modern world is that one of its most important political events – leadership changes around the five yearly Communist Party congresses in China – hardly registers in the international mainstream media. If we compare the amount of attention given, for instance, to the U.S. elections in 2016, or the French presidential campaign in 2017 – or even the unexpected British general election held this June – the key players, the processes and the possible outcomes in the Chinese upcoming 19th Party Congress likely to be held in October or November this year get barely a fraction of the limelight.
Of course, part of this is that they are not elections. There is no nomination, and no competition. Instead, in a one party system, changes just happen after internal decision making, the mechanics of which are largely closed off to the outside world. Even so, and particularly this year, the impact of changes made in Beijing will be global. With a role which, as never before, goes beyond its borders, China's impact on the economy, management of climate change, global governance and security, has never loomed larger. We should be following what happens as closely, perhaps even more closely, as we do Washington, Paris or London politics.
Policy Themes
This year, there is one broad policy theme to track, and then three broad potential outcomes. Each will have a significantly different impact. In terms of policy, the issue that is most important is the ways in which we can extract from leadership changes, any real information about the attitude of new appointees to the role of the market in China. The Chinese market is a political one, with most major areas controlled by the central state. Even so, there is a broad spectrum of those who favour opening up more spaces to marketization, and those who are more conservative. A majority who are on either side of this debate means we will be getting an important piece of information about what sort of reform agenda the Chinese government from late 2017, in the critical period towards middle income status in 2021, will be pursuing. We will know we are most likely dealing with a pro-business, pro-market opening, pro-foreign investment regime, or one that is more restrained and careful. That issue matters because never before has access to Chinese growth meant so much to the outside world.
Orthodox, Unorthodox & Hybrid
In terms of leadership changes, there are three main possible ones: orthodox, unorthodox and hybrid. If we start with the orthodox, we can largely predict status quo. The summit of decision making in China, the Standing Committee of the Politburo, will maintain the same number of leaders it currently has – seven. The current incumbents due to retire as they are over the unwritten retirement age of 68 will do so. They will be replaced by leaders who come from similar backgrounds – careers spent mostly in Chinese provinces, at senior level, with a skill set focussed on competent management, and production of decent growth. They will be male, Han ethnicity, in their fifties or early sixties, and come from the current full Politburo. That will mean people like Wang Yang, Hu Chunhua, or Han Zheng.
An unorthodox outcome would tear up the rules. The Standing Committee would come down to as little as five members. Retirement ages will not matter. Figures like Wang Qishan, the current anti-corruption head, will remain despite being almost 70. Other figures like Li Zhanshu, a major figure in the central Party bureaucracy, will come in. The current premier Li Keqiang, will stay, but be made head of the National People's Congress. And the whole picture will be one where Xi, the current president and Party Secretary, will look dominant.
A third outcome would be a mixture. The number of the Standing Committee would stay at seven. There would be some, like Wang Qishan, who would remain, violating the informal retirement rule, and others however who would go on time. People will be from central and provincial backgrounds. It will be unclear if this leads to a picture of Xi as the emerging autocrat, or something more nuanced and complex.
Probably no one, not even the main players in Beijing, knows at the moment what might transpire. Already one figure regarded as very likely to be elevated a few weeks ago, Sun Zhengcai, formerly main leader of the major city of Chongqing, has seemingly been removed from the picture and placed under investigation. Others being talked about at the moment like Hu Chunhua might go the same way – or enjoy very visible elevation. Chen Min'er, until a few weeks ago not even in the full 25-strong Politburo, through appointment to replace Sun in Chongqing is now almost certain to be promoted. The situation could change markedly in just a few months. Only the foolhardy would risk predicting much at the moment. Seldom has the picture been so unclear. At the 2012 Party Congress at least people were willing to talk of a toolbox of a dozen or so candidates who would be elevated. This time, even a list as neat as that is lacking.
Uncertainties
The most one could postulate at the moment is simply to comment on the context in which this particular change is happening, and how that differs from 2012. Firstly, unlike then, the international situation is much more politically volatile. The U.S. under Trump has become very unpredictable. Europe remains also unclear, with the endless drama of the UK's Brexit figuring as one among a number of destabilising factors. China's own region is as beset by potential challenges as ever, with North Korea and its nuclear brinkmanship the most serious of a host of other issues.
China, since 1978, when reform and opening up started has largely enjoyed a benign international environment in order to address its own considerable domestic problems. Beyond its own region, it seems to like a world of predictability and stability. It has not greatly enjoyed the unwelcome shocks this world has delivered it from the great financial crisis of 2008 onwards.
Were the outside world to be in a more stable situation, then Chinese leaders, who after all must count risk management as one of their key skills, might be tempted to go for a more unconventional outcome – the second above. But it is more likely that with all the uncertainty around them, their appetite to create a whole new raft of potential issues of their own is now lower than it was a year ago. So a more conventional, business as usual model, for a cautious leadership who knows an enormous amount about the Communist Party's future is more likely. China's stable economic development and the country's global role is at stake and they cannot afford to make mistakes, that does not preclude a shock outcome. After all, that is precisely what happened even in systems we know much more about, like in the U.S. and the U.K. But for those who like to bet, conventional or at most hybrid, might be the order of the day later this year in Beijing. After all, for Chinese leaders, why create your own headaches when the outside world is proving so good at exporting theirs to you.