For some time now I've believed that the best way to improve the troika of China-European Union-United States relations is for Europe to start to exercise its strategic autonomy when its own national interests diverge from its ally, the United States. The EU, although young, has the vitality and potential to become the fulcrum providing some balance among the three powerful political entities with a combined population of more than two billion people and 63% of global GDP. A new study from the European Council on Foreign Relations (ECFR) released on June 7th presents some indications that Europe might be moving in this direction. The poll also raises provocative, philosophical questions as to what degree governments should follow the will of its people or diverge from it.
The ECFR poll entitled "Keeping America Close, Russia Down, and China Far Away: How Europeans Navigate a Competitive World" https://ecfr.eu/publication/keeping-america-close-russia-down-and-china-far-away-how-europeans-navigate-a-competitive-world/#methodology consisted of online interviews of more than 16,000 nationally-demographically representative respondents in 11 EU countries was fielded in April.
While EU and US leaders tend to pretend that there's no daylight between them, and the EU still appears not to have budged from being the obedient lap-dog of the US, the respondents to this survey display a serious disconnect from their leaders. While Biden and von der Layen push "de-risking" from China, which in essence is merely "decoupling lite", two points sitting cheek-by-jowl along the same continuum, respondents' answers profoundly differed from the positioning of those who claim to lead them.
When asked their views on what the relationship of the US is to Europe or to their own country, across all 11 countries, 32% described the US as "an ally--that shares our interests and values", while 43% saw the US as "a necessary partner--with which we must strategically cooperate". Only a majority in Denmark saw the US as an ally; Only majorities in Hungary, Spain and Italy saw the US as a necessary partner. With the exception of Bulgaria, a majority in all countries surveyed did see the US as either ally or partner. These statistics, however, are hardly reflective of anything approaching a seamlessly joint EU-US enterprise.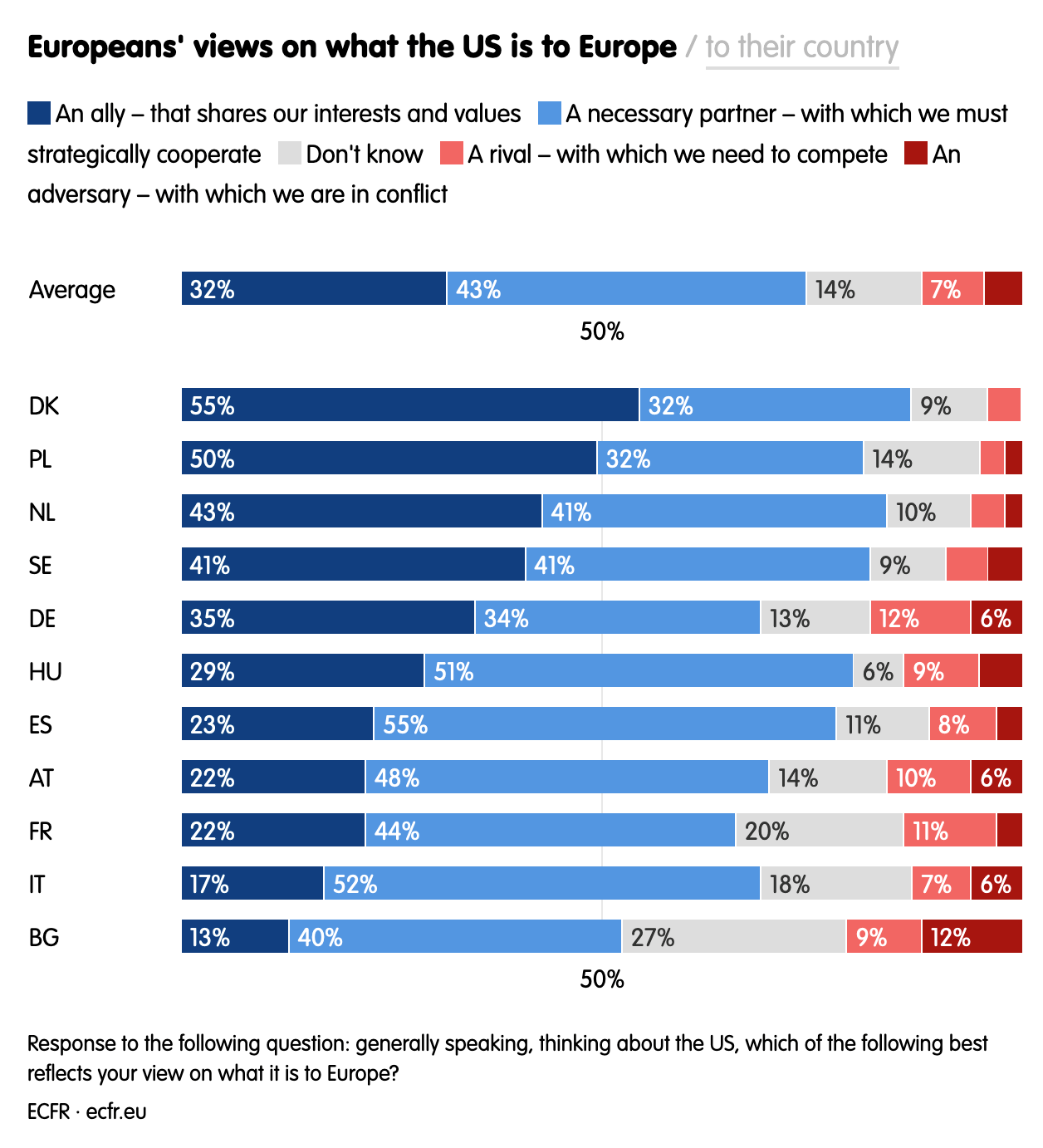 Even more damning is that when asked their view about their expectations of US defense support by the US of the EU, 74% of respondents said that "Europe cannot always rely on the US and needs its own defense capabilities", a drop of 8% from November 2020, after Biden defeated Trump. Only 8% thought that "the US will protect Europe so Europe does not need to worry about its own defense capabilities." The issue of where the billions of euros would come from was not raised in the poll.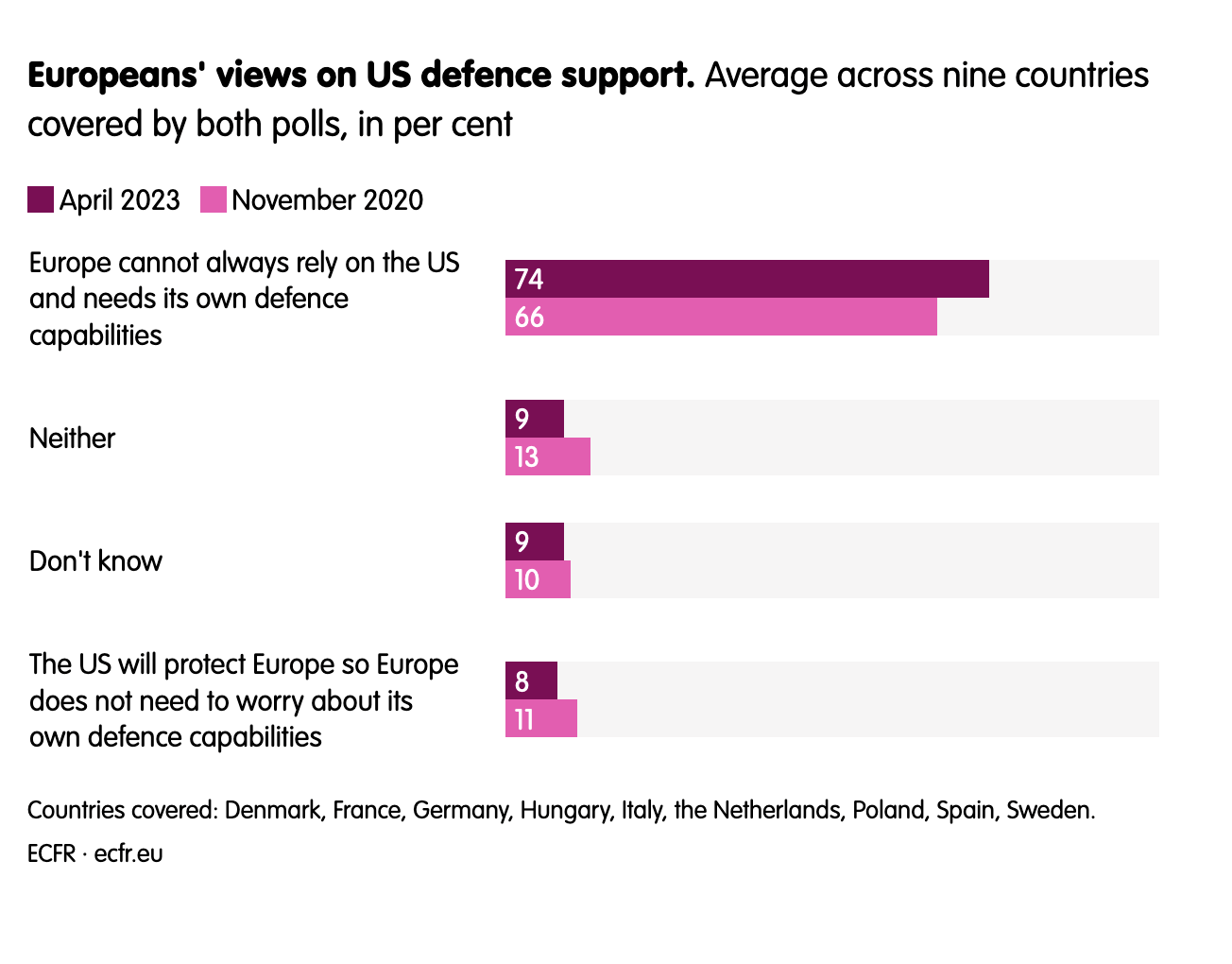 Given the clear responses that US-EU relations seems to be much less cohesive than before, and that Europeans clearly can't rely on the US for defense as has been taken as a given since the end of World War II, what's the alternative? The ECFR poll doesn't address this issue but the study's authors point out that respondents are not even thinking about this issue, blithely assuming that the strong US and Western defense of Ukraine would invariably apply to them too. They may be living in a fool's paradise, especially if that fool turns out to be a re-elected Donald J. Trump. And to add insult to injury, if push suddenly came to shove, in NATO, with or without US membership, only seven of NATO's 30 member countries had met the current goal of spending 2% of their GDP on defense in 2022.
The divergence between EU leaders and poll respondents on their view of China are even more stark. You'd think the way some European leaders and legislators are posturing, that China is the devil incarnate. But what the respondents, who reflect public attitudes believe, is vastly different when it comes to a potential US war against China over Taiwan. On average, only 23% of respondents are in support, but 62% want the EU to remain neutral. In fact, except for Sweden at 49%, a majority of every other country wanted to remain neutral.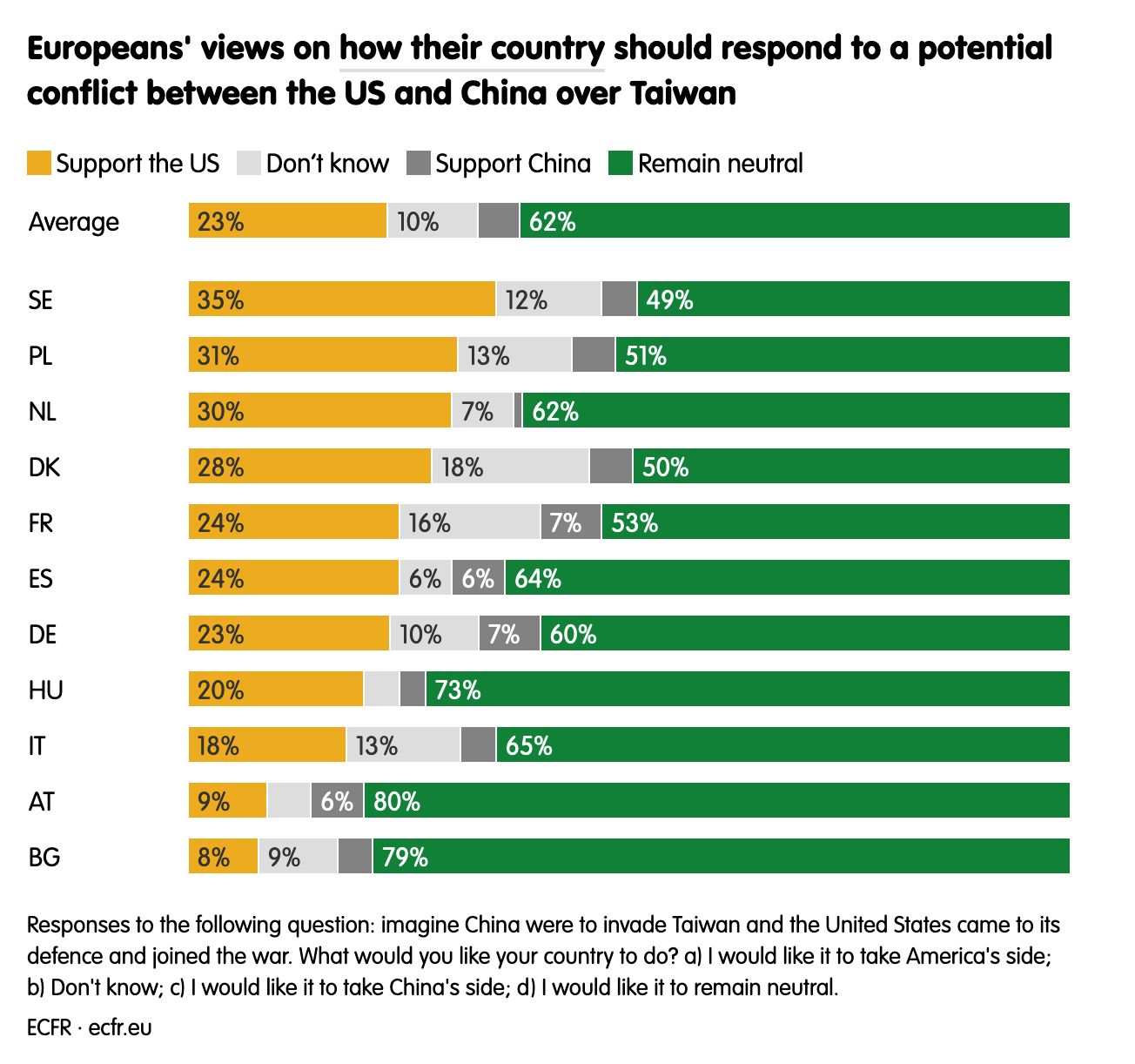 When asked how a respondent's country listened to public opinion, 60% of ECFR respondents said they were not adequately listened to. Only 21% said that they were sufficiently consulted.
The vast chasm between leaders and the public on these important issues represent an unsustainable fundamental systemic instability. I see it as very similar to that of two tectonic plates under increasing pressure, that can only be relieved by a violent earthquake.
Given the complicated EU governing structure, still a work in progress after only a few decades, the every five year EU Parliamentary elections a year from now, may put pressure on it and the other EU institutions to be less US lap-dog and more Chinese collaborator. This could push EU legislators and other leaders to more closely align policies with those of EU citizens and treat China in a more pragmatic and less aggressive manner. It may force EU leaders to "educate" their stakeholders about the China menace in hopes of deflecting criticism. On the other hand, it might further increase US pressure on the EU and its member states to toe the US anti-China line or face a less certain security future in its own backyard. Only time will tell.
I had sent an email request to ECFR for cross-tabulations as they haven't yet broken out the results by age groups and 18 was the minimum age for inclusion in the poll. But voters for the European Parliament can be as young as 16. And a number of recent polls show that young people, Generation Z, have a more international and tolerant attitude on a variety of issues, including China, than older peers. So this is another potentially hopeful sign.
If there's one EU country that's leading the way on strategic EU autonomy, it's France, witness President Macron's most state visit to China in April with a large delegation of business leaders. This is hardly new. The country has sought strategic autonomy from other Western allies since World War II. France was an early proponent of European integration and cooperation as one of six original members of the European Coal and Steel Community in 1951, an EU predecessor. It developed its own nuclear weapons in the 1950s. In 1964, it was one of the first non-Soviet countries to recognize China. It left NATO's military command structure in 1966 and only returned to full membership in 2009. France had long pursued a "third way" between the US and the Soviet blocs, and more recently with Russia.
It will be fascinating to watch developments unfold. If the ECFR poll is any indication, we'll see more strategic EU autonomy in the years to come.