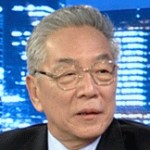 Wang Yusheng
Executive Director, China Foundation for Int'l Studies
Wang Yusheng is the Executive Director at China Foundation for International Studies.
Jan 04, 2017

China has coped with the year's upheavals with calmness and confidence, committed to its own principles in dealing with world affairs. The country must hope that US president-elect Trump will be similarly focused to meet the realities of our times.

Dec 15, 2016

The world is watching to see how Trump will treat the "Asia-Pacific Rebalancing" strategy, how he will improve US relations with Russia, how he will respond to the friendly messages released by China, how he will readjust relations with allies and whether he will be serious in fighting terrorism and respect the United Nations' central role.

Nov 18, 2016

Expectations are high as leaders meet to promote strong trade and investment liberalization and facilitation, and develop partnerships characterized by inter-connectivity, unity, consultation, development and shared benefits.

Nov 04, 2016

The "Duterte phenomenon" must have prompted much reflection in Washington, and so it should in Tokyo. It may serve Japan better to think twice about the merits of its subordinate relationship with the US.

Oct 18, 2016

Uniting and representing a great number of developing countries, BRICS will continue to be a major dialogue partner of the G7 on the G20 platform. BRICS is eager for international peace and stability, and it calls for a fairer and more reasonable international order and its due say in international affairs.

Oct 17, 2016

The rise and posture of the Philippines president is not an unpredictable eruption but the natural evolution of a changing global environment, and the result will be a more balanced and safer regional order.

Aug 31, 2016

Chinese concepts and wisdom about "win-win cooperation", "new type of major-country relationship", "community of common destiny of all mankind" and "new security concept" will surely contribute to the G20 in the development of solidarity and a partnership spirit.

Mar 22, 2016

In the past, Clinton has openly rebuffed the notion of a "China threat" and the "zero-sum game theory" regarding China-US relations, saying instead that the two countries should jointly rise up against challenges as two people in the same boat. More recently she has been more critical of China, but it is in China's best interest to continue to reach out in a positive way to any US leader.

Jan 18, 2016

As the new year dawns, the U.S. still struggles with the effort to shape the world with itself as the center. Resisting the opportunity to build a more positive relationship with China, underpinned by stronger and closer cooperation, keeps Washington trapped in the past, while many of its allies, including Britain, Europe, Canada and Australia, have embraced a multipolar world that is no threat to the U.S., except to its national ego.

Nov 19, 2015

A free-trade agreement for the Asia-Pacific would capitalize on the capabilities and the diversity of APEC countries. As broached by China in 1996, an open economy in the Asia-Pacific is a step toward common development, prosperity and progress for the whole region.