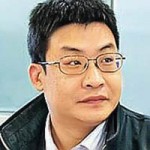 Zhu Songling
Professor, Beijing Union University
Zhu Songling is a Professor at the Institute of Taiwan Studies in Beijing Union University.
May 25 , 2020

Tsai Ing-wen's second inaugural message on May 20 was a dangerous one, reinforcing the notion that the island is already de facto independent and willing to be a geopolitical chess piece for the United States.

Aug 26 , 2019

The announcement of the ban on solo mainland China tourists visiting Taiwan is a major escalation in cross-Strait relations. How has the mainland's Taiwan policy changed, what was the reason for the suspension of visits, and what is the goal of such a strategic move?

Jan 22 , 2019

Xi Jinping calls for peaceful reunification with Taiwan.

Jul 04 , 2018

The Chinese mainland has every desire to peacefully reunify with Taiwan, and has every desire to maintain the status quo.

May 15 , 2018

As legal procedures are cumbersome and difficult to reverse, if and when differences among the key stakeholders escalate and come to a head, the only option left for China would be to change the status quo, so that the Taiwan Travel Act is no longer applicable.

Nov 07 , 2017

The Taiwan Travel Act will harm both China's relations with the US and with Taiwan. It may also forfeit the possibility of peaceful reunification.

Jun 12 , 2017

If the DPP continues to create obstacles for cross-straits relations out of its selfish partisan interests, there is ample reason for us to feel concerned about the state of mainland-Taiwan relations in the next three years.

Jan 21 , 2017

Cross-Strait relations in 2017 are only a part of the changing Sino-US relationship and reorganization of the global order. It is in the interests of both the US and China, as well as the interests of Taiwan, to maintain the status quo, which must be recognized anew by Taipei and Washington.