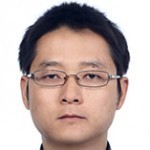 Chen Jimin
Guest Researcher, Center for Peace and Development Studies, China Association for International Friendly Contact
Chen Jimin is the Guest Researcher of the Center for Peace and Development Studies (CPDS), China Association for International Friendly Contact (CAIFC).
Oct 03, 2023

Even though the United States acknowledges that the world is undergoing significant changes, it has failed to grasp the nature of the transformation. This is lamentable, not a positive development for the global community.

Sep 08, 2023

Countries in the group are playing an increasingly vital role in international affairs and have become an integral part of existing international multilateral mechanisms. Now the group is expanding to include even more.

Jul 27, 2023

America's Indo-Pacific Strategy is not only at odds with the regional vision to which ASIAN is committed but it affects the region's development environment. As a result, ASEAN will steer a middle course to protect its central role.

Jun 21, 2023

Building a new type of major country relationship with the United States has been the consistent goal. Yet this cannot be achieved through the efforts of China alone. It requires both sides to pull in the same direction. Where relations go next depends on the strategic choices of both countries.

May 16, 2023

China and the United States are showing early signs of rapprochement on major strategic issues, offering hope for positive movement in the future. But a gap remains between the Biden administration's rhetoric and its deeds. Practical action to fulfill policy commitments is a crucial first step toward trust.

Apr 24, 2023

Success or failure is closely linked to China's ability to influence its own neighborhood, as America's real purpose is the creation of a NATO-style regional alliance. For the U.S., much depends on whether it can accommodate the concerns of countries that don't want to take sides.

Apr 24, 2023

China has no motive to engage in ideological competition or confrontation with the United States. Its defense of its own ideological foundation is a natural response to U.S. rhetoric. The so-called ideological competition is nothing but an American fabrication.

Mar 15, 2023

The country's agenda is underpinned by development — both its own and that of others. As the economic pie gets bigger, everyone benefits. China hopes to bring more certainty and sustainability to the world and boost the confidence of all.

Mar 09, 2023

The strategy is based on 20th century thinking in a 21st century environment. It will therefore inevitably run into problems. This design flaw is its Achilles heel: It has improper strategic goals, an imaginary competitor and an ineffective and misguided approach.

Feb 07, 2023

The shift has been limited so far, so China need not overreact. It should closely monitor where NATO is heading, however. The best way to deal with it is to run its own affairs well and buttress its ability to rise above external shocks and challenges.