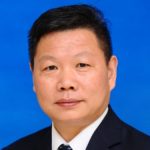 Jin Liangxiang
Senior Research Fellow, Shanghai Institute of Int'l Studies
Dr. Jin Liangxiang is a Senior Research Fellow and Deputy Director, Center for West Asian and African Studies, SIIS
Dec 04, 2020

U.S. return to the Iran nuclear deal could be difficult. Much has changed in the world in the past four years, including the recent assassination of Iran's top nuclear scientist. China's help may be needed more than ever.

Sep 25, 2020

Two Arab states established relations with Israel in the name of peace, but the likely result will be more turmoil. Palestinians will feel ever more isolated, especially if the United States succeeds in getting more countries in the neighborhood to follow suit.

Aug 28, 2020

World conditions are not conducive to another cold war, and there's little reason to expect one. Maybe all the talk is just U.S. rhetoric to frighten others into joining an anti-China bloc.

Jun 12, 2020

Immense economic and political support give the United States some clout when it comes to stopping deals with China. Such interference is irritating but ultimately ineffective.

Apr 27, 2020

The United States has shown leadership in virtually every global crisis — that is, until Donald Trump came along. Now the U.S. president is singlehandedly destroying his country's reputation.

Apr 07, 2020

The novel coronavirus has spread to more than 200 countries and regions across the world, with more than 800,000 infections as of the end of March. It is a seri

Mar 18, 2020

The end may now be in sight because of the country's aggressive measures. Some of its practices can provide other countries with models that can be adapted to their own conditions.

Feb 19, 2020

America's emphasis on Western values could undermine Chinese confidence in its sincerity as negotiations proceed on various fronts. China may have good reason to feel threatened when it comes to political security.

Jan 17, 2020

Hatred runs deep between the two countries. Thus, even if tensions recede, hostility is likely to remain, or even increase. In the end, it will benefit no one.