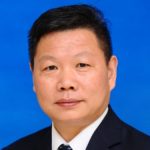 Jin Liangxiang
Senior Research Fellow, Shanghai Institute of Int'l Studies
Dr. Jin Liangxiang is a Senior Research Fellow and Deputy Director, Center for West Asian and African Studies, SIIS
Feb 19, 2020

America's emphasis on Western values could undermine Chinese confidence in its sincerity as negotiations proceed on various fronts. China may have good reason to feel threatened when it comes to political security.

Jan 17, 2020

Hatred runs deep between the two countries. Thus, even if tensions recede, hostility is likely to remain, or even increase. In the end, it will benefit no one.

Jan 07, 2020

Misunderstandings spread by poorly informed Western media, often using loaded language, cloud the truth. Academics need to seek primary sources.

Dec 04, 2019

Trump has succeeded at browbeating in a few cases, but his tactics have resulted in a global consensus that resistance is anything but futile.

Nov 08, 2019

The international community should exert its influence to re-establish and maintain minimal regional order. China, which enjoys considerable prestige in the region, could play a constructive role.

Sep 06, 2019

Strategically, politically and economically, Trump's Iran policy is failing. Rather than force Iran into submission, Trump's tactics have decreased Iran's incentives to continue compliance with the nuclear deal. The era in which the United States could unilaterally push through its global agendas has come to an end.

Jul 30, 2019

After recent military confrontations, the Strait of Hormuz is likely to become the center of a critical competition whose outcomes affect the global oil market. Asian countries, in particular, should be pushing for an end to Trump's "maximum pressure" policy.

Apr 12, 2019

In recent years, the United States has failed to reshape world affairs to its liking as it once could. From its inability to oust Bashar Assad from Syria, to its unilateral revocation of the Iran nuclear deal, to its unsuccessful pressuring of allies to block Huawei, we see an America that has lost its touch on the global stage.

May 10, 2018

The future Middle East order will be characterized by interactions among regional actors instead of external ones.