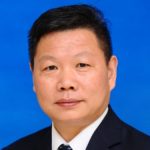 Jin Liangxiang
Senior Research Fellow, Shanghai Institute of Int'l Studies
Dr. Jin Liangxiang is a Senior Research Fellow and Deputy Director, Center for West Asian and African Studies, SIIS
Dec 04, 2019

Trump has succeeded at browbeating in a few cases, but his tactics have resulted in a global consensus that resistance is anything but futile.

Nov 08, 2019

The international community should exert its influence to re-establish and maintain minimal regional order. China, which enjoys considerable prestige in the region, could play a constructive role.

Sep 06, 2019

Strategically, politically and economically, Trump's Iran policy is failing. Rather than force Iran into submission, Trump's tactics have decreased Iran's incentives to continue compliance with the nuclear deal. The era in which the United States could unilaterally push through its global agendas has come to an end.

Jul 30, 2019

After recent military confrontations, the Strait of Hormuz is likely to become the center of a critical competition whose outcomes affect the global oil market. Asian countries, in particular, should be pushing for an end to Trump's "maximum pressure" policy.

Apr 12, 2019

In recent years, the United States has failed to reshape world affairs to its liking as it once could. From its inability to oust Bashar Assad from Syria, to its unilateral revocation of the Iran nuclear deal, to its unsuccessful pressuring of allies to block Huawei, we see an America that has lost its touch on the global stage.

May 10, 2018

The future Middle East order will be characterized by interactions among regional actors instead of external ones.

Apr 23, 2018

Formal withdrawal will enhance the image of the U.S. as a rule-breaker amongst the international community.

Oct 24, 2017

Trump's new strategy might have little legal effect on the Iran nuclear deal, but it will undermine it politically, and exacerbate many regional problems.

Sep 26, 2017

Instead of repeating the same mistakes it made with North Korea's nuclear program with Iran's, the US should learn from them.

Aug 14, 2017

The election of Hassan Rouhani could serve as a turning point for Iran both domestically and internationally. With a moderate politician leading this important nation, the time for the U.S and China to engage and reintegrate Iran into the international system is now; otherwise, the Middle East will continue to be plagued by violence.