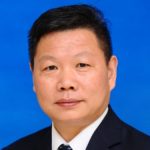 Jin Liangxiang
Senior Research Fellow, Shanghai Institute of Int'l Studies
Dr. Jin Liangxiang is a Senior Research Fellow and Deputy Director, Center for West Asian and African Studies, SIIS
Feb 22, 2017

With America further withdrawing during Trump's presidency, the Middle East will have new geopolitical landscape with new complexity. It should be clear that China's growing economic relations with the region should benefit the region, though how soon and how much this relationship can enhance peace or stability remains to be seen.

Dec 15, 2016

Looking at the positive side of China-U.S. relations will enhance expectations for peace and stability. China and the U.S. share tremendous common interests and responsibility in maintaining economic prosperity and transnational security across the region. Talking about cooperation will deliver friendship and partnership while talking about conflicts will really create enemies.

Sep 15, 2016

Constructive mediation rather than military intervention is urgently needed, but first all parties must be realistic about the situation on the ground, and open to a political transition through negotiation.

Jul 08, 2016

Beijing and Washington have the shared goal of fighting terrorism and extremism in the region despite modest differences on the ways to address the problem. China's efforts to engage the region economically, not militarily, relieves pressures that lead to extremization, and should therefore be appreciated by the U.S.

May 31, 2016

China regards both the U.S. and Iran as important partners, which is why Beijing played a major role in putting together the Iran nuclear deal. Implementing that plan will face challenges in both the U.S. and Iran, and China's commitment to building a new type of major-country relationship with the US means it will continue to assist both countries to keep the deal moving forward.

Mar 29, 2016

Beijing employs economic and diplomatic tools to promote security in Africa while Western countries tend to rely on military means. While international pundits often anticipate Chinese military action in Africa, the country believes in non-interference in external affairs, with officials citing history's record that military interventions generally become part of the problem, not the solution.

Nov 27, 2015

While outside interference in Middle Eastern affairs has done nothing to improve the employment situation, build strong and efficient political structure, and prompt a solid union against terrorism, a kind of regional security structure including major regional powers and external powers is urgently needed. In this regard, the U.S. can do a lot, and China's Belt and Road Initiative should be another opportunity for a fresh approach.

Jul 10, 2015

Even an inconclusive agreement will benefit both countries, as US dominance of the global marketplace declines and makes remaining sanctions less workable.

Jun 03, 2015

While the entire international community can certainly cooperate better on security issues, criticizing Beijing's low-profile role is merely propaganda defaming China in the region. China's economic contribution to the region is both significant and more than sufficient within the current global and regional context defined by US dominance.

Apr 03, 2015

It has been argued that China has benefitted from U.S. sanctions in Iran, and will lose out in the case of a U.S.-Iran détente. Yet hostility has already severely undermined China's economic relations with Iran, and though China and the U.S. do share the same security concerns over Iran's nuclear program, they have different ideas for solutions.