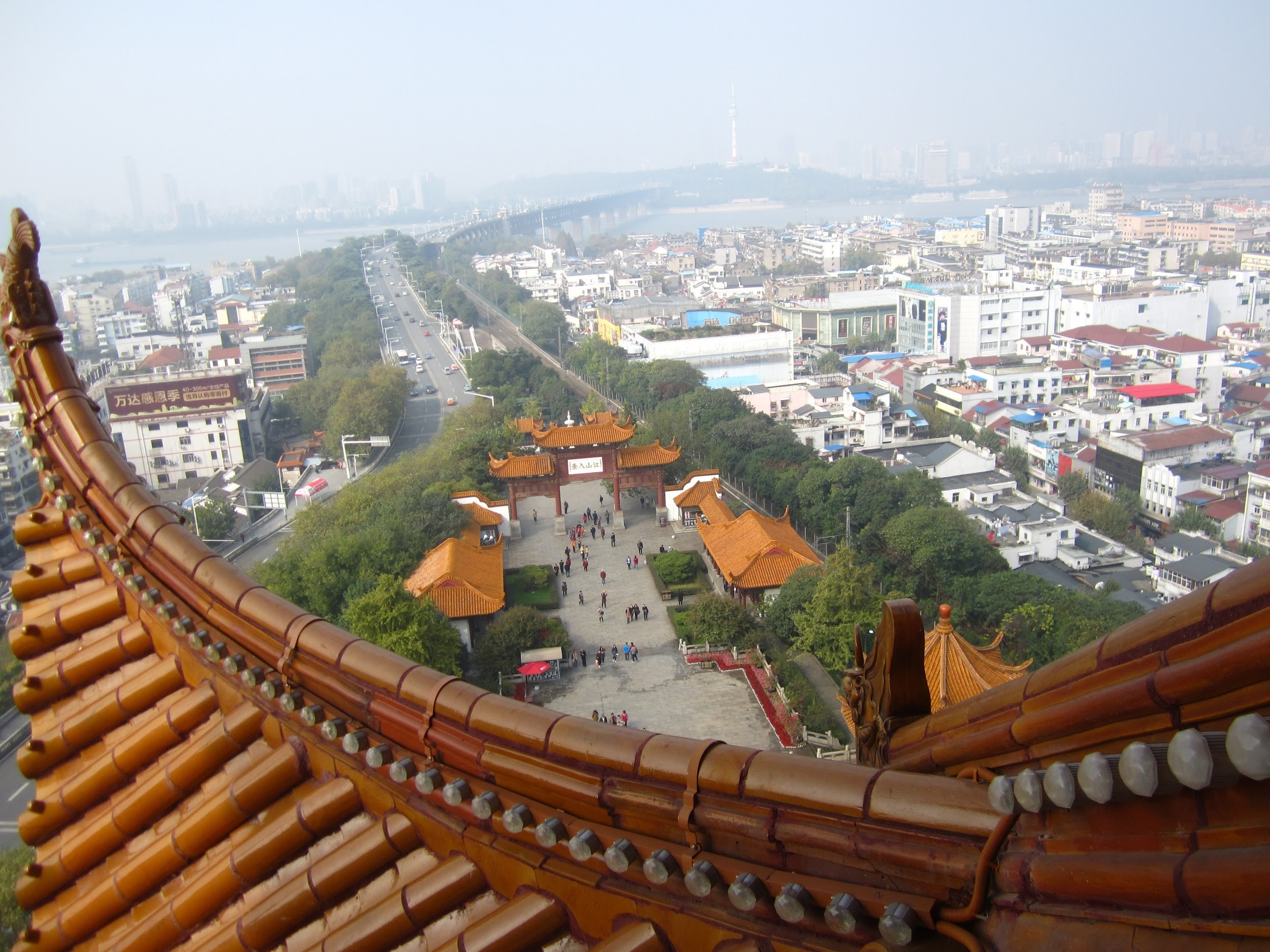 View of Wuhan from atop Yellow Crane Park. Image courtesy of Eli Patton
Some older Wuhan residents still talk about paddling across the city in their boats, traversing the 100-plus lakes that were once connected by a network of canals. This once-leisurely activity takes on different meaning today as citizens navigate some of the worst floods in decades. Hubei Province, where Wuhan is the capital, is among the 27 central and southern Chinese provinces affected by floods that have caused CNY 86 billion (USD $12.3 billion) in nationwide economic losses so far.
At the confluence of the Yangtze River and Han Rivers, Wuhan is particularly vulnerable to flood disasters. Rapid urban growth since the 1980s thatfilled in and shrank its natural lakes have reduced the city's natural storage capacity for floodwaters. In more recent times, hit by over 40 inches of rainfall since June and on red alert, Wuhan's bustling streets have ground to a halt, congested with an odorous mixture of rain and sewage.
Annual summer floods that lead to sewer overflows are not uncommon in Chinese cities that lie along the Yangtze River, but they have been growing infrequency and severity inChina and around the world as CO2 emissions rise. Spurred by thelast major flood in 1998 that killed 3,000 people and caused USD $24 billion in damages, China invested heavily in 'grey infrastructure' projects, or infrastructure projects associated with water management, by expanding wastewater treatment plants, pipes, reservoirs and building projects such as the Three Gorges Dam to alleviate flood risks. Recent decisions to release floodgates andblow up dams reflect the growing recognition thatdams are no match for the increasingly severe climate patterns of the future and highlight the need for climate resilience strategies likegreen stormwater infrastructure that offersustainable,nature-based solutions to flood prevention.
Wuhan has become a leader in China for its rapid redevelopment of its urban areas with wetlands and other porous systems that sequester annual floodwaters, but it still faces the challenges of funding and scaling up this green infrastructure. As climate resilience planning gains global urgency, both U.S. and Chinese cities could learn much from each other's green infrastructure experiments.
A Spongy Solution: China's National Pilot Policy
China's State Council established the Sponge City Policy in 2015 to designate flood control and climate resilience top priorities. The policy challenges 16 pilot cities, including Wuhan,to trap 70 percent of rainwater by covering 20 percent of their urban landscape with sponge-like green infrastructure by 2020 and scaling up to 80 percent coverage by 2030.
Since 2015, the Wuhan city government's spongy projects include urban gardens, constructed wetlands, permeable pavements, and water channels for flood diversion. The Wuhan Garden Expo Park boasts 30-square kilometers of public green space that sustain 400 plant species with onsite rain gardens. Qingshan and Sixin – two pilot districts – have completed 389 projects that retrofitted 38.5 square kilometers with new green infrastructure. The newest Wulijie neighborhood has incorporated valleys and ponds into its architecture to collect and treat surface stormwater. These green innovations have saved Wuhan more than CNY 4 billion (USD $600 million) in avoided drainage system upgrades, and have simultaneously increased property values and resilience to future floods. Current extreme flooding has exposed the urgency of redoubling climate resilience efforts like these.
The Sponge City Program has sparked collaboration among local government bureaus, private sector companies, and international NGOs on development of projects. For example, WWF China facilitates partnerships among Wuhan officials who can coordinate their work with local River Chief Program and Ramsar Wetland City accreditation initiatives in a way that supports Sponge City goals.
Overflowing Enthusiasm for Spongy Cities in the United States
Northeastern cities in the United States, where combined sewers are predominantly located, are no strangers to the benefits of green infrastructure. When total sewer overflow nationwide peaked in 2001 at 1.46 trillion gallons, cities experienced widespread contamination of drinking water. The U.S. Environmental Protection Agency's Clean Watersheds Needs Report to Congress in 2000 estimated that grey infrastructure projects would cost $50.6 billion over 20 years to reduce national sewage overflows by 85 percent. While some federal grant funding is available, the U.S. 1994 Combined Sewer Overflow (CSO) Control Policy holds cities legally and financially accountable for the threats to water quality caused by overflow disasters and mandates their complete resolution by 2030 cities must for new sewage infrastructure.
Motivated by this financial burden, Washington, DC, New York City, and many other U.S. cities integrated green infrastructure with sewer improvement projects. Philadelphia sought to avoid $6.5 billion sewer upgrades entirely and in 2011 embarked on the most ambitious citywide green infrastructure program in the country.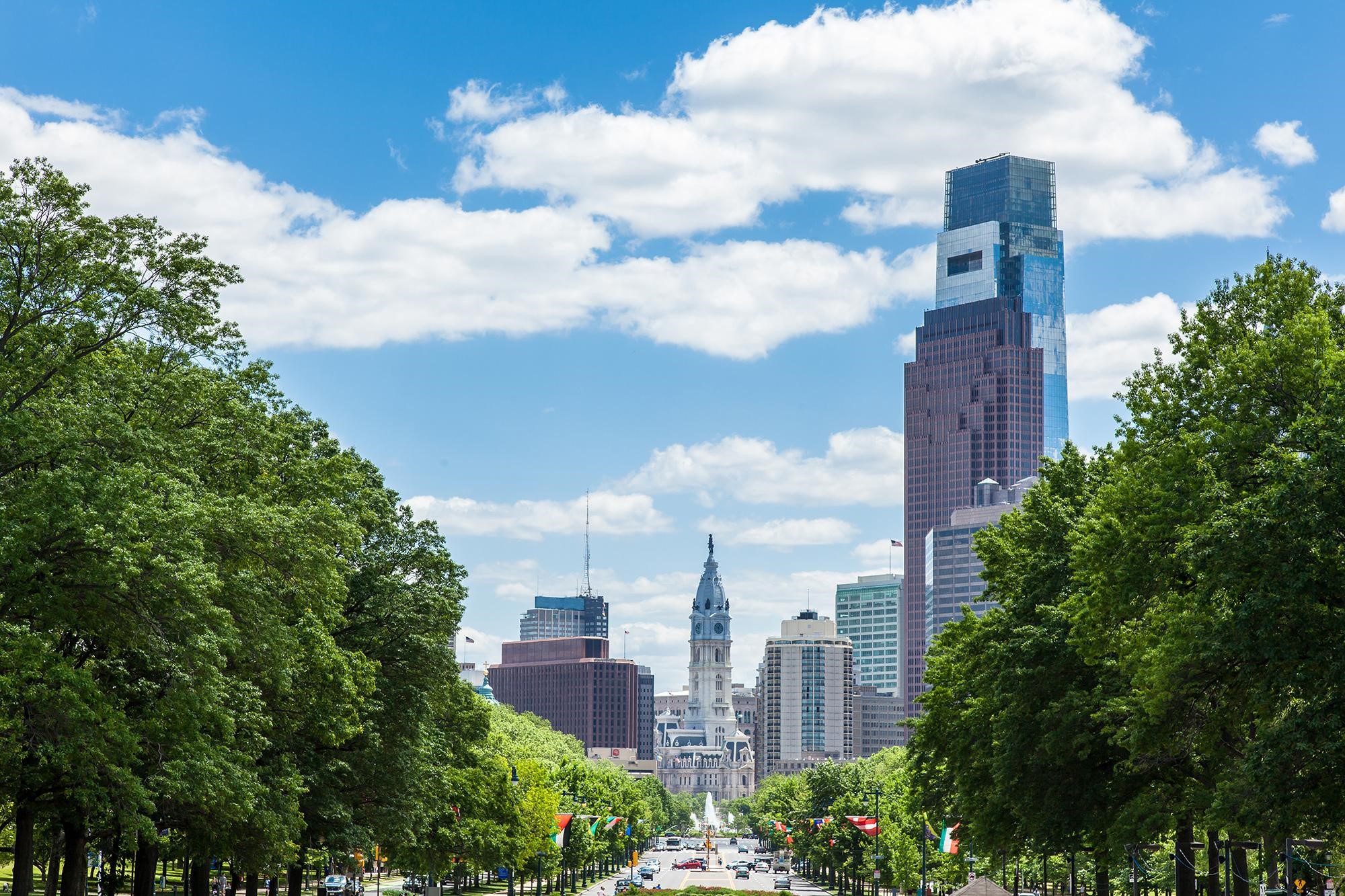 Philadelphia aims to incorporate 10,000 "greened acres" into its urban area by 2035. Image courtesy of Shutterstock
Before Philadelphia launched its Green City, Clean Waters Program, it released more than13 billion gallons of raw combined sewage into its rivers annually – enough to fill almost 50 Empire State buildings. Now, the city will reduce its overflow volume by 85 percent over 25 years by weaving 10,000 "greened acres" into its urban landscape. Its success relies on strong community networks, public-private partnerships, and robust government grants. Programs likeRain Check and Soak It Up Adoption provide homeowners and community organizations with the tools to install their own rain gardens and rain barrels, while financial incentives for industrial properties, universities, and churches across the city to adopt green "spongy" infrastructure. Within the first five years, the program reduced annual sewer overflow volume by 1.71 billion gallons and contributed $4 billion in economic impact to the city.
Many U.S. cities incorporate green stormwater infrastructure into small community projects. The city of Royal Oak, Michigan is transforming its unused Normandy Oaks golf course into a multipurpose public space for schools and sports with green infrastructure additions. In an interview with the author, Royal Oak Energy and Sustainability Manager, Julie Lyons Bricker, emphasized that throughout the process, the city built partnerships with the school system, youth soccer club, and watershed association. A diverse mix of vegetation will offer many different green spaces to the community, while bioswales and detention ponds will increase stormwater storage capacity to 680,000 gallons and provide irrigation to soccer fields.
Small cities scaling up their green stormwater efforts often face funding constraints. Amy Kay, the Clean Water Manager in Davenport, Iowa noted in an interview with the author that while green infrastructure funding is allocated through city stormwater and clean water fees, in practice these projects often lose out against competing priorities. Kay explained that without a unified regional or national green stormwater plan, local engineers and planners in small cities are left to incorporate green stormwater infrastructure into routine maintenance, wait for scarce funding opportunities, or forgo these projects altogether. In the summer of 2020, drops in municipal revenue from COVID-19 shutdowns is driving two dozen U.S. cities to renegotiate green infrastructure commitments, leaving the path unclear.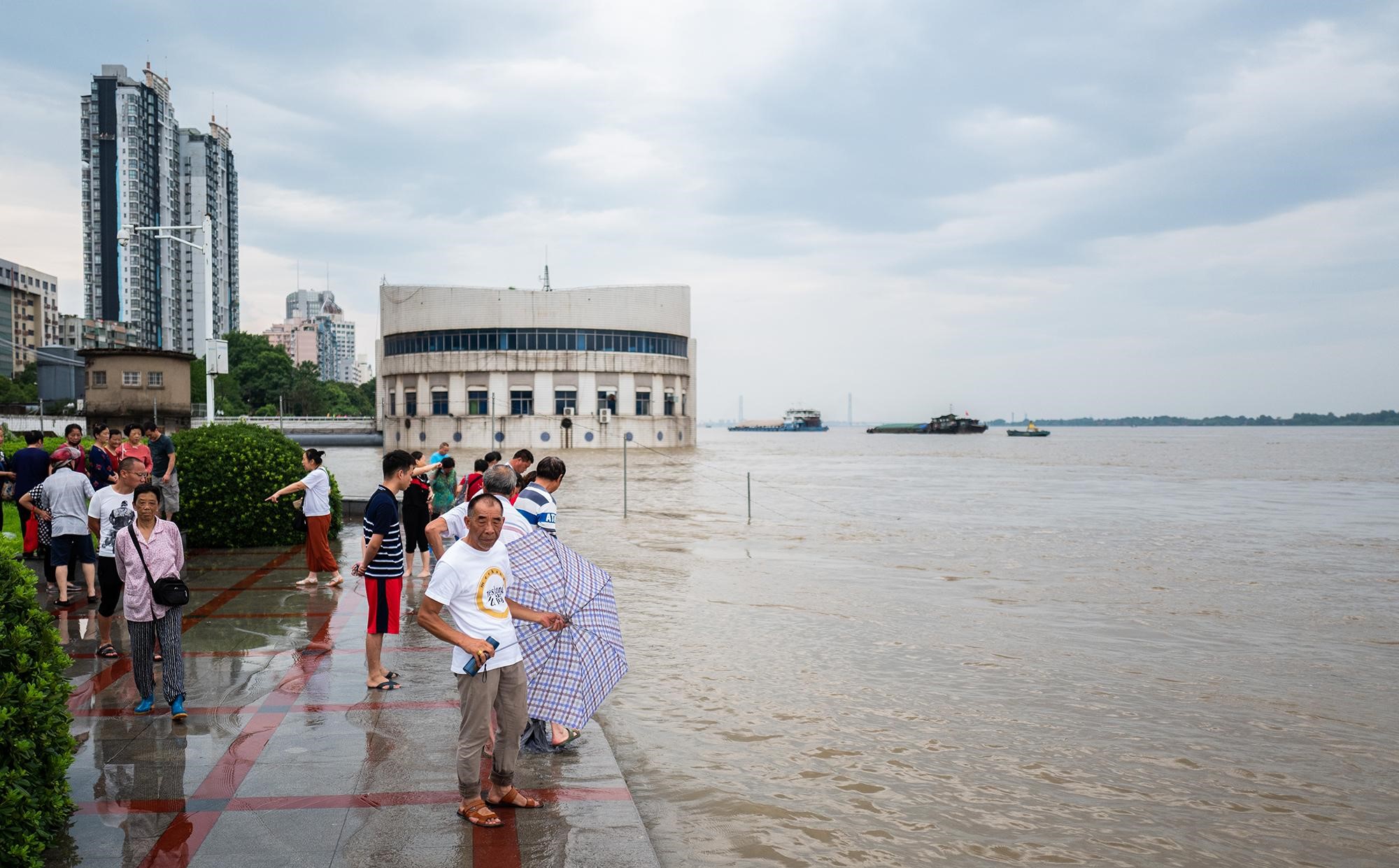 Recent flooding on the Yangtze River in Jiujiang, Jiangxi Province. Jiujiang and Wuhan are among dozens of central and southern Chinese cities hit with massive floods. Image courtesy of Shutterstock.com/humphery
Is a Green Recovery Possible for Post-COVID Cash-Strapped and Flooded Wuhan?
No city is untouched by the COVID-19 crisis, least of all Wuhan, which at the start of 2020 was on track to reach its 2030 green stormwater goal. Now as funding concerns are exacerbated by the economic damages and disruptions caused by COVID-19 and unprecedented flooding, the future of green infrastructure investments is uncertain. Dr. Ren Wenwei, Water Practice Head for WWF China and a senior expert on the Lujiazui green finance committee in Shanghai, says stormwater investments in China will only stay afloat through the development of public-private partnerships with industry leaders and green loans from private banks.
Chinese meteorologists maintain that climate change is increasing and intensifying the rainstorms that are now flooding China. It is apparent that the impermeable urban landscapes of today cannot withstand the climate events of tomorrow. No dam is large enough to seal off this threat, so we must look inward to the very nature of our cities. Like its U.S. counterparts, Wuhan has seen that green stormwater infrastructure is a powerful climate resilience strategy with extensive benefits to local economies and communities. The recent launch of China's National Green Development Fund, the first of its kind dedicated to investment in green development of the Yangtze river region, represents a promising step towards green recovery, but more work must be done to ensure true resilience against future crises. Economic revival from the COVID-19 pandemic and recent floods presents an opportunity for both China and the U.S. to double down on investments in green urban infrastructure and to make the recovery a springboard, not a roadblock, to a more resilient future.
Special thanks to Julie Lyons Bricker, Amy Kay, and Ren Wenwei.
Sources: American Planning Association, The American Society of Landscape Architects, The Economist, C40 Cities, Carbon Brief, China Water Risk, Chinese Geographical Science, City Formed, Constructed Wetlands and Sustainable Development, DC Water, Gothamist, The Guardian, International Journal of Water Resources Development, IUCN, NASA, NPR, NRDC, Oxford Review of Economic Policy, PA Environment Daily, Philadelphia Water Department, PWD Rain Check, PWD Soak It Up Adoption, Royal Oak Tribune, South China Morning Post, Thomson Reuters Foundation News, University of Leeds, U.S. Environmental Protection Agency, The Washington Post, Xinhua.net
Header caption: View of Wuhan from atop Yellow Crane Park. Image courtesy of Eli Patton