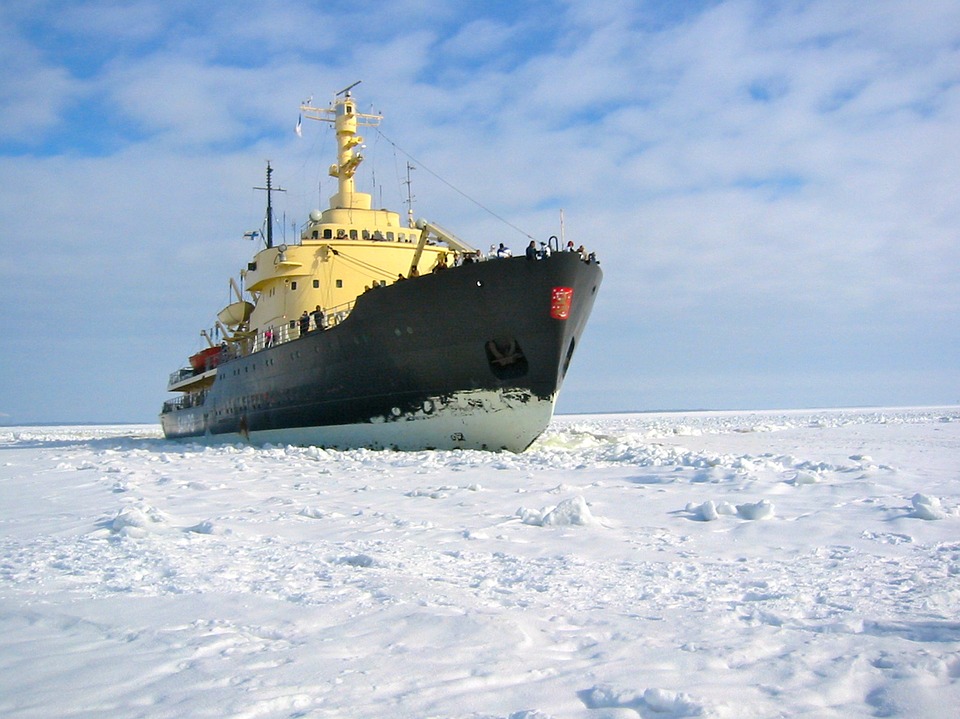 For centuries, European polar explorers plied the waterways of North America in search of the fabled Northwest Passage to connect their continent with the riches of the Orient. Now, sights are set on bridging Europe and Asia via the Northeast Passage across the top of Russia. It's not just the hemisphere for the shortcut that has switched however: so have the mariners, who increasingly hail from Asia rather than Europe. With the world's economic center of gravity shifting eastward, countries like China, South Korea, and Japan are leading the global race for resources and more efficient trade routes.
As the Northeast Passage is increasingly associated with Asia, and particularly China, a new name for the route has emerged: the "Polar Silk Road." Although the evocative moniker alludes to China's multi-trillion dollar infrastructure development plan to revitalize ancient overland and maritime Silk Road trading networks, the Belt and Road Initiative (BRI), the new name doesn't actually have a Chinese origin. In 2015, as China watcher Jichang Lulu has noted, Russian Deputy Prime Minister Dmitry Rogozin first suggested that China could play a role in realizing a "cool, cold Silk Road." Contrary to certain narratives that rebuff the country's Arctic advances, Rogozin's statements demonstrate the desire of northern powers like Russia for China to support the region's development.
In the three years since the Russian minister's overtures towards China, Beijing has stepped up to the plate. First engaging with existing projects, Chinese lenders such as the Silk Road Fund have provided billions of dollars to construct the Yamal Liquefied Natural Gas (LNG) Project, a centerpiece of Russia's Arctic development along the Northern Sea Route. In June 2017, China's National Development and Reform Commission, a government agency tasked with overseeing the BRI, released a document officially including an economic passage "leading up to Europe via the Arctic Ocean" as one of three maritime routes it seeks to develop; the others being in the Indian Ocean and South Pacific. This was followed by the January 2018 release of the country's first Arctic Policy, expressing China's desire to "work with all parties to build a 'Polar Silk Road' through developing the Arctic shipping routes" and encouraging the construction of infrastructure and pursuit of commercial trial voyages.
China's efforts to regularize Arctic shipping have economic, political, and soft power motivations. For vessels heading from northeast China to Europe, sailing via the Polar Silk Road is 40% shorter in terms of distance compared to the crowded Suez Canal, which also passes uncomfortably close to geopolitically unstable areas. Although northbound ships have fewer miles to traverse, overall time and cost savings will only be achieved if the tariffs charged by the Russian government for a mandatory icebreaker escort are lowered and maritime infrastructure is improved. China, which has expanded numerous ports along its own coastline in the past two decades, can contribute its expertise in this area so long as Russia is willing to accept Beijing's offers of infrastructure diplomacy, a reality that seems likely.
Contributing to the development of the Polar Silk Road gives China an opportunity to extend its influence into the Arctic despite lacking territory north of the Arctic Circle. China's ability to project its presence towards the ice cap can also enhance its reputation as a modern, forward-looking power, for only a handful of countries have the capabilities to sail through the Arctic let alone engineer the region's complex infrastructure. For example, China recently helped build an aurora observatory in Iceland, and at home, it is manufacturing state-of-the-art, polar-class vessels. In September 2018, it unveiled Xuelong 2, the country's first domestically-built icebreaker (its first icebreaker, Xuelong, is a repurposed Ukrainian cargo vessel). That same month, the recently-built Chinese multipurpose ship Tian En sailed on its maiden Northern Sea Route voyage to Rouen, France, carrying 37,000 cubic meters of wind power equipment. Capping off a busy month for China in the Arctic, in the final weeks of September, two Chinese-built ice-strengthened vessels, Haaga and Viikki, made their way around Russia's coastline to be delivered to Finnish company ESL Shipping.
As market needs and global capital open the Arctic to development, Beijing is eyeing projects deeper inland from the Polar Silk Road, too. Chinese companies have looked into building the Belkomur Railway from Arkhangelsk, on Russia's White Sea, to the Ural Mountains. In Scandinavia, Chinese officials are considering assisting the development of the Arctic Railway between Kirkenes, Norway, on the Barents Sea, to Rovaniemi, Finland. While both projects are still in their infancy, if realized, they would connect the Polar Silk Road by land to the transcontinental road and rail corridors farther to the south that China is enhancing across Eurasia under the BRI.
China is taking pains to present its efforts to transform the Northern Sea Route into the Polar Silk Road as benevolent, for its size alone makes it arguably less welcome than smaller Asian countries like South Korea and Singapore. No matter how Chinese officials speak of "win-win" outcomes, a suspicion hangs over the Arctic – a resource-rich region home to just four million people – that Beijing's arrival may challenge sustainable development, negatively impact small communities, and upset the overall balance of power.
Last week, at the Arctic Circle conference in Reykjavik, Iceland – the region's largest annual international gathering, where a "China Night" event promoted Chinese soft power with twirling acrobats and spring rolls – Gao Feng, China's Special Representative for Arctic Affairs, announced, "The Polar Silk Road is the specific embodiment of the BRI in the Arctic area. It is designed to facilitate connectivity and sustainable economic and social development for the Arctic connected by the Arctic shipping routes."
Feng added that the Polar Silk Road aims to promote a "shared future for the Arctic," but some northern stakeholders are not ready to roll out the red carpet. Moscow may be inviting Beijing to help with its infrastructure development, but places like Washington, D.C. and Copenhagen, which recently dissuaded Chinese investment in key airport improvements in Greenland, greet Beijing's activities in the Arctic and beyond with skepticism.
At the same time, in November 2017, the cash-strapped state of Alaska and its gas corporation signed a preliminary agreement with a Chinese oil company, bank, and sovereign wealth fund on a $43 billion LNG pipeline from the North Slope to a proposed export terminal on the state's southern coastline. Such cooperation demonstrates the willingness of certain regional actors in the Arctic to accept and even invite Chinese assistance despite wariness in southern capitals.
As China extends into new frontiers, its ability to foster positive relationships depends on more than politically correct speeches and ice-class infrastructure. Beijing must also enhance its awareness of the complexities of communities across the Arctic, a region that has historically suffered from misguided foreign interventions. Partnering with indigenous organizations, which South Korea and Singapore are doing, would be one way for China to start laying the foundations for northern development based not just on mutual benefit, but mutual understanding, too.
Yet regardless of how Beijing approaches the Arctic, whether territorial stakeholders like it or not, their region's future will be shared with and perhaps even directed by countries farther afield such as China that are financially and technologically capable of projecting power across the disappearing ice.