Mankind is now in a historical process of great development, great change and great adjustment. Countries are linked together in an unprecedentedly close way. Meanwhile, globalization is in transition. With slow economic growth across the world and growing wealth disparities, countries face prominent governance problems. The situation is further complicated with regional hotspots, turbulences and interwoven traditional and nontraditional challenges, causing concerns over globalization in retreat and protectionism on the rise. Xi proposed building the Belt and Road into a road for peace, prosperity, openness, innovation and civilization. The declaration reflected universal ideals and goals of all countries in the world and thus becomes a great source of positivity at a time when globalization is at crossroads.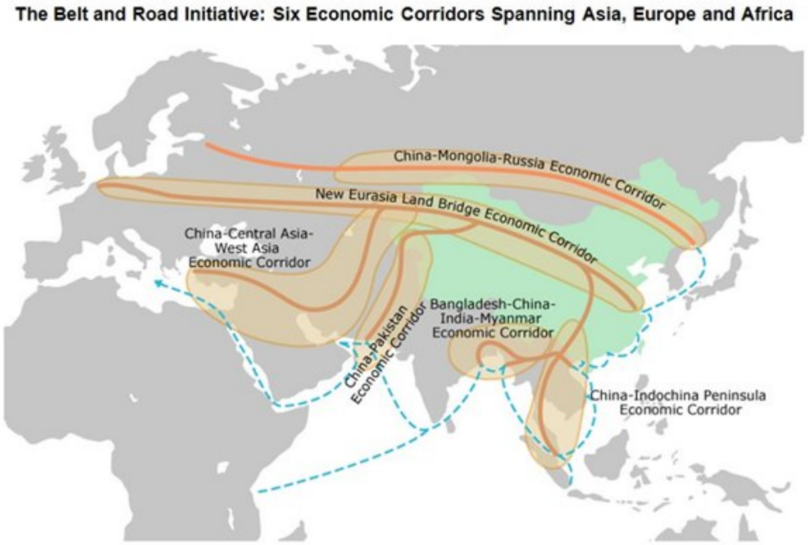 The Belt and Road Initiative has had a good start. Actions have been taken to advance an increasingly clear vision. The Silk Road Fund has been established, the Asian Infrastructure Investment Bank (AIIB) has conducted fruitful work, and relevant supportive measures and security systems gradually have been put in place and functioning well, with a higher level of international recognition. In the three years since the initiative was introduced, a peaceful, open, inclusive and relatively loose international platform for economic cooperation and trade is emerging, attracting over a hundred countries and international organizations. Cooperation agreements have been signed with over forty countries and international organizations. The approach is to create a situation of extensive consultation, joint contribution and shared benefits. Major projects have already produced early results and positive progresses. For example, the China-Pakistan Economic Corridor is progressing smoothly; Gwadar Port has become formally operational; the first phase of the Port of Djibouti has been completed this year; construction of the Jakarta-Bandung high-speed rail is in full swing; construction of the Malaysia-Singapore high-speed rail and the Serbian section of the Hungary-Serbia railway have both started; the Angren-Pap Railway Tunnel has been open to traffic; the China-Myanmar oil pipeline has been put into operation; the third line of China-Central Asia natural gas pipeline is formally operational; China and Russia are expected to reach agreement before the end of 2017 on construction of a Moscow-Kazan main line; cargo trains now run routinely between China and Europe, with 39 lines reaching 29 cities in 11 European countries.
The summit offered both an opportunity for policy communication and an important platform to advance new projects. Discussions were warm and fruitful. Parties engaged in active communication of their respective policies, development strategies and experiences. Thirty-two bilateral and multilateral cooperation documents and projects were signed, involving 18 countries and eight international organizations. The joint communique adopted at the summit included an explicit agreement to advance globalization. The meeting produced over 270 results. Participants all agreed on the necessity to advance trade cooperation for a more lively, inclusive and sustainable economic globalization. China will host international import expos from 2018 onward. The Ministry of Finance signed Belt and Road financing guidelines with the finance ministries of relevant countries and MOUs on cooperation with multilateral development banks such as the AIIB, the New Development Bank and World Bank. The People's Bank of China signed an MOU with the IMF on the establishment of a joint capacity-building center. Ordinary people were invited to the forum to share their experience of participation in the initiative. Fruits of exchanges and cooperation in the culture, education, science and technology, tourism, health and journalism were on display. Cooperation between NGOs and think tanks was also launched to foster people-to-people bond.
Financing plays a vital role to advance the Belt and Road Initiative. According to Xi, China will increase financial support for construction, inject an additional 100 billion RMB yuan to the Silk Road Fund and encourage financial institutions to develop overseas RMB fund business with a total quantity of about 300 billion yuan. At the same time, China Development Bank and China Exim Bank will provide earmarked loans of 250 billion and 130 billion RMB equivalent respectively to support infrastructure construction, manufacturing and financial cooperation. China will also work with the AIIB, New Development Bank, World Bank and other multilateral development agencies to support projects of the initiative and formulate jointly financing guidelines.
To enable a sense of gain for people in countries involved in the initiative, Xi announced that China will provide 60 billion yuan in assistance to developing countries and international organizations for more livelihood projects.
Admittedly the initiative will extend to wide areas and involve long periods of construction, huge investments and arduous tasks. All parties concerned should set their eyes on the long term, make concerted efforts, shake off unnecessary misgivings, pay attention to risk prevention and mitigation, and earnestly advance relevant construction.