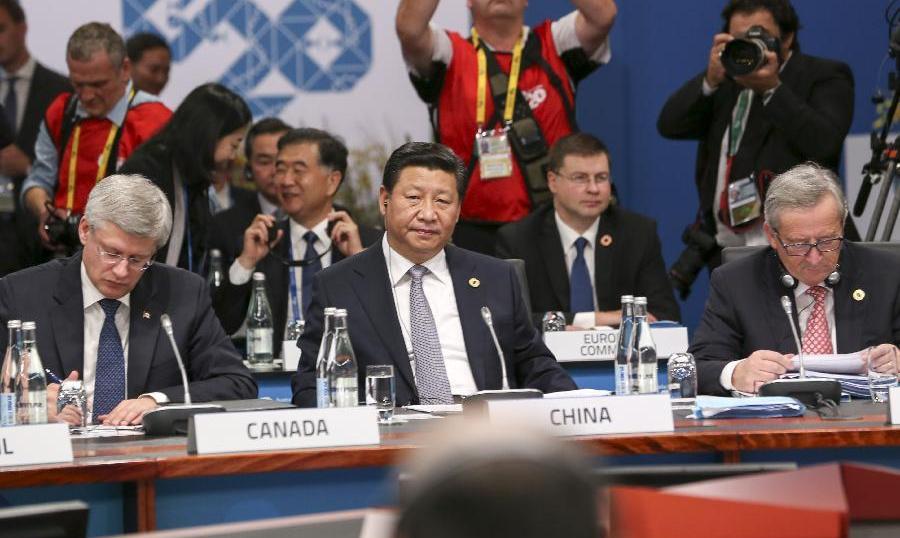 The 2017 G20 Summit was organized around the theme of "Shaping an interconnected world" in the German city of Hamburg, known as a city of bridges, a thoughtful choice of the host that suggests the Hamburg Summit is committed to taking forward the legacy of the G20 Hangzhou Summit hosted by China, and fulfilling the promise of "inclusive development, coordinated development". Building on the Hangzhou consensus, the Hamburg summit culminated in the G20 Leaders' Declaration, which affirms the commitment to coordinated development and peaceful cooperation, a potent testament to a successful summit. China has played a crucial role in facilitating this outcome, by spearheading coordinated development in both global economy and governance.
The Brexit vote held in June 2016 has plunged the ongoing effort of European integration into the most acute crisis in half a century. The prospect of a disintegrated Europe looms in parallel with an array of elections across Europe, coupled with the spiraling refugee crisis that embattles the continent, a sure recipe for some major geopolitical risks that threaten to derail Europe's economic recovery. On top of the regional crisis, globalization and free trade have come under severe threat with Donald Trump's election as US President, thanks to his platform of "America First" and his championing of trade protectionism. These anti-trade dynamics eventually resulted in the omission of "opposition to trade protectionism" in the text of the G7 Joint Communique held in May this year, a glaring departure from the common practice since the global financial crisis, thus casting a pall over the G20 Summit in Hamburg.
Facing up to these emerging risks early, China had already risen to meet its obligations as a country, and put forward a "Chinese solution" -- the "Belt and Road initiative", with the aim to promote global investment, inclusive development and harmonious governance. A global order that favors development represents a counter force to trade protectionism, and collective responsibility should be forged to address "escapism" in commitment to maintaining global order. The Belt and Road initiative serves the trend of global economic development, and should be seen as a trailblazer initiative that sets the direction for global investment.
China contributed to the success of the G20 Hamburg Summit by working with the host to set the Summit agenda, and formulate together a new development proposal. On the sideline of the Summit, President Xi Jinping of China held a series of bilateral and multilateral meetings to coordinate and reconcile different stances among various parties, cementing the basis for international cooperation and thus playing a crucial role in the summit.
Ahead of the summit, the Chinese leader paid a visit to Russia, during which both countries worked out the 2017-2020 roadmap for implementing the China Russia Good Neighborly Cooperation Treaty, with documents signed in areas such as economic and trade, energy, investment, infrastructure connection, media and education. Trade had already been expanding quickly. For seven consecutive years, China has been Russia's top trading partner, with annual trade approaching $80 billion in 2017. The trade mix is also improving, with new drivers emerging, such as mechanics, hi-tech, financial cooperation, and agriculture. Project contracts are signed in natural-resource processing, logistics, modern agriculture, and infrastructure. Major projects have been launched in areas such as energy, nuclear energy, aerospace, aeronautics, cross border infrastructure development. Steady progress has been made in the building of the eastern natural gas pipeline, Yamal LNG pipeline. A joint venture company for long-haul, wide-body planes has been set up. All these indicate China-Russia cooperation is growing both in breadth and depth, with more specific areas covered and modalities more mature, which will contribute to the collective effort to rise above the crisis, and promote inclusive development.
A month before President Xi's visit to Germany (the previous visit was only three years ago), Premier Li Keqiang of China also visited the country. Chancellor Merkel has paid over 10 visits to China so far during her premiership, more than any other Western leader, and it is also a rare occurrence in the annals of China-Germany bilateral relations. It reveals China and Germany are expanding their cooperation in regional and international affairs, with more common ground reached and differences narrowed. Bilateral ties have both deepened and grown to cover more specific areas. Germany lies at the heart of the European market, which is one of the largest export destinations for China, and business ties between the two parties are constantly growing and expanding. Financial cooperation is also making headway, with new channels such as government bond-backed investment, currency swaps and cooperation on the internationalization of the RMB. On the front of the real economy, the two countries are leveraging their complementary industrial structures, and create synergy by supporting each other in terms of technology, labor resources and capital input. In particular, the "Industrial 4.0" program of Germany and the "Made in China 2025" initiative of China are well-aligned and would contribute to better division of labor globally going forward. Thanks to more exchanges of high level visits and more sophisticated mechanisms of cooperation, Europe has become an end market for China's Belt and Road initiative and the much lauded direct freight-train service connecting China and Europe, officially known as "China Railway Express", is expanding to connect more cities between the China and Europe. All these concrete results of cooperation would contribute to the shared agenda between China and Germany to pursue inclusive growth.
Trump's policy of trade protectionism is clearly at odds with the prevailing trend of globalization, and the unpredictable nature of his policies pose renewed uncertainties, thus jeopardizing global economic recovery. It is of particular importance for China and the United States to enhance communication. On the eve of the G20 Summit, President Xi talked with President Trump on the phone, and stressed the two countries must work together on the basis of mutual respect -- and that it was necessary to enhance the role played by the G20. As a matter of fact, China-US cooperation based on mutual respect and equality are key to the G20's success. Timely and effective communication between the two leaders and reaffirmed commitment to this approach would contribute to the G20's role in promoting economic recovery and ultimately inclusive growth of the world.