In the high-density suburbs of Lusaka, Zambia's capital, local chicken sellers complain that Chinese traders are stealing their customers by getting up earlier each morning, successfully outcompeting the traditional indigenous vendors. "They get to the markets too early," they told me when I asked about Chinese petty merchants in Lusaka. "Their chickens are cheaper, too," they said, because they come subsidized from China. Naturally, Africans in Lusaka want to curb Chinese competition, calling it unfair.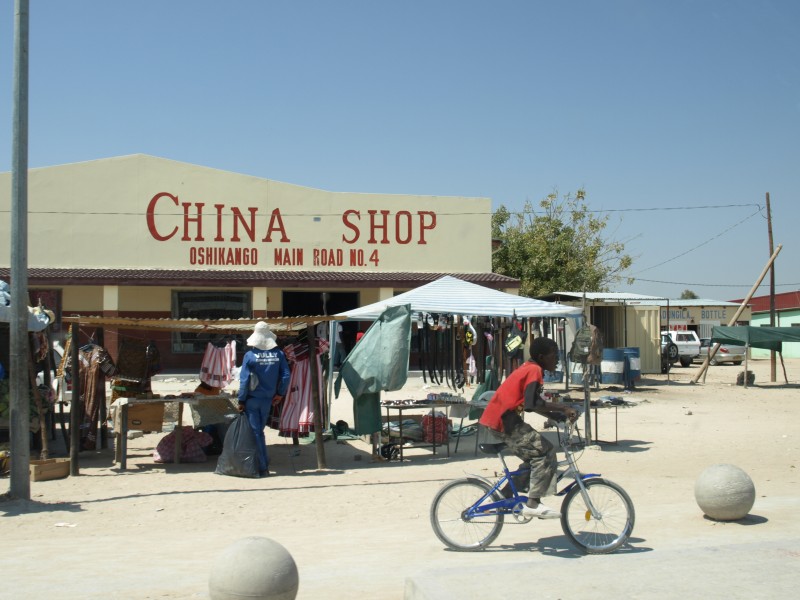 So do local vendors in Kampala, the commercial center of Uganda, object to the hundreds of Chinese traders who have moved into stalls near their own, selling much the same merchandise? Protests in late April and early May roiled the normally placid, now turbulent, waters of commerce in Kampala. "Leave our markets," said the placards that Ugandan traders held aloft as they tramped from traditional trading centers to municipal offices. Blowing whistles and shouting as they marched, the traders demanded that their government bar Chinese competition.
The Ugandan government says that it will address the problem. But persons with valid work permits (which many of the Chinese traders possess) cannot be prevented from operating in the public markets of Kampala or other Ugandan towns where protests against Chinese success have occurred. Nor can the Chinese be barred in Lusaka or the many other cities and towns throughout sub-Saharan Africa where Chinese traders are a constant presence alongside locals, for decades accustomed to having customers to themselves.
After India, China is Uganda's second largest source of imports. It is also the second largest source of foreign direct investment. China is constructing major facilities throughout Uganda, including a pipeline to carry oil to the Indian Ocean coast, several major hydropower dams on the Blue Nile River, and a modern express highway between Kampala and Entebbe, the nation's capital on Lake Victoria.
The government of Uganda hardly wants to displease a major investor and major donor. It managed to persuade the traders to call off a contemplated three-day strike that had the potential to close down commercial Kampala. But, like Zambian and other governments, it professes itself unready to prevent Chinese merchants from operating in indigenous markets.
The problem remains that Ugandan petty merchants believe not that Chinese are sharper traders than they are but that they are subsidized by the Chinese government, meaning unfair competition. Ugandan and Zambian traders refuse to believe that they are out-hustled. Just as the Trump administration in the United States asserts that China dumps raw steel on world market, selling its own glut of steel below cost, so the vendors of Uganda and Zambia are confident that Chinese traders in their countries can only provide imported goods at lower cost because they are somehow subsidized with export rebates from the Chinese government. Further, the Ugandans are sure that many of the Chinese merchants with whom they compete entered the country claiming to be large-scale investors when their real intentions were to open up small shops selling the same products that the Ugandans sell.
According to the Ugandan Ministry of Finance's Investment and Privatization section, "It is not anywhere in our policy that we want foreigners to come and trade in the country. We want these foreigners to come and invest in our country as investors…. And when we license an investor we do not want them to end [up] downtown."
But they do, and so do Chinese railway and road construction workers or their supervisors who choose to remain in a host country rather than return to China. Already, several million Chinese of all backgrounds and different professions have settled in Africa, fishing in Senegal, farming in Mozambique and Zimbabwe, banking in South Africa, mining copper in the Democratic Republic of Congo and Zambia and mining uranium in Namibia, among many others.
Before China decided that Africa was ripe for investment and Chinese small-scale merchants head for opportunity in Africa since about 2005, local Africans were accustomed to buying and selling in formal or informal inner city markets with little competition from outsiders. But once commerce with China became large scale at the national level, one African country after another cutting deals with China, so Chinese nationals seized the chance to profit from selling chickens, maize, potatoes, furniture, lamps, and almost anything for which there was demand in the same urban markets.
Africans have felt squeezed out of their own economic terrain by the Chinese. Yet their fellow citizens shop similar goods of the same or better quality at lower cost. This is a classical dilemma, now playing in almost every African city and town, and even in distant villages. How it ends – whether the governments of Africa choose to protect their own traders or opt for policies that benefit their own consumers is hard to predict. But the grievances are real, even if they may ultimately reflect different attitudes toward work and reward.