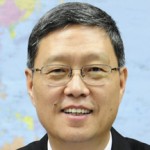 He Yafei
Former Vice Minister, Ministry of Foreign Affairs
He Yafei is former vice minister of the Overseas Chinese Affairs Office of the State Council, and former vice minister at the Chinese Ministry of Foreign Affairs.
Mar 19 , 2018

The world is not totally dark and the forces of free trade and globalization remain strong. China stands firm and holds the banner of free trade high.

Feb 28 , 2018

The US faces three difficult questions.

Jan 17 , 2018

Security and the economy are the two key areas of global governance. Zero-sum game thinking on these issues should be avoided at all costs.

Nov 08 , 2017

With Gray Rhinos appearing on the horizon and gathering speed, the world looks to China and other emerging economies for new and creative ideas to tackle the challenges ahead, and to further globalization and global governance.

Oct 18 , 2017

World order is changing fast. China and the US need to forge a closer relationship that will serve as a solid anchor for a world buffeted by strong winds and hail.

Aug 21 , 2017

The Post-America Era has arrived, but what does it mean? How will globalization, global governance, and the international balance of power be affected? Leading nations will emerge as America regresses, but the potential for peace and prosperity for all are at hand.

Jul 28 , 2017

He Yafei says that international relations are based on interests. "I would discourage of the use of 'honeymoon'".

Jul 28 , 2017

Relations with the U.S. are important and consequential while at the same time complicated. He Yafei explains why a single issue, be it North Korea, Trade or South China Sea, should not hijack the bilateral ties.