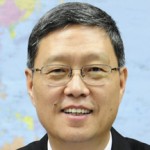 He Yafei
Former Vice Minister, Ministry of Foreign Affairs
He Yafei is former vice minister of the Overseas Chinese Affairs Office of the State Council, and former vice minister at the Chinese Ministry of Foreign Affairs.
Jan 16 , 2019

Capitalism is in crisis and the China-US relations are in need of readjustment. Maybe the U.S. can borrow a page from China's success story to close the wealth gap and bring about greater fairness in society.

Jan 07 , 2019

China's reform and opening up has brought so many benefits to the world.

Dec 14 , 2018

He Yafei argues that the balance of power is shifting in favor of emerging markets, causing anxieties among US elites that "the world is not theirs anymore." Nobody can live about the rules in a world of shared interests and responsibilities and shared destiny, he asserts.

Dec 14 , 2018

At a meeting on the margins of the G20 in Argentina, President Xi Jinping of China and US President Donald Trump agreed not to escalate the trade tensions between the two largest economies and give time for negotiators to reach a deal.

Nov 23 , 2018

The U.S. cannot continue to think that it will define the international system. China's rising power means a change of world order is inevitable.

Sep 14 , 2018

The West is declining and China is rising, and the Chinese model is an example to developing countries all over the world, but unlike the West, China is peaceful and benevolent and does not need to boast.

Aug 28 , 2018

There are dangerous signs from the U.S. to undermine the "One China" policy, says He Yafei. For the past 40 years, the two countries have managed the Taiwan issue well, but things are changing.

Aug 28 , 2018

He Yafei argues that it is still true that China and the U.S. have more common grounds than differences. China continues to desire for a secure and stable world order.