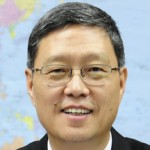 He Yafei
Former Vice Minister, Ministry of Foreign Affairs
He Yafei is former vice minister of the Overseas Chinese Affairs Office of the State Council, and former vice minister at the Chinese Ministry of Foreign Affairs.
Oct 10 , 2019

A tragic sensibility after the experience of two world wars compelled the United States to establish a new international order backed by American power. After decades of relative peace and prosperity, however, this sensibility is waning – as the United States demonstrates a lack of collective will to maintain its position on the global stage. As China increasingly assumes the position of a world power, it must maintain its tragic sensibility and awareness of crisis.

Aug 14 , 2019

Drawing upon the past 70 years of Chinese global engagement, Vice-Minister He shines light on how multilateralism has benefited the Chinese nation as well as how China has played an important role — and can continue to play such a role — in the success of this ideology across the world. With the chaos brought by the new US regime and the rise of global populism, He emphasizes the need for China as an emerging power to support and help maintain multilateralism domestically and internationally.

Apr 29 , 2019

Centuries of Western dominance are now fading as developing countries emerge onto the world stage. Despite military and fiscal crises, major powers have great opportunities. They must seize this moment of flux to build upon the accomplishments of the past 100 years, to reform global governance and the rules-based international system, rather than letting impulsive unilateralism lead them to miss the chance for win-win cooperation.

Jan 16 , 2019

Capitalism is in crisis and the China-US relations are in need of readjustment. Maybe the U.S. can borrow a page from China's success story to close the wealth gap and bring about greater fairness in society.

Jan 07 , 2019

China's reform and opening up has brought so many benefits to the world.

Dec 14 , 2018

He Yafei argues that the balance of power is shifting in favor of emerging markets, causing anxieties among US elites that "the world is not theirs anymore." Nobody can live about the rules in a world of shared interests and responsibilities and shared destiny, he asserts.

Dec 14 , 2018

At a meeting on the margins of the G20 in Argentina, President Xi Jinping of China and US President Donald Trump agreed not to escalate the trade tensions between the two largest economies and give time for negotiators to reach a deal.

Nov 23 , 2018

The U.S. cannot continue to think that it will define the international system. China's rising power means a change of world order is inevitable.