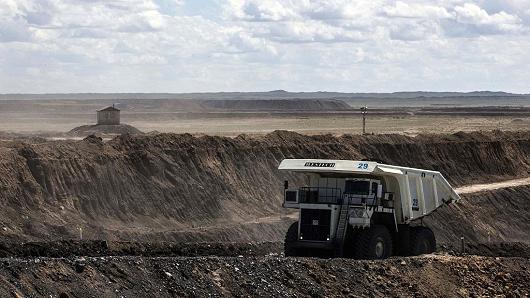 (Getty Images)
Mongolia, a nation of over 3 million people and the birthplace of 13th Century conqueror Genghis Khan, is locked between Russia to the north and China to the south. Like many countries in the region, Mongolia's largest trading partner is China, with whom it exchanges over 90% of its imports and exports.
As President Khaltmaagin Battulga's administration plans new multilateral infrastructure projects with China and Russia, it appears to be gradually shifting away from its "Third Neighbor" relationships, chief among them its relations with the United States. Mongolia's choices are emblematic of many Central and East Asian nations which are considering further political and economic integration with China at a time when U.S. leadership in the Asia Pacific is uncertain.
Mongolia's Third Neighbor Policy was born out of a meeting in 1990 between the nation's leaders and former U.S. Secretary of State James Baker as the country transitioned from Soviet-style socialism to free market capitalism and democracy. To the United States and many other liberal Western democracies, Mongolia represents a bastion of freedom in an authoritarian-heavy region, what former U.S. Secretary of State John Kerry called an "oasis of democracy" during a 2016 visit to the nation of nomads.
At its peak in 2008, the United States provided over $372 million USD in aid and development assistance to Mongolia. In 2017 it provided about $14 million, and with the current Trump Administration's "America First" policy, major aid investment appears unlikely anytime soon. The last of the US-led Millennium Challenge Compact (MCC) development projects, worth in total over $284 million USD, wrapped up in Mongolia in 2013. The second MCC was signed in May 2017 for a small fraction of the first one, just over $10 million USD, to focus on Ulaanbaatar's water system.
Perhaps hedging its bets, in 2014 the administration of former president Tsakhiagiin Elbegdorj began talks to work with China to develop a series of regional infrastructure projects, with an emphasis on trilateralism incorporating Russia. On June 23rd, 2016, Xi Jinping of China, Vladimir Putin of Russia, and Tsakhiagiin Elbegdorj of Mongolia signed a trilateral economic partnership agreement in Tashkent, Uzbekistan during the 11th meeting of the Shanghai Cooperation Organization (SCO). The agreement consists of 32 proposed projects, and outlines the creation of a joint investment center to assess the financial requirements and feasibility of each.
Although there is a fair amount of strategic overlap with Mongolia's own "Steppe Road" infrastructure project and the OBOR's objectives in the trilateral projects, Mongolian leaders at first appeared hesitant to be seen as cooperating too closely with China during the early stages of the tripartite negotiations. However, in May 2017 under former President Elbegdorj, Mongolia sent its Prime Minister to the first OBOR summit. Mongolia sees real potential for infrastructure investment that leverages its strategic location between China and Russia.
Though the Trump Administration has flirted with the idea of offering a competing system of infrastructure loans, Asian countries aren't holding their breaths. Many, like Mongolia, are jumping at the chance to advance further regional economic integration while seeking to minimize the potential risks of large debts to China and national security risks.
If Mongolia, a proudly nationalistic country with Sinophobic sentiments dating back to the days of the brutal Qing occupation can make deals with China to its advantage, others can too.
"Mongolia-first" President Battulga, a business tycoon, has promised prosperity for the resource-rich nation while simultaneously pushing anti-China rhetoric on the campaign trail earlier this year. It remains to be seen how his administration will negotiate the development of the 32 slated projects with China and Russia in the Trilateral Economic Corridor Program. However, a recent meeting of the three nations' representatives in Ulaanbaatar to discuss the development of a major railway linking the neighbors indicates forward momentum.
The choices Mongolia makes in the coming months and years in regards to OBOR projects will affect its long-term economic outlook as well as its national security position.