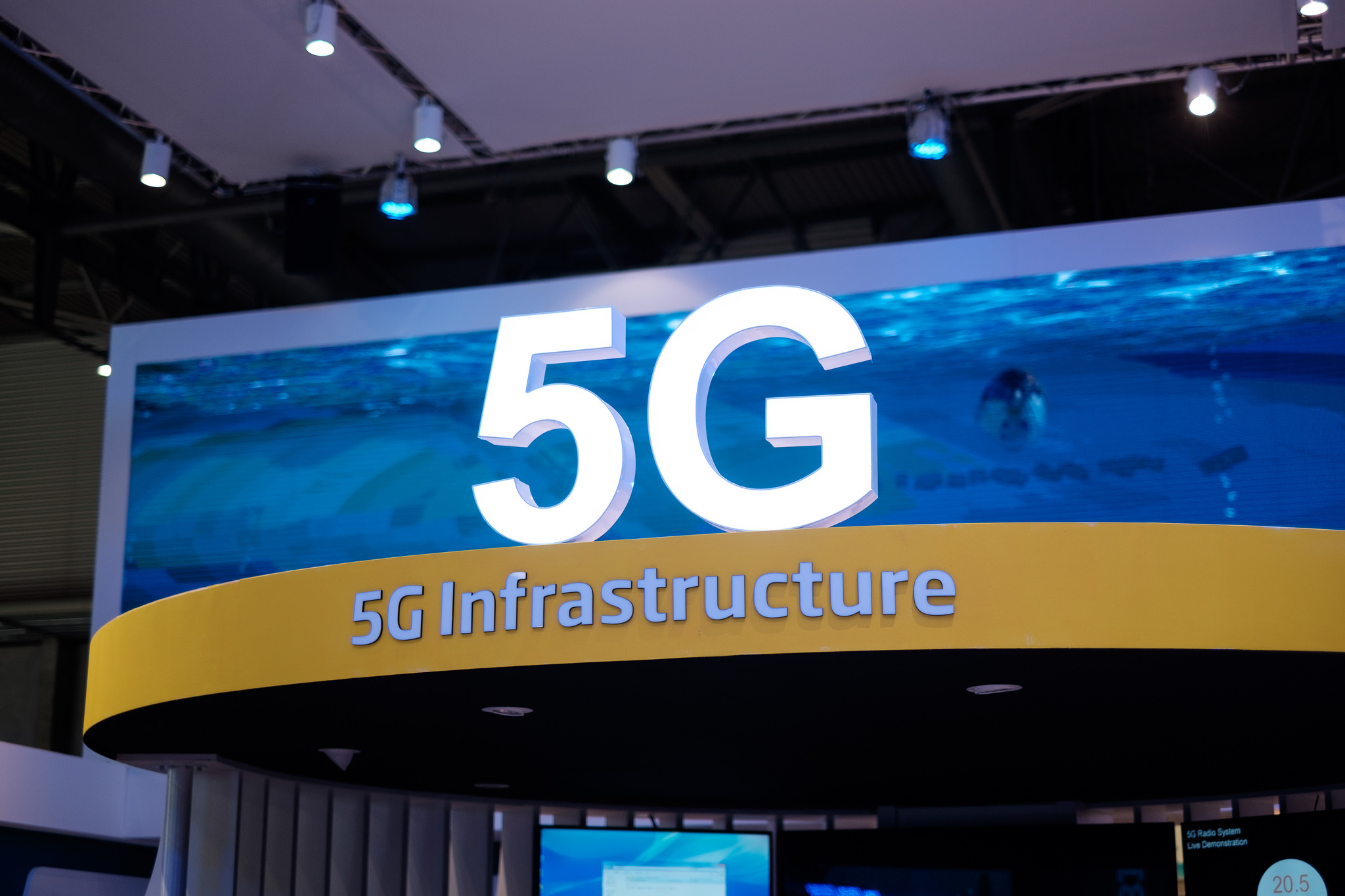 Photo Credit: Kārlis Dambrāns
On what turned out to be his final overseas trip as Secretary of State, Rex Tillerson in early March warned African countries to be wary of Chinese economic encroachment on the continent. However, so far, many of the Chinese moves have been in mundane areas such as projects to build highways or ports or source natural resources, but high technology wireless standards, known as 5G for "Fifth Generation," could be a new field for a Chinese global push.
Most advanced and many developing nations currently are at the 4G stage of wireless communication – the technology includes variations of LTE (Long Term Evolution) that currently provide transmission speeds up to 45 million megabits per second (Mbps). As of late 2016, 4G-LTE covered nearly 75 percent of Chinese territory, and the U.S. now has more than 90 percent coverage. America's Qualcomm holds a global lead in 4G-LTE patent assets, but Chinese companies are catching up, with about 18 percent of global patent rights for the standard. Within the PRC, China's Huawei Technologies has nearly as many of the technology's patent rights as Qualcomm. These rights are vital in determining the payment of royalty fees.
The still evolving 5G technologies promise speeds of not millions, but billions of bits of data per second, allowing users to download a movie in seconds. The technology could also be employed for virtual reality, self-driving cars, and smart factory production. Though commercial deployment will likely begin in 2019 or later, attendees of the Pyeongchang Olympics got a taste of potential of the high transmissions speeds courtesy of the Korean carrier KT.
But competition for developing and deploying the standard is fierce, with American and Chinese companies vying for leadership. Qualcomm, Intel, and Huawei are all working to develop 5G technologies and standards. According to a New York Times report, Huawei has spent $600 million on 5G-related research since 2009, and will spend an additional $800 million in 2018. The U.S. government is concerned China may take steps to push past their foreign rivals. Should China win the race for 5G, companies from the PRC could cut into the profits of American technology firms, and weaken their ability to develop cutting-edge products in related fields. U.S. politicians could also be seen as failing to have countered the Chinese challenge.
Evidence of American anxiety about the race for 5G came on March 5, when the U.S. government's Committee on Foreign Investment in the United States (CFIUS) announced it would investigate Singapore-based Broadcom's proposed $117 billion takeover bid of Qualcomm. In its letter, CFIUS indicated "a weakening of Qualcomm's position would leave an opening for China to expand its influence on the 5G standard-setting process." The announcement asserted Huawei owns about 10 percent of 5G essential patents, while Qualcomm holds about 15 percent and Finland's Nokia 11 percent. On March 12, President Trump blocked the bid, citing national security concerns, and two days later Broadcom officially withdrew its offer.
China has a track record of attempting to set global mobile standards. In 2006, the government approved its indigenous TD-SCDMA as a 3G competitor to foreign rivals W-CDMA and CDMA-2000. The PRC may have hoped its world-leading mobile market of hundreds of millions of subscribers could move other nations to adopt the Chinese version, and in 2009 gave its largest mobile phone company, China Mobile, a license to use the standard. But the technology had scant adoption beyond Chinese borders, and by 2014 the major domestic operators were moving to 4G-LTE technologies.
This time could be different. According to the Wall Street Journal, Huawei is now estimated to be the world's largest supplier of wireless equipment by revenue, with some $92 billion in sales in 2017. And the 5G market will include sectors beyond smartphones.
At the February 2018 Mobile World Congress, held in Barcelona, exhibits highlighted key markets in entertainment, virtual reality, and transportation. Korea's KT built on its Olympic debut by displaying 5G-coordinated drones. Full-body immersive virtual reality (VR) displays were also a major attraction, and 5G will allow for coordinated body movements with game partners, as well as a reduction in dizziness when users turn their heads. Huawei displayed a VR elevator for a trip from a lunar lander to the surface of the moon. Other displays featured 5G-coordinated pilotless air taxis and robots using the technology to analyze themselves for damage. Despite these diverse applications for the technology, mobile communications network deployment will likely be the first area of 5G rollout. The Mobile World Congress also saw Huawei display the first cellular base station, a device for receiving and transmitting communications signals, that complies with 5G standards.
China will likely not only target its domestic market for 5G technologies. The One Belt, One Road (OBOR) initiative, which promises spending of more than $1 trillion for projects in more than 60 mostly developing countries, will also have a major communications component. The current secretary general of the International Telecommunications Union (ITU), Zhao Houlin, has indicated that one of the most important investment areas for OBOR will be information and communication technologies. According to Zhao, Chinese-backed financial institutions such as the Asia Infrastructure Investment Bank and BRICS New Development Bank will contribute to the initiative's success, likely by providing loans and other financial assistance.
Even before the formal announcement of OBOR in 2013, since 2007, state-owned China Mobile has had a 100 percent owned subsidiary in Pakistan, one that now has about 20 percent of the country's mobile market share. Additionally, Shenzhen-based Transsion Holdings, the number one smartphone company by sales in Africa, established a factory in Ethiopia in 2011.
However, some recipients of OBOR investments have already seen complications from taking part in the initiative. Last December, Sri Lanka, owing more than $8 billion to Chinese state-controlled firms, gave China a 99-year lease on its strategic Hambantota port. At the same time, Pakistan withdrew from a $14 billion mega-dam project, fearing stringent Chinese financing terms. In Africa, Kenya borrowed from China's Eximbank 90 percent of the $4 billion cost to build a Nairobi-Mombasa railroad – according to the New York Times, the loan raised Kenyan debt above 50 percent of output.
If Chinese companies succeed in designing and deploying key technologies for 5G systems, they may reap a whirlwind of profits from not only the communications arena, but from a multitude of new technologies. If the technologies become global standards, both developed and developing nations will pay royalties to Huawei and associated Chinese companies. If developed nations lag in taking a share of the 5G pie, and OBOR invested nations accept the technology as part of larger investment projects, Chinese corporations could gain unparalleled leverage in areas far beyond their national borders.