The year 2014 witnessed a relentless wave of Chinese direct investment worldwide. The China Group headed by Minmetals Resources Inc., acquired Las Banvas Copper Mine of Peru for $5.85 billion. China State Grid acquired a 35 percent share of Italian Energy Networks Co. for €2.1 billion (euros). Lenovo acquired IBM X 86 service provider for $2.3 billion.  ICBC purchased a 60 percent share of South African Standard Bank for $765 million.
According to data from the Ministry of Commerce of China, (MOFCOM) total non-financial outbound direct investment (ODI) volume hit $89.8 billion during the first 11 months of 2014, up 11.9 percent  over the previous year. If this tempo had continued in December, the whole year non-financial ODI would have broken the $100 billion mark, and total ODI might have hit $120 billion. In contrast, foreign direct investment into the country has barely kept a positive growth, with only a 0.7 percent year-on-year increase during the first 11 months, reaching $106.2 billion (non-financial). However, it looks less likely that China could have become a net capital exporting country in 2014, a historical landmark which might be realized in 2015.
Chinese ODI in the U.S. is Rising Fast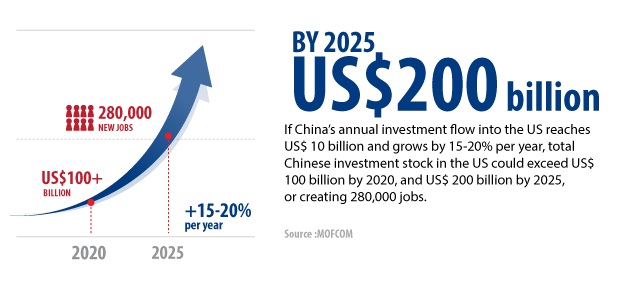 If China's annual investment flow into the U.S. reaches $10 billion and grows by 15 to20 percent per year, total Chinese investment stock in the U.S. could exceed $100 billion by 2020, and $200 billion by 2025, creating 280,000 jobs.
A potential area for future China investment in the U.S. is infrastructure. Both countries need to identify the specific ways and paths for a successful bilateral public-private-partnership (PPP) model. A lasting, massive infrastructure construction will decisively support a new era of robust economic growth in the U.S., and in turn, contribute to China's long-term economic structural changes and upgrading.
The U.S. Department of Commerce will organize a "Select USA" road show in several Chinese cities in May 2015. Chinese local governments and business should give warm responses and get down quickly to substantive projects. Washington needs to update its notion on China and open the door widely to Chinese investment. China also needs to keep learning the specific situations in each of the potential investment locations, and work closely with American partners. Both governments need to intensify bilateral investment treaty (BIT) negotiations for an early, win-win agreement. A fast-expanding and mutual benefiting Chinese investment in the U.S. will certainly contribute to the new type of relationship between the two great nations.