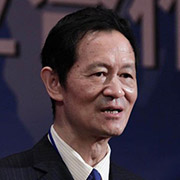 He Weiwen
Senior Fellow, Chongyang Institute for Financial Studies
He Weiwen is Senior fellow of Chongyang Institute for Financial Studies, Renmin University.
Dec 24, 2021

Despite a meeting of presidents and intensive talks at lower levels, the United States has not fundamentally altered its position. This needs to change. Next year should be characterized by reasonable, constructive efforts — followed by action — to ease the current tensions.

Nov 30, 2021

U.S. President Joe Biden's assurances during the video summit with Chinese President Xi Jinping need to be transformed into concrete progress. Both the United States and China should do their best to bring about a substantive improvement in trade relations in near future, thereby sealing the summit's success.

Oct 13, 2021

The only correct and feasible way to manage bilateral trade and competition is to apply WTO rules. China and the United States should list each other's concerns and find solutions compatible with WTO rules on subsidies, policies and national safety. it's the only way to sustain a durable coexistence.

Sep 25, 2021

Trade between China and the United States is growing, defying a disabling global pandemic and the Trump tariffs. The continuation of the Trump trade policy will only lead to a dead end.

Jul 31, 2021

The measures have dismally failed to meet the objectives of the Trump administration, and Biden should lift them immediately. Doing so, with China following suit, will usher in a new period of robust expansion that supports economic recovery on both sides of the Pacific.

Jun 01, 2021

The general setting, highlights and observations in 2021 AmCham White Paper.

May 04, 2021

The much-troubled China-U.S. trade relations in fact contributed positively to China's GDP growth for Q1 this year.

Apr 29, 2021

The strengthening of the economy also means growing attractiveness for global investors. During the first quarter of 2021, FDI inflows to China accelerated tremendously, and there are good opportunities for U.S. investors, with no chance to lose.

Feb 26, 2021

U.S. President Joe Biden has made clear that the U.S. wants to address trade issues with China according to international rules. China should agree on this point. But it's far from clear what those are. A thorough update is needed.

Dec 21, 2020

U.S. President Donald Trump has suffered a decisive loss in his trade war with China. It is now in the interest of both countries to speedily resume trade and investment cooperation, cooperate to end the COVID-19 threat and implement the Paris climate accord.