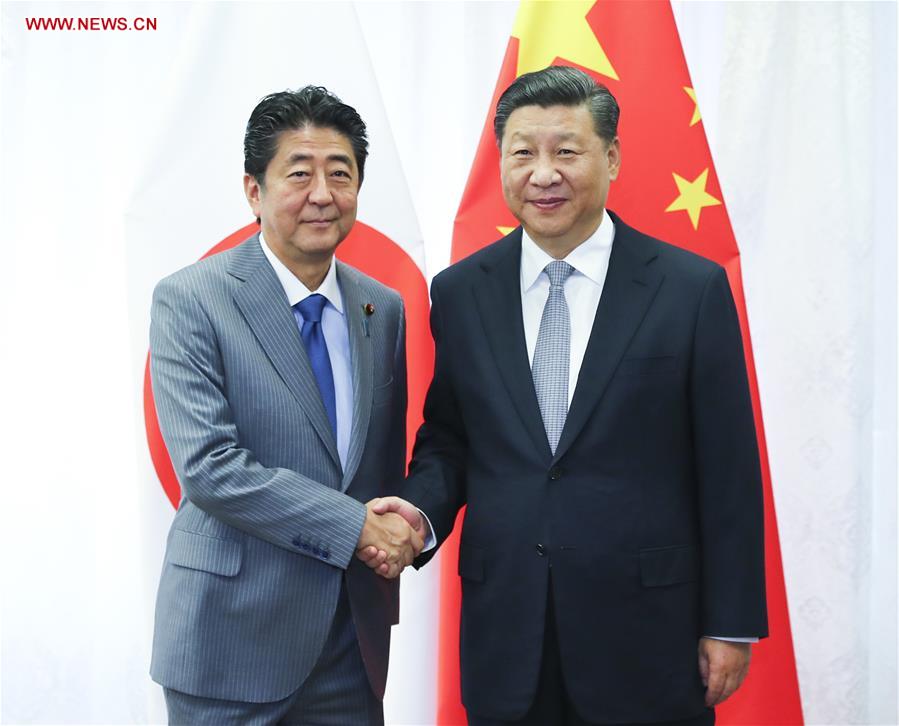 Japanese Prime Minister Shinzo Abe paid a visit to China from 25 to 27 October, reactivating exchanges of visits at the head of state/government level after seven years and restoring the relationship between two Asian neighbors to the normal track of development. The visit got worldwide attention.
Since the nominal GDP of China exceeded Japan's in 2010 and exceeded $10 trillion in 2014, the country's position in the world has gradually approached that of 'a center of world economy' in an 'emerging tripolar system involving China, the US, and Europe'. In terms of trade, China and the US tie for the first place in total volume, China's export volume is 140% that of the US, and China has become the world's busiest distribution center of people, finance, goods, and information/data. For this reason, leaders of American and European countries have all visited China with large business delegations to try and establish economic relations and expand and upgrade industrial linkages. But China-Japan relations have been in stalemate in the past seven years. The purpose of Abe's visit was to correct this.
China and the US maintain a mechanism of regular meetings between heads of states in East Asia. But China-Japan relations has not been stable for a long time, increasing the risks of turbulence in the region. With the Trump Administration in power in the US, trade protectionism, populism, and anti-globalization is prevalent and both China and Japan have experienced difficulties with the US on trade. It is therefore all the more necessary to stabilize and consolidate China-Japan relations with concrete actions.
As a matter of fact, they already created conditions to 'meet at an international occasion' during the APEC summit in Beijing as early as November 2014 and reached four points of mutual understanding towards relaxation of tensions. After that, both sides actively promoted people-to-people exchanges. While meeting a Japanese delegation in 2015, President Xi Jinping stressed that 'the key to state-to-state relationship lies with friendly sentiments between the people'. He instructed that the authorities should 'manage well the old problems, prevent new problems from emerging and avoid stumbling blocks', thus setting the tone for China-Japan relations in the new era. Premier Li Keqiang went to Japan in last May for a trilateral summit meeting also involving the ROK, opening the gate to relaxation and steering the bilateral relationship towards returning to normal. In early September, Xi met Abe again on the sidelines of the fourth Eastern Economic Forum hosted by Russia in Vladivostok. He proposed to use the Belt and Road initiatives as a field for the two sides to advance relations and expressed ardent hope in that regard. By disregarding previous enmity, the Chinese leaders have led the way towards relaxation and identified the direction for improving relations with Japan. And now Prime Minister Abe has visited China and reached many agreements with the Chinese side.
Abe's visit is in step with the fourth industrial revolution. The IT revolution that started in Silicon Valley in the 1990s gave the American economy a golden decade. While changing people's ways of production and living, information technologies and the Internet have also facilitated industrial upgrades. Globalization has made enterprises in different countries deeply interdependent in a cross-boundary division of labor. Traditional forms of trade and investment have undergone major changes. A new concept of 'region of origin' has appeared, covering enterprises and products of multiple countries. China and Japan, both already world-class manufacturing powers in close geographic proximity, need further breakthroughs to upgrade themselves by applying big data and intelligence to their industrial chain network and jointly developing world standards. This requires the two governments to create new rules, find appropriate laws and make up for the deficiencies in the current multilateral order.
While seeing the great prospects of industrial development and cooperation, leaders of the two nations have not overlooked their old problems and new contradictions and have attempted to develop and manage bilateral relations along both the economic and security tracks. In the economic field, the two sides proposed new technologies and new ways of financial cooperation. They vowed to advance 'third party cooperation' within the Belt and Road framework, avoid vicious competition, and promote common development in the region. According to a forecast by the Asian Development Bank, from 2016 to 2030, demand for infrastructure in Asia and Oceania will amount to $26 trillion. As the world's second and third largest economies, with large trade surpluses, China and Japan are in a position and have the responsibility to help the region jointly develop infrastructure, basic industries, and markets.
Fortunately, leaders of the two countries have broken away from the fetters of old thoughts and old models. They stressed the need to engage in normal exchanges, shoulder development responsibilities and international responsibilities as big countries, explore dialogue and coordination in security fields, look for solutions to difficult issues relating to maritime resource cooperation and development, and jointly deal with financial risks. Views were also exchanged on free and fair trade regimes.
The world is changing, and so are China and Japan. Objectively the two countries must refresh their thinking on and approach towards bilateral relations to stay abreast of globalization. Their work to jointly promote development and safeguard peace will benefit the two countries.